'Physically, he was a strong man, but given to moments of emotional weakness.'
'He had to be put back on the right track by the women in his life.'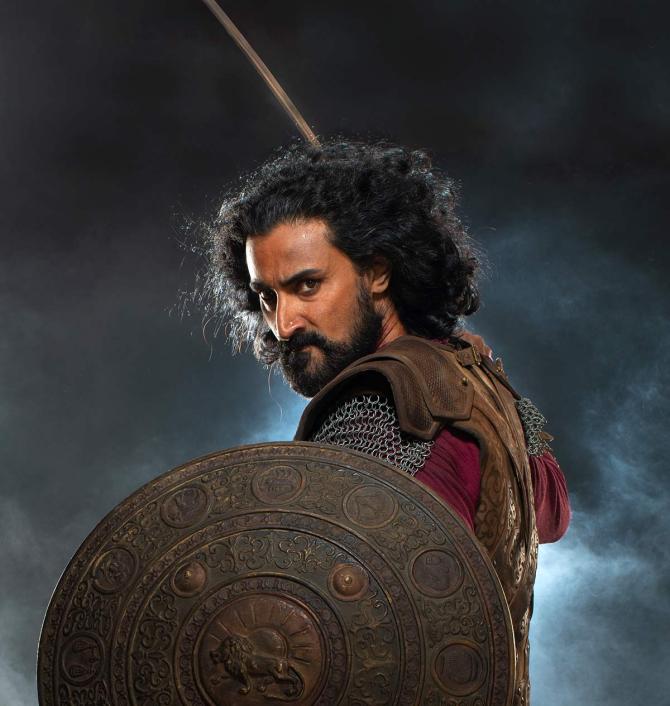 One remembers him as the revolutionary Aslam/Ashfaqulla Khan from Rang De Basanti... Omi Khurana of Luv Shuv Tey Chicken Khurana who discovers marijuana in a secret family recipe... Chandu Chekavar, the desi Macbeth of Veeram... Shahnawaz Khan in Subhas Chandra Bose's Indian National Army in Raag Desh...
Now, Kunal Kapoor explodes on screen as Zahir-ud-Din Muhammad Babur in The Empire.
"We have had films and TV shows on Akbar. But very little is known about the Mughals and where they came from. This is the biggest project I have ever worked on," Kunal tells Rediff.com Contributor Roshmila Bhattacharya.
There are two perceptions about Babur. Some see him as a savage invader and the founder of the Mughal dynasty, others remember him as a father who prayed to God to take his life and save his son's. Humayun lived, Babur died at the age of 47.
What did you learn about the man from playing him in The Empire?
Since this is not a biopic, I stuck to the material I was given. It was inspired by Alex Rutherford's book Empire of the Moghul, turned into an incredible journey for the screen by our director Mitakshara (Kumar), who also wrote the script.
I discovered that Babur was a man of great contradictions.
As a warrior, he could be really brutal. He was also a poet.
Physically, he was a strong man, but given to moments of emotional weakness. He had to be put back on the right track by the women in his life.
Eventually, he became emperor, but was still racked by great self-doubt.
'Do I deserve this?'
'Am I worthy of it?'
'Did I just get lucky?'
'Was it my destiny?'
He was constantly questioning himself.
It was these contrasting layers, inherent in the source material, that made him interesting for me as an actor.
Babur came from Kabul and today, Afghanistan is back in the news, following the return to power of the Taliban. How do you react to what is happening across the border?
It's very unfortunate. The images and videos coming out of there are heartbreaking.
Does it, in a way, bring back history?
I honestly don't know. That thought has not crossed my mind.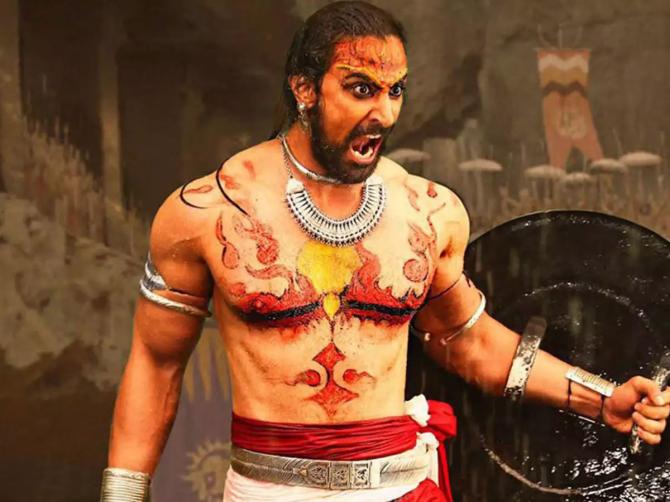 You did a Malayalam-Hindi-English trilingual Veeram, in which you played Chandu Chekavar, a 13th century warrior of Malabar. Does The Empire measure up to this epic historical in terms of scale?
This is much bigger.
Veeram was an adaptation of Shakespeare's Macbeth, the journey of one man and his unravelling. This is the journey of not just one man, but an empire.
We have had films and TV shows on Akbar. But very little is known about the Mughals and where they came from.
In terms of costume, set, action, just pure vision and ambition, this is the biggest project I have ever worked on.
Reema Kagti's 2018 sports drama Gold: The Dream That United Our Nation was the journey of one of India's first hockey teams, with you playing one of the players, Samrat, inspired by Dhyan Chand.
Back then, did you imagine that after four decades, our men's hockey team would return from the Olympics with a medal?
I was hopeful.
When you play a part like this, it reels you back to the glory days of Indian hockey, when we were not just winning matches, but destroying the other teams.
After that, it was heartbreaking that we went without a medal for so many years. Maybe this is the beginning of more glory days.
But honestly, acting in Gold doesn't make me an expert on hockey.
The same way that Rang De Basanti doesn't make me an expert on the freedom struggle.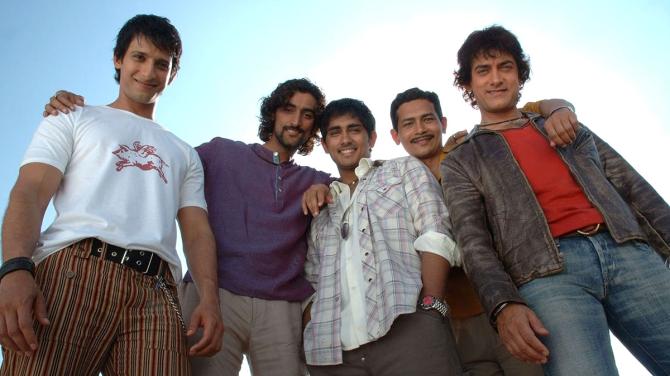 Didn't you start your career assisting Rang De Basanti Director Rakyesh Omprakash Mehra?
Yes, and it was great fun.
When I started out, I was toying with different professions without really knowing what I wanted to do.
Advertising and movies happened by coincidence.
A friend called one day to ask if I still had long hair.
When I replied in the affirmative, she told me to come across for an audition.
They were looking for a guy with long hair. I got the ad.
Which ad was this?
It was a Coca-Cola commercial, with Karisma Kapoor.
On the first day of shooting, I knew this was what I wanted to do for the rest of my life.
So you joined Rakyesh Mehra?
Yes, I started out as a production assistant, going on to become an assistant director. And while assisting, I spent more time in front of the camera than behind it.
If someone wanted their lines read, I was the one reading them.
If a character artiste or a junior artiste didn't turn up, I would be hanging in the background.
During this process, I realised that I wanted to be an actor more than a film-maker. And so, the journey began.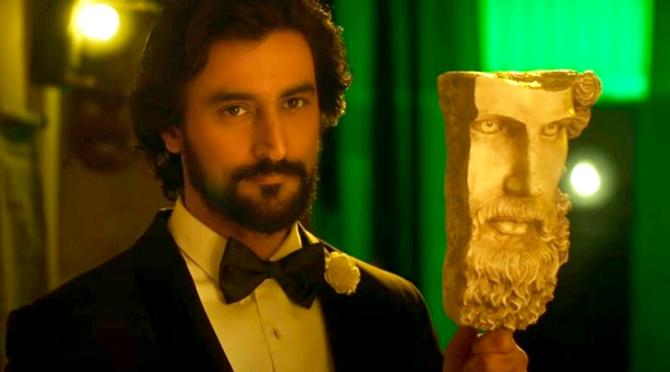 Yes, with M F Husain's Meenaxi: A Tale of Three Cities, in which you played the lovelorn Kamleshwar Mathur. What do you remember of your artist-director?
I don't think there will ever be anybody like him. He was a man of such incredible passion.
He would wake up at 4 am every day, go for a walk. He always had a paintbrush in his hand and was always ready to put out creative work.
Once when we were shooting in Rajasthan, I had a couple of days off.
One day, I was sitting in the garden.
He came up to me and asked, 'What's going on?'
I was bored, and I must have looked it too because his next question was, 'Are you bored?'
When I admitted I was, a little, he was surprised, 'How does a young mind like yours have the time to be bored. If someone were to give me a flower, I would be fascinated by it for days.'
Those words have stayed with me all these years. There was so much to learn from him.
You recently did Koi Jaane Na...
Yes, it was released a couple of months ago.
It was about a celebrated writer, with a reputation of being an intellectual, who has a dark side to him and writes stories under a pseudonym.
They are very different from the ones he puts out as himself.
Then, a character from his book comes alive and starts killing people and he becomes the suspect.
That sounds interesting...
Yes, it was in an interesting space.
We all have this duality in us -- one side which we present to the world, and one which we keep to ourselves, which is completely different.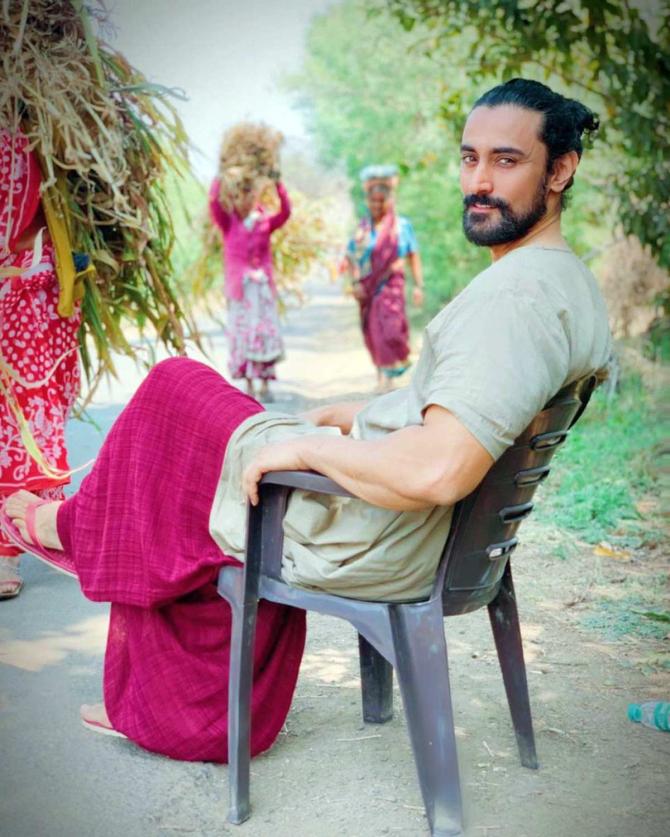 You are a writer yourself. Is there something you have been developing during the lockdown?
I have been developing content since the last couple of years. I have been writing quite furiously.
Now, I have five scripts, all very different from each other.
I will make movies of them which I will produce.
You are turning producer?
I have started my own production house and will launch my first film next year.
Telling stories comes naturally to me.
I have been putting them down, two pages, five pages, ten pages. Now, finally, I will put that out on the screen.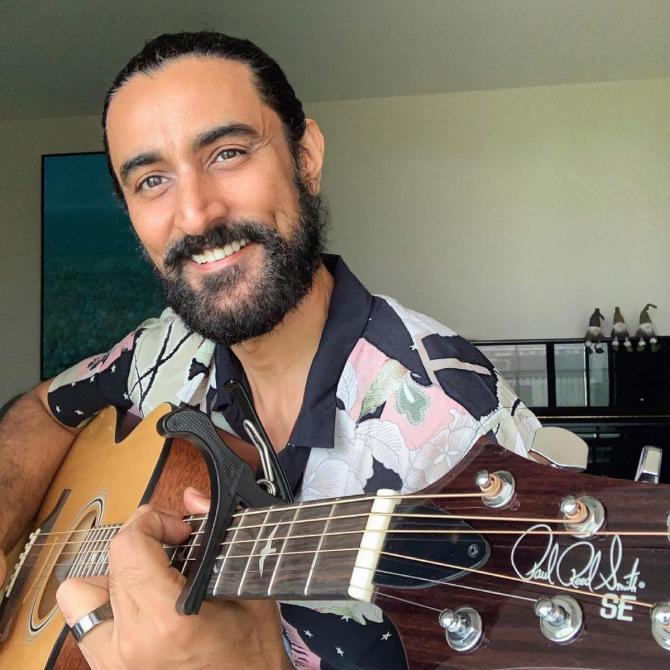 During the time that you were locked in at home by the pandemic, did you also get to do something you have always wanted to?
Music. I was always inclined towards it.
My wife is a classically trained pianist and I have always wanted to be a singer. But whenever I sing, people are like, 'Can you please shut up!'
Once I got this instructor who claimed he could teach anyone.
After two classes, he stopped taking my calls.
Now, I have realised that singing is not for me.
So I have decided to try another route. I have picked up the guitar.
Any new films you are a part of that are as exciting as this show?
I've signed one; I can't talk much about it yet. It's a crime courtroom drama.
It gives me a chance to play something I never have. It's exciting to see someone look at me differently.