'It was one of the greatest learnings in my life to see someone like the great Amitabh Bachchan go through such a tough phase.'
'He had been there, done it all and really didn't need to prove himself.'
'Yet, he channelised it all and came out with one of his best performances,' Rakeysh Omprakash Mehra tells Savera R Someshwar/Rediff.com in a fascinating conversation about the films he has made and the actors he has worked with.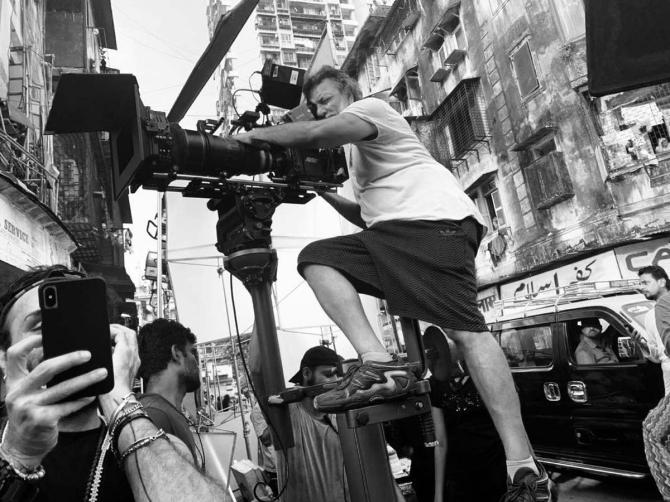 Life can be about colours.
And about reflections in the mirror.
The question is, who do you see there? A stranger? Or a familiar face?
Who's moulded the colour, and the person, you are looking at?
How do these colours reflect your life?
And how much has the person looking at the mirror changed?
These questions take on a new meaning when associated with film-maker Rakeysh Omprakash Mehra.
In 20 years, he has made seven feature films.
If you look at numbers, you might think: Just seven in two decades?
If you choose the box office palette, the colours range from stupendous success to abject failure.
If you look at them through the prism of innovation, there is something new each movie had to offer.
And if you look at their reflection in the mirror, each movie shows you a filmmaker moving ahead on his evolutionary journey.
In his recent memoir, The Stranger In The Mirror (written with Reeta Ramamurthy Gupta, published by Rupa Publications), Mehra -- as Aamir Khan, the star of Rang De Basanti, calls him -- looks at his life's milestones, both personal and professional.
His first two films each have a dominant colour.
Aks (2001) is black.
Rang De Basanti (2006) is saffron.
But they had other colours too.
Aks, the colour of rebirth
Cast: Amitabh Bachchan, Manoj Bajpayee, Raveena Tandon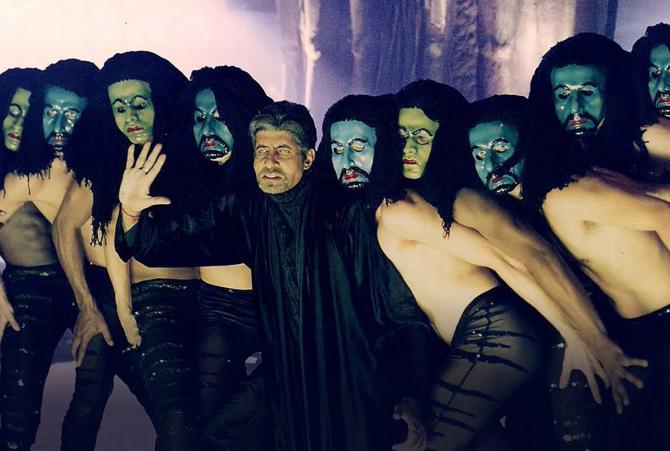 'Mehra Sahab, aap film nahi, philosophy bana rahe hai. (You're not making a film, you're propounding a philosophy
Manoj Bajpayee's reaction after hearing the storyline of Aks in The Stranger In The Mirror
It was dark outside.
Inside too, the end of the day had made its presence felt.
It was time for the Mehra children to go to sleep, but they were waiting. For their nani (grandmother). And her story.
Nani's tales were carefully chosen from the Ramayana.
They were not just stories; they were cleverly packaged life lessons that the little ones, without realising, were imbibing.
At the end of each story she would tell her three sleepy grandchildren -- Rajan, Rakeysh and Mamta -- 'Ram aur Ravan ek hi the. Woh dono aapke andar hai (Ram and Ravan are two sides of the same coin. Both exist within you). It is your choice whom you want to cultivate.'
Decades later, Rakeysh Omprakash Mehra explored this philosophy in his Hindi film debut, Aks.
"The metaphor and the device," he says, "was a paranormal thriller, where an evil soul enters a good man's body."
Aks would not have happened if it were not for his grandmother's lesson. It would also not have happened if not for Amitabh Bachchan, says Mehra.
"When he said, 'Let's do it', it was a turning point, a pivotal moment."
Even more inspiring, for Mehta, was watching the legendary actor's dedication to his craft.
"Even when he was not part of a scene -- when it featured only Manoj Bajpayee and Raveena Tandon and most of their scenes were shot late at night since she played a dancer in a strip bar -- Amitji would walk in casually, sit down in one dark corner and be a part of the process.
"It was so very encouraging for me to see someone so consumed by what he does and work towards perfection all the time. It was simply amazing."
Then there was the magic of making two of India's most talented actors, Amitabh Bachchan and Manoj Bajpayee, wear each other's character's skin in a portrayal that had rarely been seen in Hindi cinema.
"Every human being goes through ups and downs. It's what we do when we face these situations is where a person's character emerges."
During the making of Aks, this was something he witnessed first hand.
In Mr Bachchan's character.
For Amitabh Bachchan was facing one of the toughest times of his life.
His company, Amitabh Bachchan Corporation Limited, was drowning in financial trouble. People who he owed money to wanted their investment back. His home was close to being auctioned.
"It was one of the greatest learnings in my life to see someone like the great Amitabh Bachchan go through such a tough phase," says Mehra. "He had been there, done it all and really didn't need to prove himself. Yet, he channelised it all and came out with one of his best performances."
Mehra was facing problems of his own, as ABCL could no longer finance the film.
Watching Mr Bachchan face his problems inspired Mehta.
A well-known ad film director would take on advertisement assignments and use the money he made there to shoot Aks.
"Amitji never let his problems overpower what he was doing and what he was presenting to the audience. This, down the years, has been a huge point of reference for me to go back to time and again, to learn from him and to understand what he did."
What Mr Bachchan did was come up with an unforgettable performance.
What Rakeysh Omprakash Mehra did was come up with an unforgettable film.
Rang De Basanti, the colour of inspiration
Cast: Aamir Khan, Siddharth, Atul Kulkarni, Soha Ali Khan, R Madhavan, Sharman Joshi, Kunal Kapoor, Alice Patten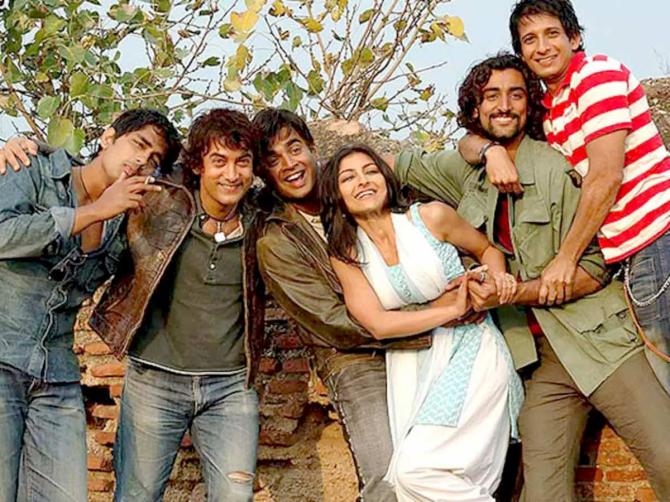 'Rang De Basanti went on to make an entire generation of directors obsolete in 2006.'
R Madhavan in The Stranger In The Mirror
Before Aks was born, there was another film that Mehra wanted to make -- one set in the pre-Independence era, inspired by Bhagat Singh and other fiercely patriotic youth who had fought bravely for India's freedom.
But the time for it to come to life, and the form in which it came to life, came much later.
And when it did, it changed many things about Hindi cinema, and Indian society.
It lent wings to the protests against the Jessica Lal murder case and the public's voice -- just as in the film -- was supported by candlelight vigils.
Yet, Madhavan's observation leaves Mehra embarrassed.
"I think what Maddy is trying to say here," says the film-maker, as his long pauses analyse the actor's comment, "is that change is constant. And we should embrace it. Every generation needs to find their own way to express themselves; it need not necessarily be an emulation of what has worked in the past."
Rang De Basanti did that.
It brought in a new grammar to expression, to story telling, to film-making.
"The boy-girl love story was not the main thrust of the tale we were telling. We didn't have choreography for choreography's sake. We didn't have lip-sync songs. The tangible thing Rang De Basanti brought about, for him and for all of us, was a different way of telling stories. It had a new grammar," says Mehra.
Rang De Basanti reignited Mehra's faith in the youth of India.
He had -- after seeing the youth's reaction to his Bhagat Singh-inspired tale, The Young Guns Of India -- given up on that script.
Until the increasing crashes of the MiG-21 aircraft -- dubbed the widow-maker -- made him angry.
The government's attempts at cover-ups increased his rage. And made the story personal.
Mehra had grown up with friends and teachers from the Indian Air Force, studied in an Air Force Bal Bharati school and looked everyday at a MiG-21 embedded on its lawns.
The past -- where India's youth fought for freedom -- and the present -- where they fought against injustice and apathy -- merged in his head.
"For the longest time, we believed the younger lot were frivolous. That was not necessarily true. That's what propelled me to tell the story I did in Rang De Basanti. When I spoke to the youngsters this time, I could see is so much fire in them."
Even when it came to their movies, it was no longer just action, romance or comedy.
"Socio-political dramas are most relatable to the young generation," says Mehra. "The way we see things is evolving. That's why it's important to embrace change."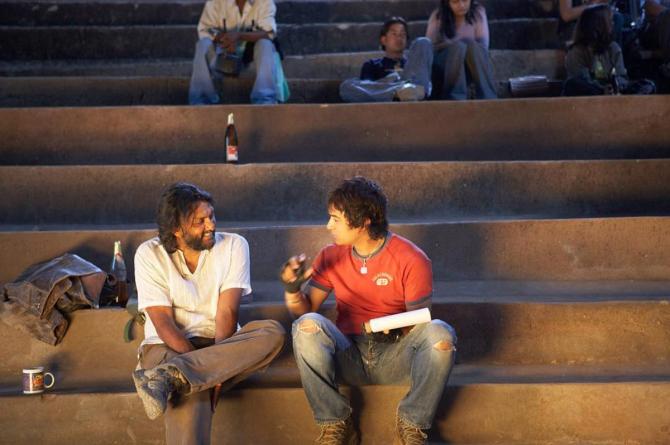 Rang De Basanti was, to quote Mehta, "a film that rested on many pillars".
One of the most important was Aamir Khan.
"There were people who believed in the film. And Aamir was right out there in front. He stood beside me through the journey."
And it was a journey with many ups and downs.
"Even after the making of the film, when we ran into trouble with the censors, he was standing there.
"I had sent him a message once: There are two primary choices in life. Either you let things be the way they are. Or take responsibility for changing them. I signed it as DJ, his character in the film. It was my character brief to Aamir."
When Mehra was facing one of his lowest points while making the film -- "Money was not coming in and we didn't know whether the film would get made or not. Shoots were being planned and cancelled; this happened twice or thrice" -- Aamir sent the same message back to Mehra.
"It encouraged to keep going on, to not give up. And the film got completed."
The thought, and the inspiration it provided, found its way into the Hindi version of the film (the English version was called Paint It Yellow).
"In the film's climax, when DJ -- Aamir's character -- speaks at the radio station, he says, 'Zindagi jeene ke do hi tariken hote hain. Ek jo ho raha hain use hone do ya zimmevari uthao ise badle ki.'
"I will never forget that."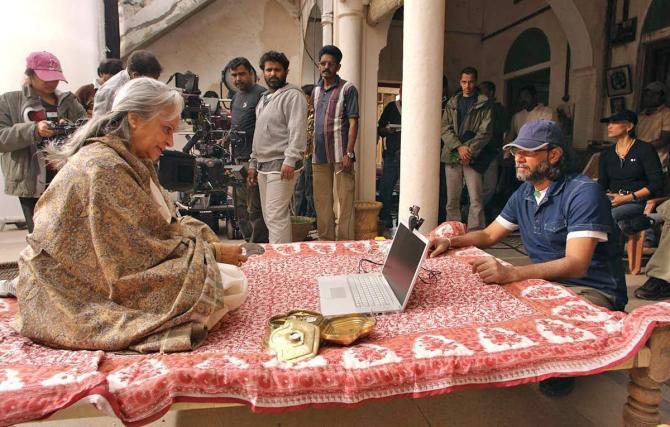 Yet, the film would not have been made if Waheeda Rahman had not agreed to play Mrs Rathod, the grieving mother of the MiG-21 pilot, who demanded accountability for the unnecessary demise of her son from a callous government.
There were many reasons why Mehra wanted only Waheedaji for the role.
"As a young man, I had my set of films that I loved. And I still do. And she was there in five out of the 10 films -- be it Guide or Teesri Kasam or Kaagaz Ke Phool.
"They were not my favourite films because Waheedaji was in them; she just happened to be the common thread.
"Getting to work with someone who has inspired you, whose work you have really looked up to is another feeling altogether. I don't know how to describe it."
"I told her I would not make the film if she refused the role. And I meant it."
But Waheedaji didn't know if the passionate film-maker sitting in front of her was serious enough; six to eight months earlier, he had approached her with another role, another film that would eventually go on to become Delhi-6.
"Yeh toh tum koi aur hi kaam lekar aaye ho (Now you have brought me something else entirely)," she told him.
Waheedaji then was coming to terms with the demise of her husband. She was shuttling between Bengaluru and Mumbai, deciding where she wanted to live.
And she was exploring new interests in life.
"She has become an amazing wildlife photographer. It was something had she picked up as a hobby, but now it's become a passion," says Mehra.
Waheedaji was hesitant. But Mehra was determined.
"I told her that if you don't do this film, I will build the set outside your house. And every time you exit the house, you will have to pass through the set. And then you'll feel very bad," he laughs now.
"Somehow, she relented. It was very sweet of her to do the film."
Two people, he says, have been and will always be part of every film he does.
"Waheedaji and Amitji. Even if they are not physically there in the film, they are there in spirit."