'What can I do for my India except make films that showcase its greatness to the world?'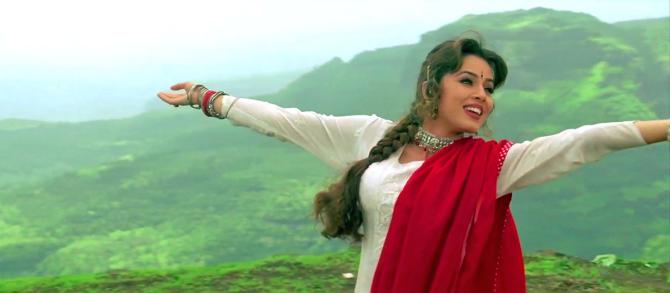 As India enters its 75th year of Independence on August 15, Subhash Ghai takes us back to the time when he made everyone sing along to Yeh Mera India, I Love My India from his big hit, Pardes.
The director looks back at his patriotic spirit in films and tells Rediff.com Contributor Roshmila Bhattacharya, "We have 10,000 stories right here, in our own land, so why do we have to go looking for inspiration elsewhere?"
'Yeh Mera India, I Love My India' has a refrain down the years. How did you come up with this line for the Pardes song?
Well, Amrish Puri's character in the film, Kishorilal, is a wealthy businessman who has been living in the US for 40 years. But he still loves his India.
When he goes to meet his old friend in his village, he is surprised to see the young children there singing Hare Rama Hare Krishna to American tunes, on flutes, pipes, drums and the keyboard, talking of Michael (Jackson), Madonna, Elvis (Presley) and wanting to fly to the US.
So exchanging his track suit for a dhoti-kurti, he tells them that he has seen London, Paris and Japan, but nowhere in the world has he seen another Hindustan.
I came up with the line, 'I love my India', Bakshiji (lyricist Anand Bakshi)'s poetic brilliance -- 'Yeh duniya, ek dulhan, dulhan ke maathe pe bindiya, yeh mera India, yeh mera India' -- enhanced it.
When Mahima's (Chaudry) character, Kusum Ganga sings these same lines in the US, in front of a roomful of NRIs, you are even more inspired.
American dream... Indian soul, that's the tagline of Pardes.
Till date, I tell young people that instead of aping the West, they should take our stories and talk about our culture in the global market.
So far, there's been only one international film on our country, Gandhi, through which foreigners learn our history, and it was made by Richard Attenborough.
We have 10,000 stories right here, in our own land, so why do we have to go looking for inspiration elsewhere?
As a child, what did you want to be when you grew up?
I remember telling my father when I was in the 10th standard that I didn't want to do commerce and become a chartered accountant.
I wanted to either be a cop or an actor.
A cop?
Yes, two of my uncles were top cops with the Punjab police and I thought it was a wonderful profession -- so disciplined, laying down the law, catching criminals. I wanted to follow in their footsteps.
But I had started doing plays in school.
By the time I went to college, dramatics had become a passion.
I remember, I had written this play, Bujhe Shole, about people who lived on the border. How they felt when the two armies on opposite sides clashed, the frequent skirmishes destroying their property and disrupting their lives.
It was well appreciated.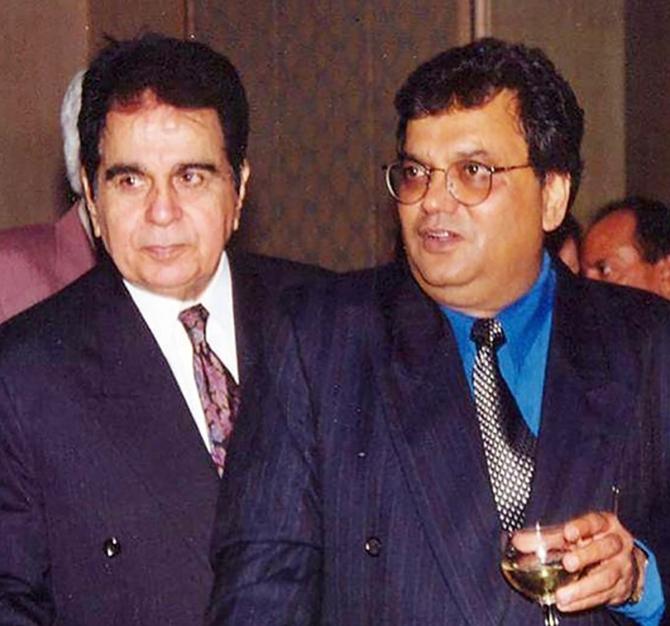 So you chose films over the force?
Since I was good in acting, writing and direction, I joined FTII (the Film and Television Institute of India) and graduated with a gold medal.
But even when I was at the institute, I was drawn to patriotic films like V Shantaram's Do Aankhen Barah Haath.
The meaningful films of Raj Kapoor, Dev Anand and Guru Dutt interested me more than bubblegum romances which, I believe, run their course between the ages of 16 and 24. After that you get married and it's a different love story.
But your love for your motherland is timeless. Evergreen.
You started your acting career as an air force officer in Shakti Samanta's Aradhana.
Yes, and I started my career as a director with Kalicharan in which though Shatrughan Sinha has a double role, it's the top cop, Premnath's IG Khanna, who inspires a hardened criminal like Kalicharan to take on the mantle of his lookalike, Inspector Prabhakar, who has laid down his life in the line of duty.
He goes on to unmask the notorious 'Loin' who has been engaging in all kinds of nefarious dealings, including blackmarketeering, smuggling and robbery.
I did not become a police commissioner like my uncles, but in my films, the cop is always an upright custodian of law. Even the One Two Ka Four Lakhan eventually mends his ways and -- following in the footsteps of the ideal Ram -- helps good triumph over evil.
For me, teachers, lawyers, doctors and cops are the most respected professions in our society.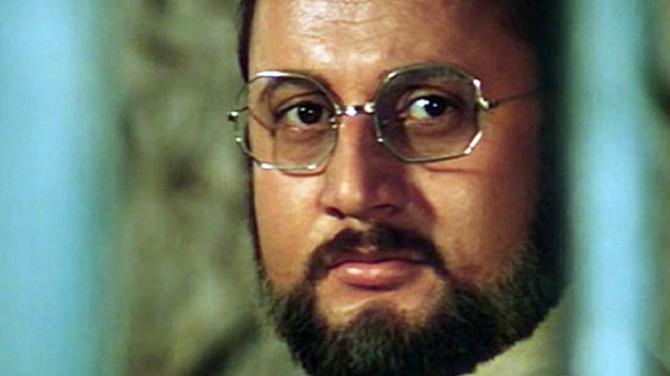 From the Loin to Dr Dang, you changed the face of the 'Bad Man', turning underworld dons into international terrorists.
The Khalistan movement had common people in Punjab scared as anyone could come and open fire or drop a bomb, killing hundreds of innocents.
That's what gave me the idea.
What made Dr Dang interesting was that at the time when villains were big and Hulk-like men like Amjad Khan or Amrish Puri, I had a khalnayak in my film who looked soft and somewhat effeminate, but who was dangerous and lived to destroy India.
I ran into Anupam Kher at a five-star hotel late in the night. He called out to me and as I watched him walk across the lobby towards me, I was struck by his walk.
When he told me that he wanted to work with me, I called him to the office the next day.
He was shocked when I told him that he was playing the main villain in my next film, Karma.
Anupam had just had one release till then, Saraansh, in which he had played an elderly, retired teacher. He couldn't believe that I wanted to cast him as the mastermind of a terrorist organisation and pit him against his idol, Dilip Kumar!
And the sound of that slap that Dilip Kumar gave him resounds even after over three decades?
That slap was a turning point in the story and one of the most important scenes.
I finished mixing the entire film in Chennai's Prasad Lab in 20 days, but mixing that slap took me two full days.
I put it in the six channel sound system, wanting it to reverberate in the hall and resonate with people long after the film was over.
It had to be an emotional experience because this character, the jailer, was not just slapping another prisoner, he was slapping a terrorist.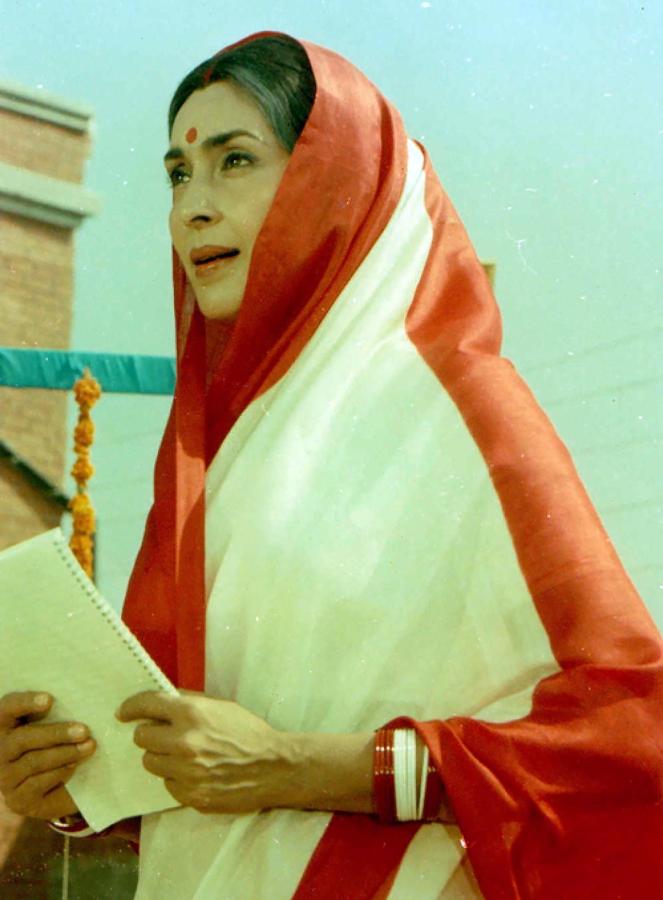 Another song which invariably plays on Independence Day is Aye Watan Tere Liye from Karma. Tell us about its genesis.
To begin with, Karma was an action film with a jailer planting three criminals to catch a bigger criminal.
Slowly, as the script developed, we had the jailer's wife writing songs. And the idea of Nutanji singing a patriotic song during Independence Day celebrations came about.
One day, when I was in a music sitting with Laxmiji (Laxmikant, of the composer duo Laxmikant-Pyarelal) two lines strayed into my mind, 'Har karam apna karenge, aye watan tere liye'.
I asked Laxmiji to jot this mukhda down on the script so I wouldn't forget and we could give the lines to Bakshiji to develop.
Since there was another producer waiting, I left his bungalow.
But as I stepped outside, I ran into someone I knew.
I was chatting with him when Laxmiji's assistant came running out and escorted me back to the music room where Laxmiji started playing the harmonium and singing these lines.
The song one has been hearing for the last 30 years was composed in five minutes because those two lines had touched him to the core.
Bakshji then wrote an entire song around them, enhancing them and giving the scene a different emotional graph altogether.
It was the first song to be picturised, and after the shoot, Dilip (Kumar) saab smiled and said, 'You should have given me this song, Subhash.'
I reasoned that he was a dignified jailer, how could he break into a song in jail?
He laughed and said he had been joking.
But his words set me thinking, and I decided to record a second version with Dilipsaab, Mohammad Aziz and Kavita Krishnamurthy.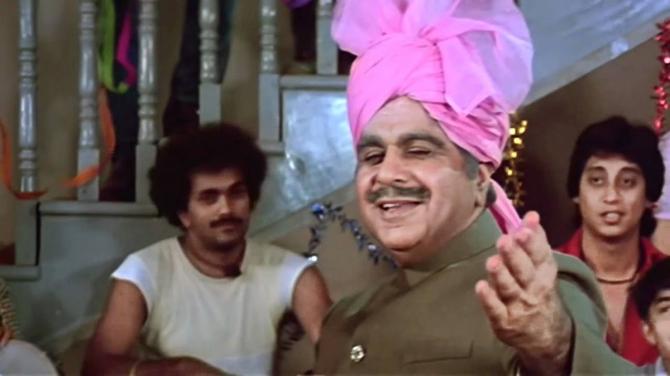 And this one was more romantic than patriotic...
That's right, by changing one word -- 'watan' to 'sanam' -- I turned it into a romantic song that talks about family bonding and the love this couple has for each other even after many years of marriage.
It's a beautiful sequence and comes just before tragedy strikes.
It came together thanks to the creative collaboration of the writer, director, actor, composer and lyricist.
Karma went on to celebrate golden and platinum jubilees in many theatres across India. And till today, we are still singing these songs.
And what prompted Kisna: The Warrior Poet, a period romance revolving around an Indian boy and a British girl which starts in 1930, plays out against the backdrop of the struggle for Independence and ends in Devprayag in the present day?
I wanted to show the beauty of our country through the eyes of a British girl.
As Kisna escorts Catherine to the British high commission, you see our country, its people and villages, its mosques and temples, an India she falls in love with and can never forget even after she leaves it.
I'm very proud of Kisna.
In a population of 135 crore, I am just one man, a film-maker.
What can I do for my India except make films that showcase its greatness to the world, which touch on national issues and arouse the feeling of patriotism?
How would you define patriotism?
Real patriotism is when every citizen enhances his own dignity with a positive national character, respects our Parliament, the army and judiciary, the media, artisites and every professional, and holds himself up in the eyes of the world.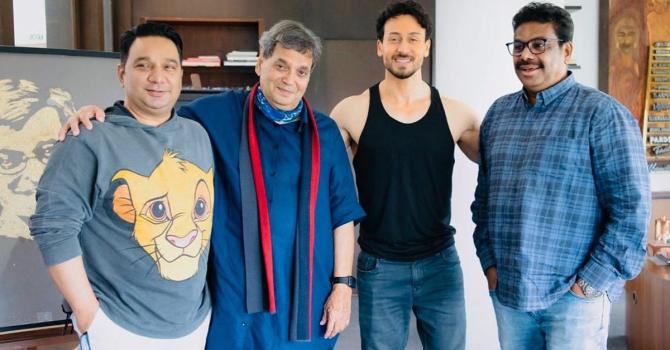 Recently, you posted pictures from a lunch with Tiger Shroff, Director Ahmed Khan and Cinematographer Kabir Lall. Is a collaboration on the cards?
Yes, we are planning something together, a spy drama...
A fight for good which will be about national integrity and patriotism.