'You don't want to see the film, don't see it. I want to see the film. Why are you stopping me?' asks Dadasaheb Phalke Award winner Asha Parekh.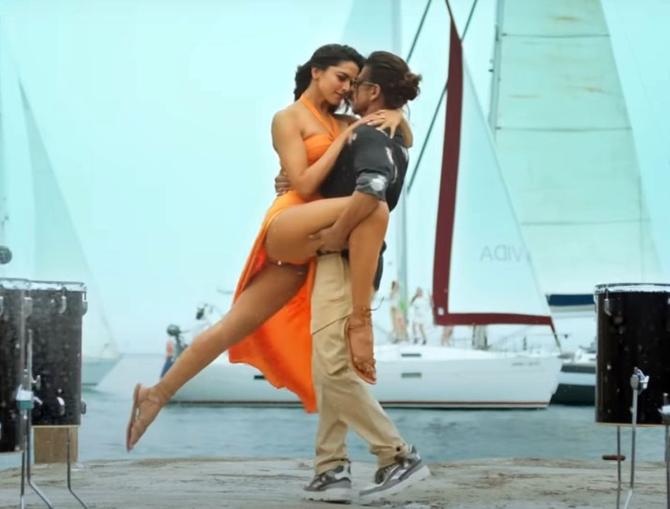 Central Board of Film Certification Chairperson Prasoon Joshi has decided to let Deepika Padukone's saffron bikini remain in the Besharam Rang song in Pathaan.
Former actress and former CBFC Chairperson Asha Parekh is worried about the Shah Rukh Khan starrer.
"Our industry has never gone through such a bad phase,"Ashaji, on who the Government of India conferred the Dadasaheb Phalke Award last year, tells Subhash K Jha.
"I have been part of it for more than 60 years. I have never seen such a low phase in the history of the industry. Pathaan needs to be released without any hindrance. Yash Raj has suffered a series of blows recently. They can't afford another one," she adds.
So what's the solution?
Ashaji answers, "Let them remove the song, if that's what it takes to ensure a smooth release for Pathaan. Although let me state very clearly that I'm totally opposed to such bullying."
"Why should some elements decide on behalf of the entire nation on what's good and what's not? You don't want to see the film, don't see it. I want to see the film. Why are you stopping me?"
Ashaji, who was known as the Jubilee Queen in the 1960s for her uninterrupted flow of hits, feels the cinema business is on the brink: "We must have hits. Films like Pathaan can revive the film industry."
She feels the curb on an artiste's freedom is not to be encouraged.
"Why is a stamp being put on one particular colour? Every colour is equally beautiful. Orange was such a favourite colour of many of us heroines. Imagine being told, don't wear this colour, don't wear that colour. This is the height of bullying."
"No community can claim ownership over any colour."