A trio of desi dudes (Shreyas Talpade, Jaaved Jaffrey and Aashish Chowdhary) in Pattaya, Thailand, live together as paying guests in the home of a crabby Sindhi landlord (Asrani) whose first name, Kiska, is considered funny enough to wrap a minute-long gag around.
All three of them lose their jobs on the same day -- Talpade is fired by the owner (Johny Lever) of the restaurant he works at; Jaffrey loses his job at the television station he works at when his boss (Paintal) catches him canoodling with his daughter (Sayali Bhagat) and Chowdhary quits his job at a car dealership after a confrontation with his boss (Neha Dhupia).
Just when it looks like things couldn't get any worse Vatsal Seth turns up, as a cousin about to begin work in Pattaya.
One thing leads to another, copious amounts of alcohol is consumed and because of the indiscretions they commit while 'under the influence', the boys find themselves homeless and unemployed at roughly the same time.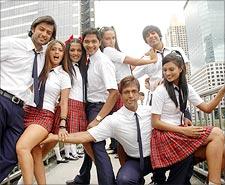 In the ensuing hunt for an alternative place of residence Chowdhary and Seth turn up at Lever's home where his wife (Delnaaz Paul) and he have vowed to only offer accommodation to couples. Perhaps you can figure out what happens next, perhaps not but suffice to say that the 'demand of the script' was for two of the four guys to dress up in drag and impersonate women. Sigh.
How does one critique a movie like Paying Guest without labelling it crass, sexist and mildly misogynistic? It can't be done. Let's see, they make fun of South Indians (Paintal's ridiculous accent), people with speech impediments (Chunky Pandey's ridiculous accent), women (Talpade and Jaffrey's ridiculous accents) and attempt to wrap it all up with a sequence that alludes to the famous scene set in a play from Jaane Bhi Do Yaaro.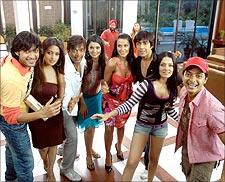 Of the cast Aashish Chowdhary is the only one who makes his screen presence likable. Talpade looks like he's indulging in high school dramatics, Jaffrey and Lever pull the same stock faces they have survived off for the past couple of decades and
Seth has precious little screen time to do anything other than utter his stock catchphrase. The women are barely dressed and barely there so the less said the better.
It is difficult to guess whom this movie was made for. Since some of the more ribald humour relies on double entendres from the English language it is unclear if the 'front benchers' will get the point every time. And since people watching movies in English have probably watched way more specialised risque material it is unclear whether they would pay good money to watch this gag reel of failed skits on the big screen.
Paying Guest, the movie, might be based on a 'successful' play but it is clear that it wasn't a very good one. Brave this at your own risk.
Rediff Rating: