We revisit some iconic moments of the the much-loved television series as it celebrates its 20th anniversary.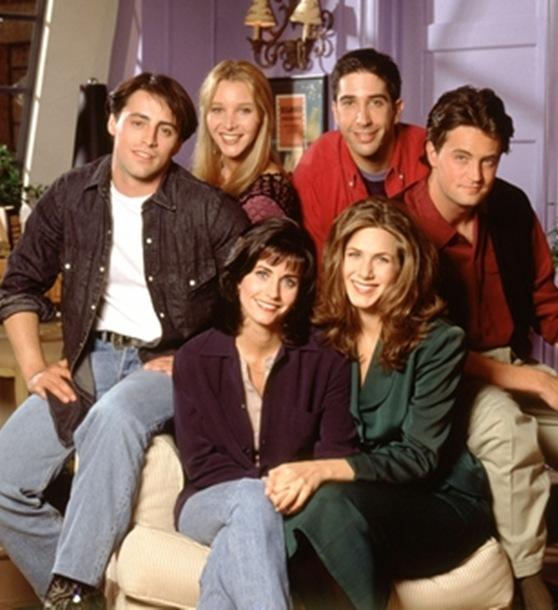 Image: (Clockwise from bottom) Jennifer Aniston, Courtney Cox, Matt LeBlanc, Lisa Kudrow, David Schwimmer and Matthew Perry in FRIENDS
R
oss Geller. Joey Tribbiani. Chandler Bing. Rachel Green. Monica Geller. Phoebe Buffay.
Strangers once, household names today.
Even though it's been a decade since the series concluded, its huge fan following continues to thrive on re-runs and hopes of a reunion.
It all began on September 22 when David Krane and Marta Kaufmann's rollicking sitcom starring Jennifer Aniston, Courteney Cox, Matthew Perry, David Schwimmer, Matt Leblanc and Lisa Kudrow for NBC began its reign in our living rooms that lasted a whopping 10 seasons and 236 episodes.
Friends' premise of six 20-something friends trying to make a life in New York City's mad rush armed with nothing except humour and each other immediately caught everyone's fancy.

An entire generation could relate to their individual quirks, romantic equations and zany one-liners influencing both our movies and us.
On its 20th anniversary,
Rediff.com
compiles 20 things we still LOVE about one of the MOST popular sitcoms of all time.
1. Chandler's hilarious bout of sarcasm


S
ample this. "Look at all the space on her side of the bed. You could fit a giant penguin over there. That'd be weird though."
2. Joey's monster appetite

Maternity pants come in handy when your hunger is as insatiable as Joey.

Remember how every Thanksgiving special episode underscored the infinite capacity of Joey's super stomach?

And, boy, is he possessive about his food? Bottom-line: never try to nibble from Joey's plate.
3. Rachel Green's iconic hairstyle


J
ennifer Aniston is quite easily the most successful star story to come out of
Friends
and her most copied hairstyle in hairstyle history -- The Rachel bears testimony to this fact.
4. Phoebe as Regina Phalange


W
hat's not to love about Phoebe's delusional claims as the faux French-spew Ms Phalange hailing from the town of Estee Lauder?
5. Ross's ditzy accent


T
hat phony British accent he puts on in school and Monica and Rachel's Irish and Indian rejoinder to the same. Heh.
6. Monica, the multitasking Wonder Woman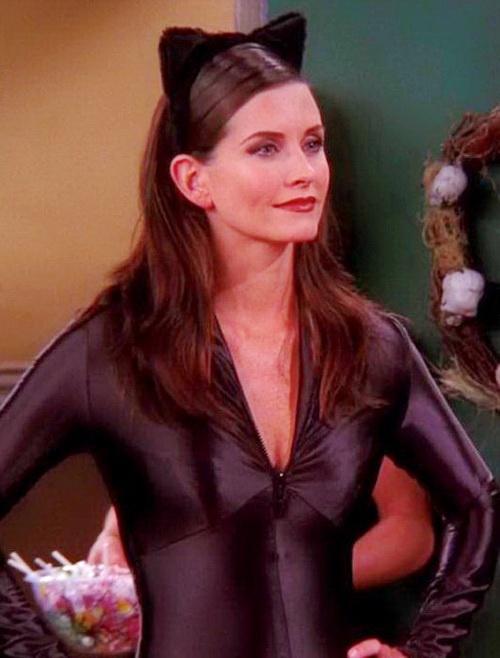 Image: Courtney Cox as Monica Geller in FRIENDS
I
f organisation skills were a super power, Monica Geller would beat Batman to it.
With neatly labelled post-its offering step-by-step descriptions, of course.
7. The Rembrandts awesome tribute to friendship


S
o what if the band is relegated to one hit wonder category, the catchy
I'll Be There For You
is a classic in its own right.
8. The On-Off relationship of Ross and Rachel


W
hat's consistent about the 10 seasons of
Friends
?
Our favourite couple -- Ross and Rachel can't live with each but can't live without each other.
The changing graph of their relationship from "She's your lobster" to "We were on a break" to "I am pregnant, you're the father by the way" to "I got off the plane," in Ross's own words, "it's been one heck of a see saw."
9. Girl gang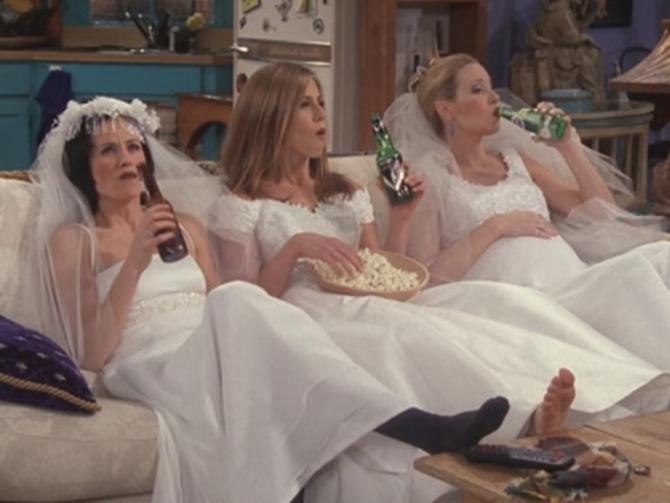 Image: Courney Cox, Lisa Kudrow and Jennifer Aniston in FRIENDS
W
hether
they're drinking beer dressed in wedding gowns or slumber partying in pyjamas, the lovely troika of Monica, Rachel and Phoebe are what true besties are made of.
10. Grown-ups like to play too

From indoor games like poker, dumb charade, Bamboozle and personality trivia (the one leading to a uproarious exchange of apartments) or outdoor fun in rugby, there's never a dull moment in Friends.
11. Rachel's uber-chic wardrobe


W
hether she's a waitress or a buyer at Ralph Lauren, her love for designer brands and beautiful clothes is apparent in her trendy attire episode after episode.
12. The star guests


B
rad Pitt, Julie Roberts, Bruce Willis, George Clooney, Reese Witherspoon, Winona Ryder, some of the biggest A-listers appeared on the show and looked more than thrilled to play the fool for these six adorable friends.
13. The original Bromance starter here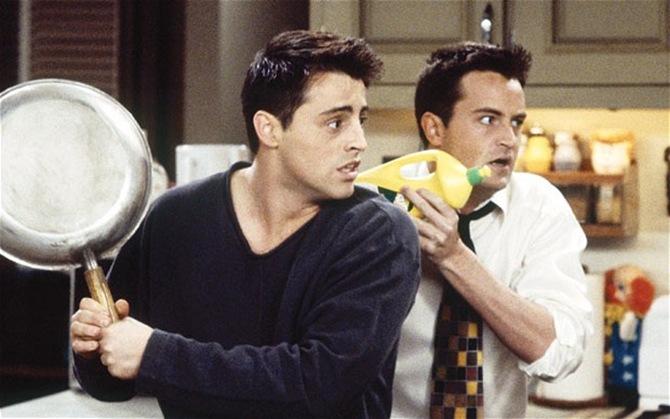 Image: Matt LeBlanc and Matthew Perry in FRIENDS
R
oss and Chandler are high school buddies, Chandler and Joey are roomies and we love their camaraderie through girl trouble or quarter-life crisis.
But mostly we dig them playing house with a bunch of cartons.
14. The fighting-The making up


T
here's much amusement in Ross and Rachel's unending arguments, Monica and Rachel's catfights, Joey and Chandler's childish banter and Phoebe playing the peacemaker through it all producing some truly awww moments in the end.
15. Monica Geller, the unsung dancing queen


P
ut her in that ridiculous waitress suit or a prosthetic avatar, Monica burns the floor with her signature moves as delicious as the food she puts on the plate.
16. Gunther


O
ne doesn't elaborate on Gunther. One merely chuckles every time he's on screen.
17. The practical jokes


R
oss painting a musketeer like beard and moustache on a drunk Rachel.
Rachel's convincing Ross's girlfriend to shave her head bald, Joey giving cranks calls to Chandler in a woman's voice, oh, we could go on forever.
18. Smelly cat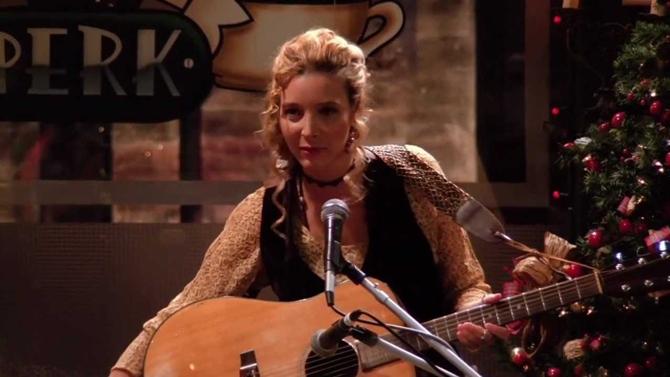 Image: Lisa Kudrow's Phoebe Buffay sings Smelly Cat in Central Perk
P
hoebe's nutty rendition of the equally loony
Smelly Cat
at Central Perk is as popular as the theme of the sitcom if not more.
And with lyrics like that, we aren't wondering why.
19. Joey's classic catchphrase


'H
ow you doin?' 'Nuff said! ;-)
20. Oh. My. God. The wit, the writing: A mini recap
"Y
ou are over me. When were you under me?"
"I'm not so good with the advice. Can I interest you in a sarcastic comment?"
"Why do you have to break up with her? Be a man. Just stop calling."