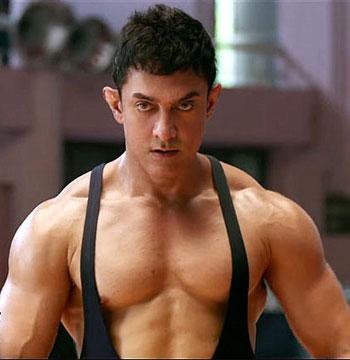 Check out Raja Sen's list.
Lists are made to be debated.
To be obsessed over and taken apart and analysed, and while we critics bemoan the December ritual of rankings, those of us who love Nick Hornby's High Fidelity will also confess to enjoying the absurd make-believe analysis of it all.
On that note, I'd like to thank the ten men here for making this year's Best Actor list a tricky one to rank and a thoroughly pleasurable one to write.
The characters range from sporty ones to scary ones, and to see so many mostly mainstream actors picking such intriguing and challenging roles is a good sign.
Here, ladies and gentlemen, are Hindi cinema's actors of the year:
10. Amitabh Bachchan, PINK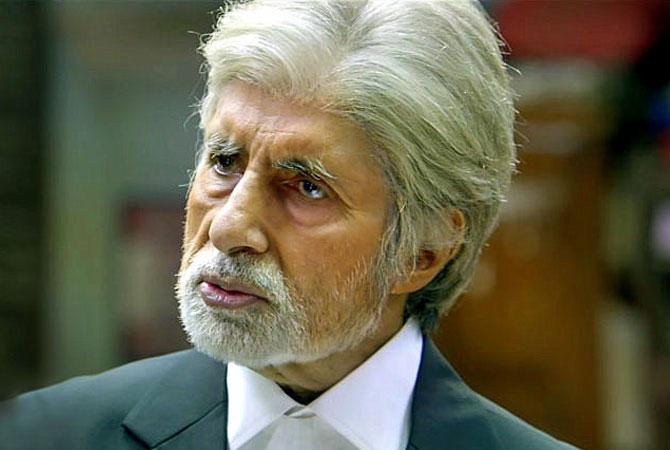 IMAGE: Amitabh Bachchan played an articulate lawyer in PINK.
The man with the baritone had an inconsistently written role in PINK, with his lawyer Deepak Sehgal conveniently flitting in and out of bipolar disorder and sounding articulate just when needed.
Yet Amitabh Bachchan is suitably commanding for a film that requires us to heed his words, and he holds court -- in court, no less -- with majesty.
A line where he reproachfully scolds a lying witness for 'overacting' is particularly priceless.
9. Diljit Dosanjh, Udta Punjab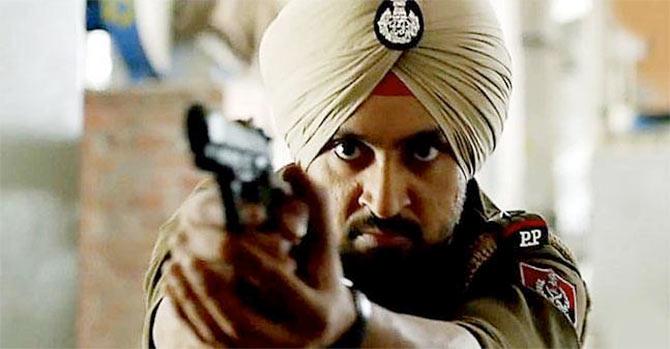 IMAGE: Diljit Dosanjh played a insignificant cop in Udta Punjab.
Dosanjh has the straight man role in a film brimming with weirdos, always a tough ask.
He plays an insignificant cop jolted out of apathy, and diving headlong into a small part of Punjab's murky drug scandal.
The way he gradually realises the fatality of the situation and just how much is at stake mirrors the jolt the filmmakers intend for the audience.
His journey from bystander to doer -- one that Dosanjh undertakes with slack-jawed believability and steely earnestness -- grounds the film.
8. Jim Sarbh, Neerja
IMAGE: Jim Sarbh played terrorist with Sonam Kapoor who played the title character in Neerja.
Some performances that require the opposite of restraint.
There are times when the very idea of holding back needs to be thrown clear out the window, and Jim Sarbh did well to embrace his feral side in this portrayal of a savage terrorist hijacking a plane.
A jagged-edge character with the jumpiness of an indecisive wolf, Sarbh brings a vital element of horror -- cinematic horror, even -- to a film that otherwise keeps its seatbelts firmly fastened.
7. Fawad Khan, Kapoor & Sons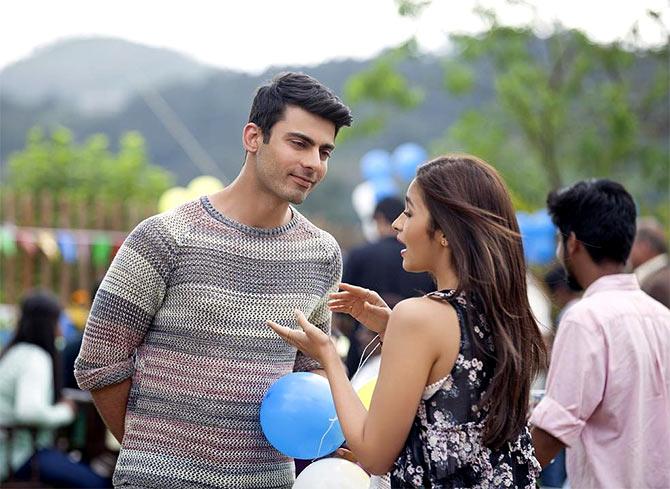 IMAGE: Fawad Khan played family favourite with a closet secret along with happy go lucky Alia Bhatt in Kapoor & Sons.
Reams could be written about the effortless way with which Khan plays his characters, luxuriating in the roles and sinking easily into them without trying to prove who he is, but this should, for now, suffice: It is a joy to watch a man who knows what he's doing.
Playing the family favourite with a closeted secret, Fawad is superbly credible and nuanced in expressing his sensitivity, hitting his peak when rendered speechless by a kiss he doesn't know what to do with.
6. Ranbir Kapoor, Ae Dil Hai Mushkil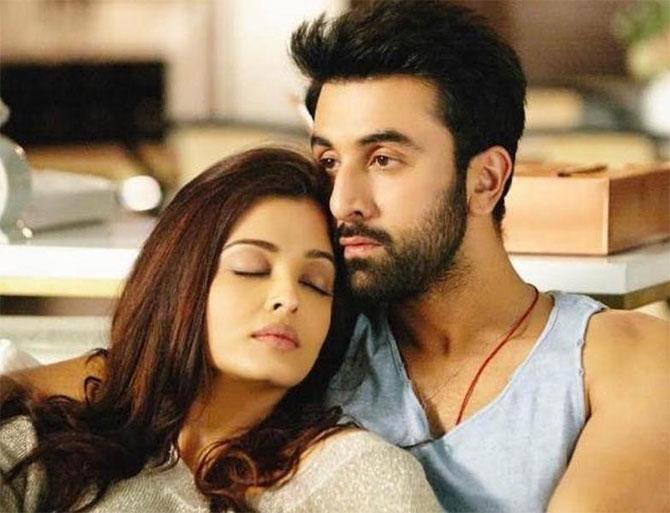 IMAGE: Seductress Aishwarya Rai Bachchan with lover boy Ranbir Kapoor in Ae Dil Hai Mushkil.
Kapoor has made a career out of playing the man-child unsure of the road ahead, but scarcely has he been as emotionally naked as in this story of unrequited passion.
He goes from being a cocky goof to a smitten pretty boy to a surly jerk who won't take no for an answer, and Kapoor consistently inhabits this wishy-washy yet romantic character.
A scene where he rests his head on that of his doomed love and waltzes into the dreaminess of what could have been is a standout.
5. Shahid Kapoor, Udta Punjab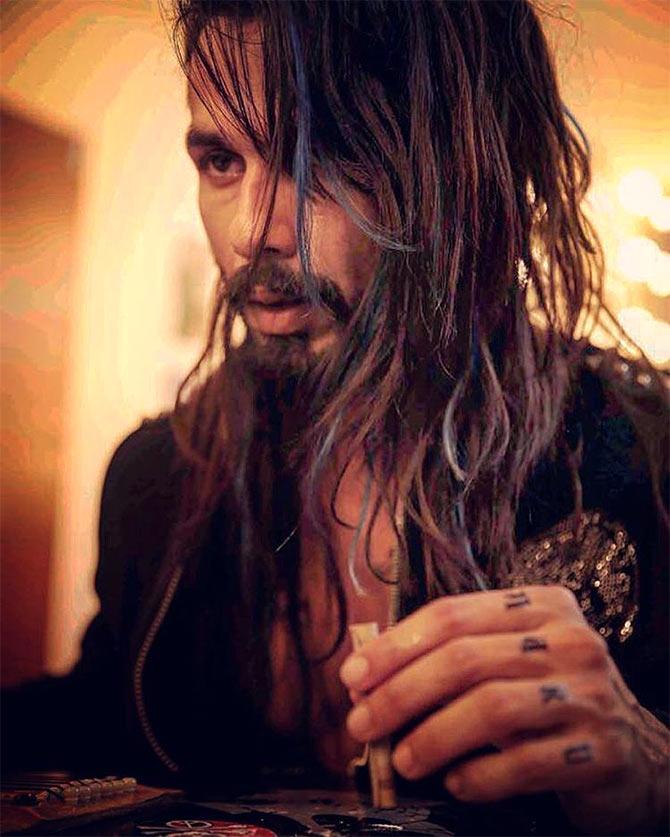 IMAGE: Shahid Kapoor as a drug addict and pop star in Udta Punjab.
The fear is what impresses.
Kapoor has always been good with swagger, and brings a legit pop star energy to the role of the frequently white-nosed Tommy Singh, but it is the wide-eyed alarm in his eyes that makes his character really swing.
Whenever the shoe drops, he stares at the truth as if freshly awakened, and, faithful to the slowness of his foolish protagonist, it takes a fair few awakenings to really stun this tubelight into action.
His singing scenes are stellar -- with the actor nailing an a capella seeming moment -- but I keep going back to those shocked eyes, widened to the point of electrocution.
A top moment is when Kapoor, thunderstruck at seeing an uncle -- someone he shot a gun at a couple of scenes ago -- insistently order cola he knows Kapoor will ask for, scampers up to him and embraces the uncle, overcome and overdue.
4. Rajat Kapoor, Kapoor & Sons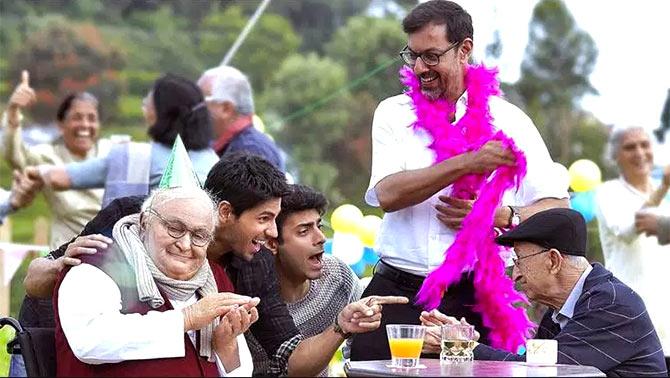 IMAGE: Rishi Kapoor, Siddharth Malhotra, Fawad Khan and Rajat Kapoor in Kapoor & Sons.
There is a furtiveness behind nearly each of Kapoor's actions in this film, and while this may not always appear evident -- like when he is carefully arranging cookies on a plate, or pouring out juice while smothered in a bright fuchsia boa -- this underlying self-consciousness comes into relief when we learn that he, a frustrated failure of a man but a fine father, has his own skeletons.
Guilt, being so intangible and subjective, is an easy emotion for an actor to overplay, and Kapoor provides a masterclass in how not to underline the obvious.
3. Aamir Khan, Dangal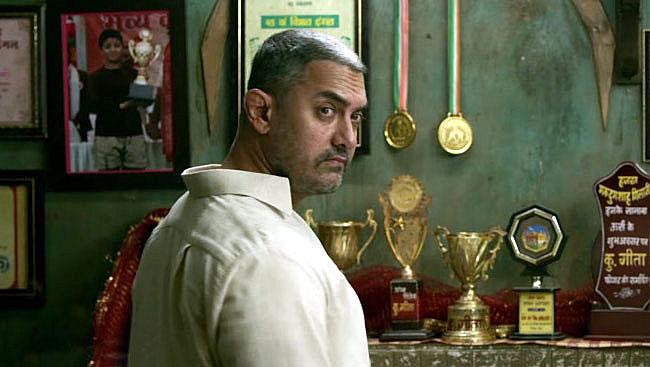 IMAGE: Aamir Khan played wrestler Mahavir Singh Phogat in Dangal.
Weight is one thing, tenderness another.
The muscle Khan displays as a young man at the beginning of Dangal is far too impressive; overtly defined and glistening, it looks nothing like the authentic small-town wrestlers in the opening montage, with their rounded-corner bodies and overall broadness.
It is as the actor starts losing shape that the character gains definition, and his smallest movements start showing off knowledge: of wrestling holds, but also of how to massage his daughters' feet.
This character -- a dictatorial father and a bully -- is the most flawed man on this list, but Khan plays him with nearly enough righteousness and pride for us to overlook his flaws.
And then, forsaking all heroic pride, he makes no bones of losing to his girl.
2. Sushant Singh Rajput, M.S. Dhoni: The Untold Story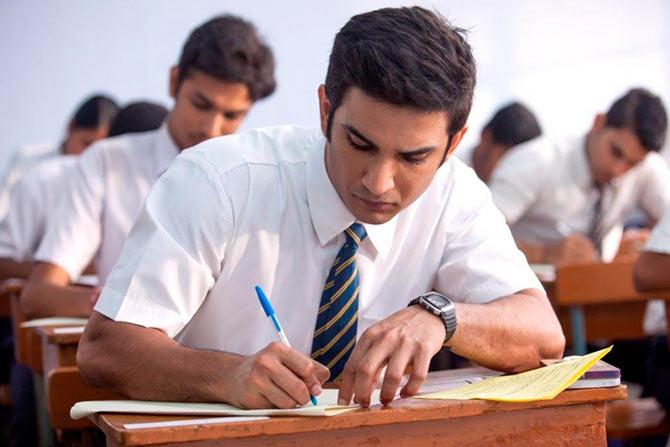 IMAGE: Sushant Singh Rajput as M S Dhoni the finest cricketer in India in M.S. Dhoni: The Untold Story.
Sushant Singh Rajput looks nothing like Mahender Singh Dhoni, one of the most recognised Indians alive.
Yet such is his mastery of body language and sheer tonality that we begin to see Dhoni in Rajput, in obvious ways -- his gait and his flawlessly mimicked strokeplay -- which can come with dedicated rehearsal and rigour, but also in less labelled nuances of character, such as the way the cricketer, coming to grips with celebrity, attempts to perfect the exact width of his on-screen smile.
Rajput plays Dhoni as a young squirt and as six-hitting cricket conqueror, and does so with grace and inevitability.
Of course, this is how Dhoni must have been, he must have felt, he must have struggled, insists Rajput's performance.
And willingly we believe.
1. Shah Rukh Khan, Fan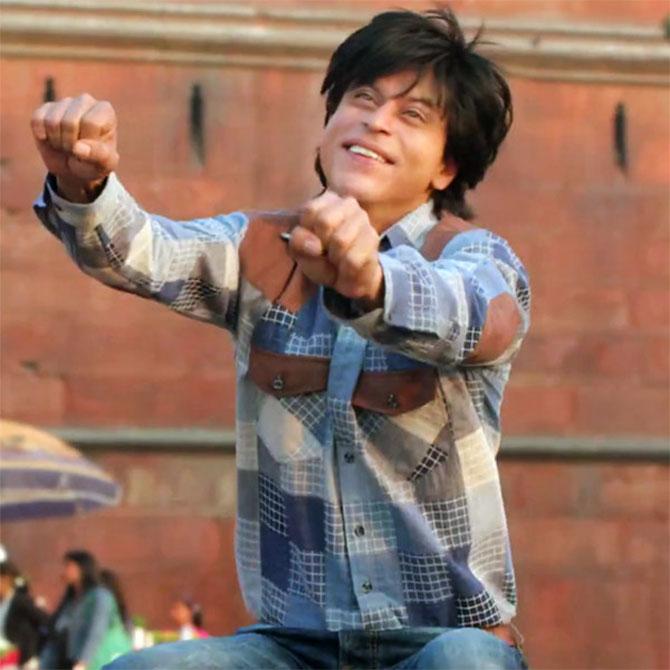 IMAGE: Shah Rukh Khan played fan as well as superstar in Fan.
Nobody but Shah Rukh Khan could have done this.
The idea of obsessed fan and overindulged filmstar is an old one, but Khan takes it to a different level by taking on both heads and tails.
He is spectacular as the wannabe, the hungry young man stuck in emulative loops, eyes a-gleam with hope and desire and, when it comes to the man he loves, avarice. With cut-price copies of his stunts, his wardrobe and his romantic gestures,
Khan's Gaurav proves his love and then crosses the line. In a way reminiscent of... well, Khan himself when he stutteringly stalked young women decades ago.
Meanwhile, in the braver and infinitely less showy other role, Khan delivers a devastating critique of his own image.
The actor, having already and boldly crowned himself his own greatest admirer by playing the fan, here plays The Star.
He is secure and brave -- often stupidly reckless, single-handedly running down streets emboldened by years of doing stunts -- but also desperate and flailing, and tellingly eager to hold on to a job, even if it means coaxing a businessman to continue letting him entertain guests at a wedding.
This is a vain man who surrounds himself with memorabilia marking his own fortune, and a man so out of touch with even his immediate world that his watchman mistakes a pretender for the real thing.
There's never been a performance like it. But then there's never been a Shah Rukh Khan.