'No late nights, no partying.'
'Though she avoided eating beyond her dietary regime, Sridevi loved to feed others.'
Subhash K Jha remembers the actress.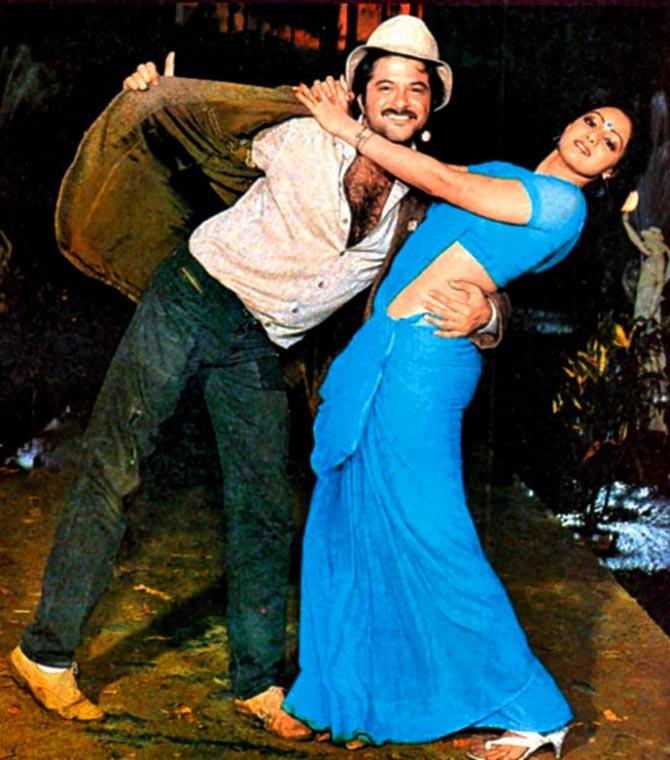 IMAGE: Anil Kapoor and Sridevi in Mr India.
We all say good things about the dead, but Sridevi was truly special.
Her mere presence could light up the screen like no other actress.
Sridevi started her career as a child actor at age four.
"I knew nothing about acting at that age. I'd do exactly what the director would ask me to do. I think I continued doing that in my later years," Sridevi once told me.
All our conversations were coordinated by her devoted husband Boney Kapoor.
It was always difficult to make Sridevi talk.
She was always an actor, not a talker.
I don't think she enjoyed talking about herself.

IMAGE: Sridevi with her family -- husband Boney Kapoor and daughters Jahnvi and Khushi. Photograph: Kind courtesy Sridevi/Instagram
She was extremely health conscious. No late nights, no partying.
Though she avoided eating beyond her dietary regime, Sridev loved to feed others.
I remember when Asin came to stay in her building, Sridevi would prepare and carry 'tiffin' with South Indian goodies for the younger actress.
Sridevi was shy.
But once she took to you, she was comfortable.
She loved having fun and enjoyed going out for meals and shopping with her daughters Jahnvi and Khushi.
What made her uncomfortable were the gawking crowds. She longed for privacy and for uninterrupted time with her precious family.
The craving for private time with the family went back to her childhood when Baby Sridevi spent hours in and out of studios in Chennai and Hyderabad playing roles when she should just have been... well, playing.

IMAGE: Sridevi and Jeetendra in Himmatwala.
Her stint as an adult Bollywood star began with Solva Sawan in 1978, which bombed. She was all but written out of Bollywood for the next three years until she was re-launched in Himmatwala in 1981. There was no looking back after that.
Jeetendra, who starred with Sridevi in Himmatwala and a string of hits in the 1980s, told me of her self-discipline: "Us ladki mein ek lagan tha, ek junoon thi. She was determined to make it as big in Hindi cinema as she was in Tamil and Telugu. I've never seen a more hard-working actress."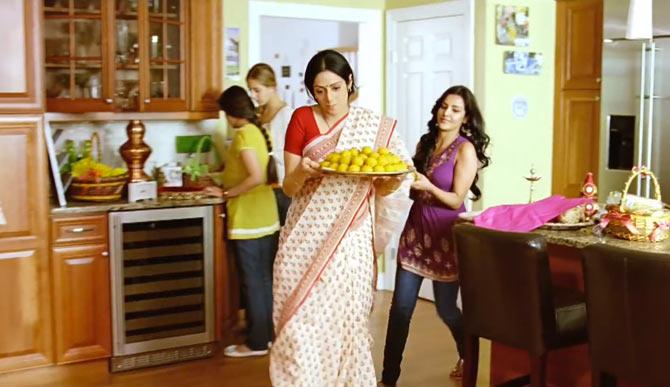 IMAGE: Sridevi in English Vinglish.
After marriage, Sridevi slowed down her career but returned with a bang in 2012 with English Vinglish,
Sanjay Leela Bhansali, a huge Sridevi fan, remembers his meeting with her for the last time.
"She came to my special screening of Padmaavat with her husband," he says.
"She loved my film and said she wanted to work with me. That wasn't destined to happen. It will remain a lacuna in my oeuvre. How could she go so suddenly?"
"Sridevi can't die. She's magical. There is nobody else who can do Hawa hawaai and Kate nahin katte the way she can. She had natural-born instincts for the camera which she sharpened and honed over the years."
"It is strange to be talking about her in the past tense. I can't believe she's gone."