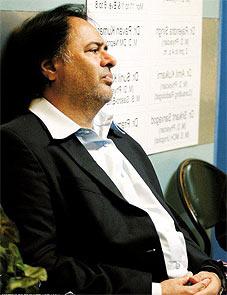 Mahesh Nair, who directed Farooque Sheikh in his directorial debut Accident On Hill Road, reveals a lesser-known side of the late veteran -- of a passionate actor, who took failures in his stride with a rare dignity.
It is easy for us to remember a man by his success. But you can know a person better with his failures.
I called him Farooqueji and he called me Nairsaab.
I protested, saying I was just a debutant director. He counter-argued with 'You are the director.'
I realised later that there was not a single conversation one had with him that wasn't peppered with words like 'Adaab', 'Khairiyat' and 'Saab.'
He was such a cultured man that he made everybody he interacted with a decent person, if at least for the time being.
Farooque Sheikh was a fine actor.
Despite his admirable talent, he was associated with failures for a large part of his professional career. Except for Noorie and Chasme Buddoor, almost all the other films where he played one of the leading roles failed to work at the box office.
People knew he was a good actor, but that did not translate into business for his films.
The first time I met him to offer a lead role, he candidly told me, 'Let me warn you. I am commercially unviable.'
The film I directed -- Accident On Hill Road -- where he played one of the protagonists, is a good example of what I mean by failures.
When my film released, critics dissed it.
While most of them said that Farooque Sheikh did a competent job in the film, a journalist wanted to know why I had wasted the actor stuck in a car windshield for almost all the film?
When I pointed out that my film was a remake of an English film Stuck and I could not change the original storyline, the journalist reiterated that it was a waste of the actor's talent.
I was shattered.
I met Farooqueji and shared this with him. He smiled and said, 'Nairsaab, forget it.
'You made the film with sincerity and all of us put our hard work in it. People did not accept the film. There is nothing we can do about it except to work harder and try our luck next time.'
'Look at me. Yeh toh hotey rehta hai humare saath(This happens with me all the time).'
Failure often makes us bitter.
But if that were so, how was Farooque Sheikh such a wonderful person?
Would he have been a different man if he had tasted mass success?
Is his nice boy-next-door looks or the gentle-faced visage the reason why he was not commercially viable in the Hindi film industry?
It is exactly four years ago (January 1, 2010) that Accident on Hill Road released. As is customary, this time too a day before Christmas, I received a text message: 'Adaab. Wish you a Merry Christmas, a Joyous New Year and v happy life ahead. Best luck, always. Farooque Sheikh.'
I smiled and replied: 'Thank you, Farooqueji. Merry Xmas to you too. May the New Year bring you all that you want:-)'
I hope it has.
Photograph: Farooque Sheikh in Accident On Hill Road.