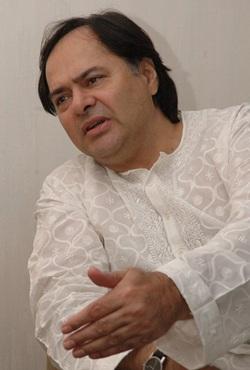 'He represented the warmth, gentleness and goodness that existed in Hindi cinema before Bollywood became a loud commodity.'
Aseem Chhabra on the legendary actor he admired for over 40 years.
In May, Farooque Sheikh walked into The Varick Room, the Tribeca Cinemas's bar area, and I was immediately struck by his elegance.

He looked liked he was royalty.
My second thought was about his white kurta and pajama, and its Lucknowi chikankari work. He had just arrived from the airport, and I wondered how his kurta looked so crisp and starched.
Over the next few days -- Farooque was a guest at the New York Indian Film Festival -- he only wore white kurtas and pajamas, looking relaxed, yet standing regal.
His clothes were always sparkling white and starched, despite New York City's humid summer days and nights.
He smiled at everyone, gracious at all times and obliged so many of our volunteers who wanted pictures with him.
He warmly referred to me as Aseemsaab, even though I was younger than him.
We had programmed two of his films -- his last film then, Listen... Amaya (his eighth film with Deepti Naval) and his debut film -- Garam Hawa, the 1973 masterpiece by M S Sathyu, which we programmed to mark the 100 years of Indian cinema.
For the longest time, we were not sure if Farooque would be able to join us -- he was in the middle of a film shoot in India and reaching him was not always easy. I learned that the actor was not comfortable with e-mail.
I also realised that people spelled his name in so many different ways. I think we settled for Farooque Sheikh, but even now, days after he has passed away at the young age of 65, I see people using so many different spellings of his name -- on social media sites and in the press.
They are all talking about one of the most talented, generous, soft spoken and cultured actors of our time.
His tragic death in Dubai is a huge loss for the Indian film industry.
He continued to act in films until recently, giving a very nuanced performance in Dibakar Banerjee's Shanghai (2012) and then again a small but memorable role as Ranbir Kapoor's father in the hit Yeh Jawaani Hai Deewani.
I first saw Farooque on the screen in 1973 in the role of Sikander Mirza, the youngest child of a shoe manufacturer Salim Mirza (Balraj Sahni at his career best) in Garam Hawa.
Farooque was 26 -- buzzing with talent and tremendously handsome.
His role of a young Muslim man, who, despite the promise of struggle, chooses to stay back in post-Independence India (his parents also stick to his decision) had a lasting impression on generations impacted by Partition.
Garam Hawa was one of my parents's favourite films. They were both affected by the violence that surrounded Partition. I was a teenager when I saw the film, but Sikander's journey and his final decision to cast his future in India had a quite an impact on me.
My relationship with Muslims in India was largely shaped by Sikander and his parents's decision to make India their home. And for that I will always be thankful to Farooque and his character in Garam Hawa.
In college I saw two other remarkable films of the 1970s -- Muzaffar Ali's Gaman, where he played a lonely displaced cab driver in Mumbai, longing for his love and life in his village (the heartbreaking song Seene Mein Jalan is set to Farooque's lonely passages through the crowded streets of Mumbai); and Satyajit Ray's Shatranj Ke Khilari, where he and Farida Jalal have a hilarious affair, while her clueless husband (played by Saeed Jaffrey) is tied up in a never-ending game of chess.
There were also a set of films with Deepti Naval -- their pairing in the art-house indie films of that time was the equivalent of the Rajesh Khanna-Sharmila Tagore team.
In the early 1980s in New York City, I saw Farooque in the stunning period piece Umrao Jaan and the deeply tragic Bazaar. The actor who has somewhat defined my life as a teenager in the 1970s had traveled with me to New York City.
Once in Delhi, I saw Farooque in person, eating lunch at the Hilton Hotel near Connaught Place. Seated a couple of tables away, I was so star-struck that I could not help staring at him. The actor noticed me and I realised that I was probably making him uncomfortable. So eventually I looked away.
I did not feel confident to walk up to him, even if just to shake his hand. Of course, I could not imagine that one day I would welcome him as a guest in New York City, part of a film festival that I would program.
In the late 1990s, he came to New York City with Shabana Azmi and they performed the play Tumhari Amrita at Hunter College.
Adapted from A R Gurney's hit Broadway play Love Letters, Tumhari Amrita had the gentle but sad tone of years of friendship between a man and woman who should have lived together, but circumstances pulled them apart.
Shabana and Farooque performed the play for 21 years around the world. Their last show was held in Agra (the home of Sikander Mirza) in mid-December.
This May, Farooque interacted with the audience in New York City after the screening of Garam Hawa. My idol from the teenage years had grown older. He had lost some of his hair and he was a lot heavier than his 26-year-old self that had appeared on the screen.
He still looked remarkably handsome and charming in his white kurta and pajama.
The post screening discussion was moderated by Richard Allen, the chair of the cinema studies programme at New York University. A few years ago Professor Allen had programmed Garam Hawa as part of his Muslim social film series called Social Drama & Shimmering Spectacles.
In the conversation that followed, Farooque spoke about his memories of working with Balraj Sahni and of sharing a house with the entire cast and crew in Agra.
Professor Allen then asked him about the budget of the film. Farooque did not know about the budget, but then he added something that I immediately posted on Twitter: 'Sathyusaab (M S Sathyu, Garam Hawa's director) paid me a princely sum of Rs 750 (for his role).'
I have lost a part of my life with Farooque's death. He represented the warmth, gentleness and goodness that existed in Hindi cinema, before Bollywood became a loud commodity to be sold in the bazaar of the highest bidder.
Image: Farooque Sheikh. Photograph: The Indo-American Arts Council