The insatiable greed for money and power is too large, too repugnant to thwart.
And no one epitomised that better than Harshad Mehta, notes Dhruv Munjal.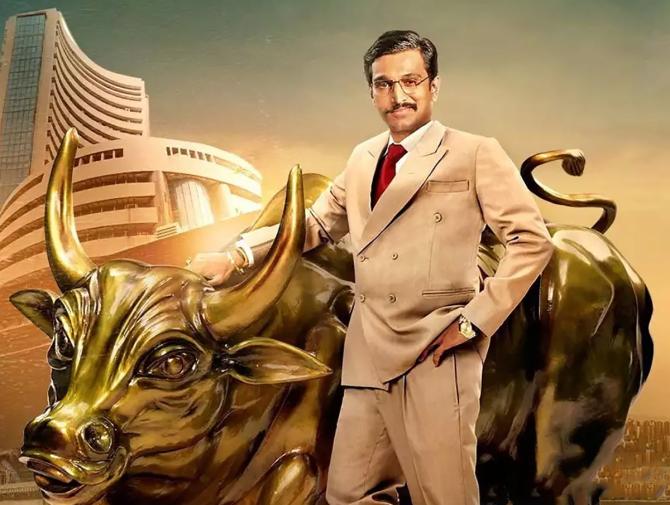 In the second episode of Scam 1992: The Harshad Mehta Story>, the lead character is referred to as the 'Amitabh Bachchan' of the stock market.
It is one among a variety of monikers conferred on Mehta in the series, some of the others being 'Raging Bull', 'Big Bull', 'Kapil Dev', 'Cobra Killer' and 'Cheetah'. He is even likened to Albert Einstein in one place.
But the Bachchan comparison sticks out the most.
It is perhaps an ideal measure of the sway Mehta held over Dalal Street: Confident, charismatic, pompous even, his personality was one that made him into an idol of the masses.
The clout he cultivated in the country's financial capital was pretty much unrivalled, successfully gaming a brittle, loophole-ridden system and amassing staggering wealth in the process.
But after years of riding the bull market and hitting dizzying heights, it all fell apart for Mehta.
Much like Bachchan's acting career at the time, the stockbroker, named in a number of financial crimes, crash-landed back to earth.
The film star managed to pick himself up; Mehta couldn't.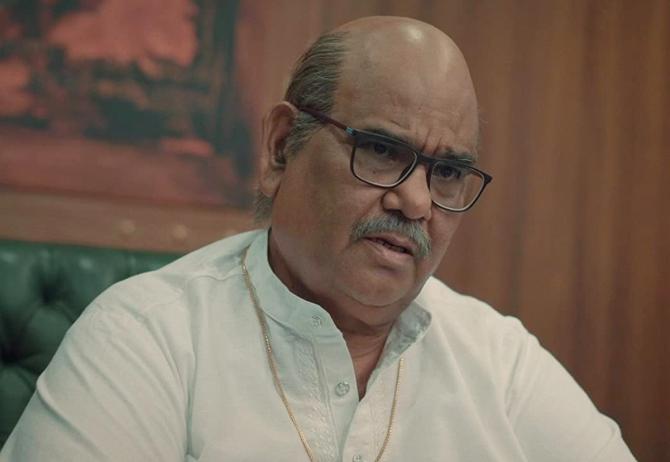 Scam 1992, helmed by the seasoned Hansal Mehta, is a fairly elaborate take on the stockbroker's tumultuous existence.
Across 10 episodes on SonyLIV, the series examines Harshad Mehta's rise from a jobber at the Bombay Stock Exchange indulging in minor acts of insider trading to a financial behemoth founding his own brokerage firm.
His beginnings are shown to be humble, if a tad hackneyed.
His father's textile business has gone bust, and the family of five lives in a congested chawl in the Bombay (as Mumbai was then called) suburb of Ghatkopar.
He works odd jobs, but is ambitious, desperate in his quest for a big break, which eventually arrives in the form of the stock market.
Perhaps, as is the norm in cinematic recreations of rags-to-riches stories, Mehta's struggles and aspirations are best encapsulated in him staring out of the window while inside a BEST bus.
Later, of course, one of the defining images associated with Mehta in real life was him leaning against his Lexus car, grey suit gently swaying in the Arabian Sea breeze, and a smug smile wide across the face.
Much of Mehta's astronomical rise coincided with India slowly moving away from the clutches of the Licence Raj and embracing liberalisation.
Sensing change, Mehta set about to turn the system in his favour, deftly exploiting the available holes between the old and the new -- in short, an A-class exhibition in financial chicanery.
His empire that came crumbling down when The Times of India journalist Sucheta Dalal (the series implies that the information came through a contact put forth by a group of 'insiders' that wanted to get rid of Mehta) blew the lid off his stock manipulation scheme, which was financed by worthless bank receipts.
Dalal, along with fellow journalist Debashis Basu, subsequently wrote a book on the scam, on which the series is based.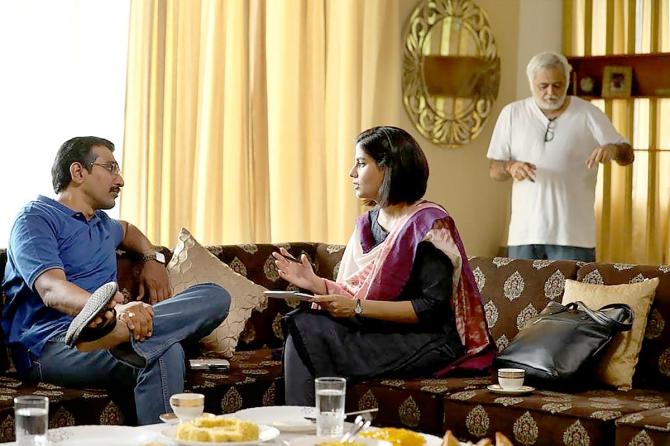 Despite some of the cliches, what makes Scam 1992 seem so raw and real is Pratik Gandhi's terrific performance as Harshad Mehta.
Gandhi is measured in his portrayal of the underdog, warm at home and ruthless at work. But some of that also contributes to him slightly coming across as a victim of circumstance, the guy who had to be made an example of.
Precisely why you get vapid declarations like 'My biggest crime is that I am Harshad Mehta.'
While some sympathy may be warranted, the truth is that Mehta essentially robbed thousands of middle-class homes of their savings.
Dalal (Shreya Dhanwanthary), on the other hand, is depicted as a talented journalist passionate about her work.
Even as Dhanwanthary's performance is convincing, Hansal Mehta's characterisation of the newsroom is how it generally is in films: A touch made-up and out of reality.
However, the writers deserve applause for simplifying the financial lingo, sometimes through dialogue and at other times through terse explanatory voiceovers.
In fact, in one of the scenes early on, the business editor at The Times of India sends the State Bank of India employee (Sharib Hashmi), who has come to him with a tip-off about Mehta, to Dalal because he is unable to properly understand technical terms such as SGL (subsidiary general ledgers) and BR (bank receipts).
In other parts, Gandhi is supported by a stellar cast that includes Satish Kaushik, Rajat Kapoor, K K Raina and Anant Mahadevan.
While all known performers, the director fails to provide them with a unique identity -- all they do revolves around Mehta's machinations.
That's unfortunate since all the casting choices are otherwise near-perfect -- some more depth would have helped in a 10-part series that feels like a bit of a drag in a few places.
In a month that has also seen the release of Bad Boy Billionaires on Netflix, Scam 1992 is another shocking reminder of unbridled ambition going wrong.
Even as Mehta's skulduggery is laid bare in this absorbing, eminently watchable biographical series, it is easy to forget that his success was a matter of great celebration once upon a time.
Few questions were asked and most people, many journalists included, were amazed by what he had achieved in such a short time.
Needless to say, the system needs fixing, but sometimes the insatiable greed for money and power is too large, too repugnant to thwart.
And no one epitomised that better than Harshad Mehta.
Feature Presentation: Rajesh Alva/Rediff.com