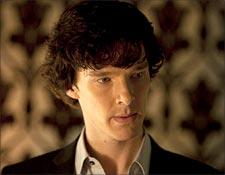 The contrast in the fates of Arthur Conan Doyle's and Satyajit Ray's super sleuths is a study in despair, says Sumit Bhattacharya.
Sherlock Holmes is an Internet phenomenon -- thanks to a blog Dr John Watson, a British army doctor back from Afghanistan, writes on his adventures with his flatmate.
Holmes plays the violin, can differentiate between 243 kinds of cigarette ash, is addicted to text messaging on his mobile phone. And everyone -- from the police to the palace -- runs to him to solve crimes that vex all.
I'm sure you've caught on that this
Sherlock
is the BBC's latest television phenomenon, with Benedict Cumberbatch as the manic mastersleuth and Martin Freeman as his lackey, which will air the last episode of its hugely successful second season on January 15.
And I'm sure you'll agree that it is miles ahead of the movie series helmed by Guy Ritchie, though the British director has stamped his signature style of slow-motion mayhem all over the movie franchise. Robert Downey Jr and Jude Law (Holmes and Watson in the movies), too, have got many women suddenly interested in a sociopathic private detective from early 20th century London.
To be fair, Game Of Shadows was good, maybe even resembling Sherlock Holmes.
But the BBC series stands out, with its wicked mix of 21st century savvy with Arthur Conan Doyle's Sherlock's timeless traits. Its season opener for season two, Scandal In Belgravia (from Doyle's Scandal in Bohemia), for instance, had Irene Adler storing scandalous photographs and terrorist secrets in her locked camera phone that Holmes had to crack.
The Hounds of Baskerville episode last week was pretty scary albeit a bit far-fetched, and involved biological warfare. 
And millions across the world -- it is aired on PBS in the US -- are waiting for the season finale this Sunday, Reichenbach Falls, in which Holmes will fall with his archenemy Jim Moriarty. To see what twists writers Steven Moffat and Mark Gattis come up with this time.
Compare all that buzzing excitement to the screen fate of Satyajit Ray's inspired, Indianised take on Sherlock Holmes, Pradosh Chandra Mitter aka Feluda, and you feel like banging your head against a wall.
Ray, India's only Oscar-winning director (for Lifetime Achievement), made a living writing spectacularly successful children's books and stories in Bengali. 'The world knows me as a filmmaker, but it is my writing that brings home the bread,' he once said.
He wrote a series of books about the adventures of Feluda. And he made two of those books into successful films: Sonar Kella (!974) and Joy Baba Felunath (1979).
Like the books, the films are timeless wonders, featuring Ray's warhorse Soumitra Chatterjee as Feluda and and Santosh Dutta -- a hotshot lawyer in real life -- as cheap-thriller writer Lalmohan Ganguly aka Jatayu, the buffoonish counterfoil to Feluda's brilliance.
Almost every Bengali knows the dialogues of both films by heart.
Since Satyajit Ray's death, his son Sandip Ray has made more Feluda films than his father did. Films that compete with each other in mediocrity, and are sometimes so bad (like 2010's Gorosthane Sabhdhan) that even Feluda fanatics can't sit through them.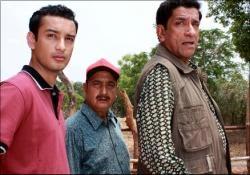 The newest Feluda film in theatres for two weeks now, Royal Bengal Rahasya, is one of Sandip Ray's better films. But it is still at best mediocre, with a pot-bellied Feluda and amateurish visual effects and sound design.
A pity again, because Satyajit Ray's films are audio-visual feasts. The musical theme he wrote (he was an avid organ player and fan of Johann Sebastian Bach) for the series that was so catchy that even now a Bollywood director is 'inspired' by it when he makes a theme for a film like Paa.
The plot for Royal Bengal Rahasya, if you have read the book, is full of promise. A rich retired hunter-turned-writer with a house in the foothills of the Himalayas invites Feluda to solve a riddle his grandfather left. But once Feluda reaches there with Jatayu and Topshey (Feluda's Watson, his younger cousin), a tiger kills the host's secretary. Is there more lurking in the jungle than a man-eater? Feluda starts sniffing a whole different puzzle.
The movie is a thoroughly unimaginative rendering of the story in toto, without an iota of the finesse, sharpness, wit or humour that sparkled through almost every line and every frame Satyajit Ray created.
This is a fossilised Feluda. Stuck in a time warp. It looks like a play in an age where even the worst Bollywood films have acquired a certain gloss. And its actors don't have enough charisma to carry off a theatre treatment.
Yet, it is one of Sandip Ray's better films. So you can imagine how low the bar has been set.
Some say it's a burden of legacy, but to me it seems like we have become so used to mediocrity that we are inventing excuses for it. Even Holmes had an onscreen legacy in Jeremy Brett.
Sorry to say, Sandip Ray has consistently got it wrong -- since the day he tried to make a Hindi TV serial on Feluda with a middle-aged Shashi Kapoor. No wonder the serial fizzled out. A young Shashi Kapoor could have made a great Feluda, of course.  
Like thousands -- if not millions -- of Bengali children, I used to stand in line outside the Ananda Publishers' stall at the Calcutta Book Fair every year, holding my mother or my father's hand, to buy the newest Feluda book. Yesterday, when I took my parents to watch Royal Bengal Rahasya, I held my mother's hand to help her down the stairs. That was the only part I felt good in the evening out.
Maybe I should be grateful that the Professor Shonku series of science fiction that Satyajit Ray wrote and the master's Roald Dahl-esque short stories have been spared. So far.  
Maybe someday, a bright young director/screenwriter will re-imagine Feluda. Or make a fantastic period film that brings out the appeal of the books. Or make a Professor Shonku film with world-class special effects.
But for now, I feel like banging my head against a wall.