'I know all good things have to end someday. But memories, especially film memories are special,' says Aseem Chhabra.
In 1971, director Samir Ganguly's Sharmeelee opened in theatres across India. Raakhee played a double role of twin sisters. Only a few films old at the time, Raakhee was on the verge of becoming a star. But the film had a bigger star -- Shashi Kapoor -- and I was a fan of his.
I wanted to see Sharmeelee for its songs and romance, but I knew my mother would not let me see a film in the middle of an important school year. So I decided to skip an after school drama rehearsal.
I was a student at Modern School on Barakhamba Road and naturally my choice was to see the film at Connaught Place's Regal Cinema -- a gem of a movie theatre in the heart of Delhi and walking distance from my school.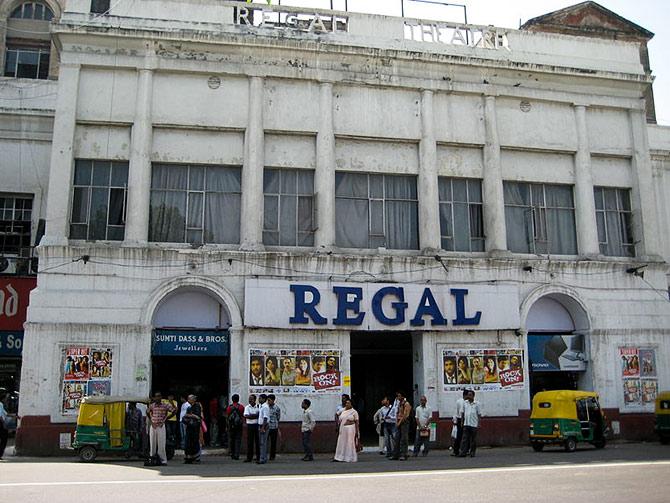 IMAGE: Regal Cinema, Connaught Place. Photograph: Kind courtesy, Manoel Lebos/Creative Commons
I loved the film. I still love its songs, but alas! my mother got to know that I had skipped the rehearsal. And she was certainly not pleased.
The news that the Regal -- one of the last single screen theatres in Delhi -- is shutting down is upsetting to Hindi film fans, who grew up in the nation's capital city.
My mind is filled with memories of all the times I watched films at Regal and its adjourning Odeon, Plaza and Rivoli theatres.
The grandeur of the large theatres with giant screens is all but gone.
Regal, built in 1932, was the crown jewel of theaters. It faces Connaught Place, a covered walkway with arches.
Two years after I saw Sharmeelee, Hrishikesh Mukherjee's Abhimaan opened at Regal.
After a few years of struggle and a number of flops, Amitabh Bachchan had become an overnight star with his hit film Zanjeer. He and Jaya Bhaduri got married in June 1973, a month before the release of Abhimaan.
This time my mother also wanted to see the film, so I bought three tickets in advance, including one for my brother.
For some reason, my mother could not come for the screening. So my grandmother insisted she would come with us. Those were simpler times and we took an auto from South Extension to Connaught Place.
Still, it was embarrassing to watch a film with a 70-plus year old, especially when she wept profusely at the end, when the film's estranged couple get back together to sing Tere Mere Milan Ki Yeh Raina on stage.
My grandmother kept weeping even after the lights came on. It was really not cool to be with a weeping grandmother inside Regal Cinema.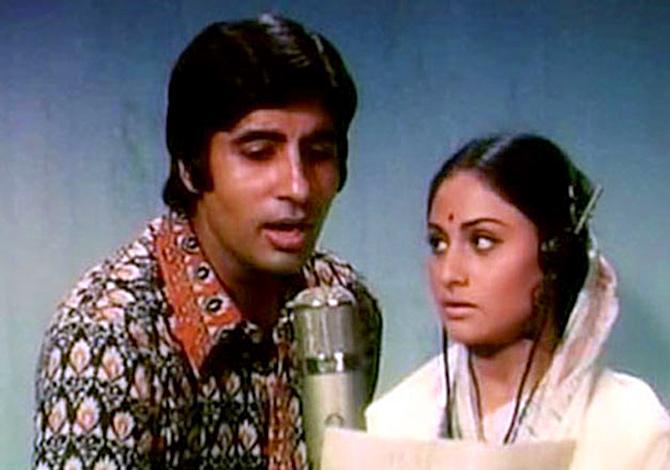 IMAGE: Amitabh Bachchan and Jaya Bhaduri in Abhimaan.
I remember watching many more films in Regal in the 1970s -- Mera Naam Joker (1970), Anand (1971) and the film that changed my life and sense of appreciation for cinema -- Shyam Benegal's Ankur (1974).
I fell in love with Shabana Azmi, her unconventional beauty and a raw style of acting that one had rarely seen in popular Hindi cinema.
By the mid-1970s, several other large single screen theatres had opened in South Delhi: Archana (I saw Godfather 2 and Annie Hall in this theatre which is now the headquarters of NDTV), Chanakya (the grand theatre where I watched Lawrence of Arabia and Gone With The Wind in re-run screenings has been torn down), Alankar, Paras and Uphaar (which shut down in 1997 after a devastating fire that killed 59 people).
There was a time when I could walk from Alankar in Lajpat Nagar to South Extension. Delhi's roads were safe and my brother and I often saw films at Alankar, including Shor (1972), Deewar (1975) and Muqaddar Ka Sikandar (1978).
I still remember walking the half hour distance, singing Ek Pyar Ka Nagma Hai from Shor. There was nothing abnormal about two teenagers walking home on Ring Road in the evening singing a Hindi film song.
All those theatres are gone now, replaced with multiplexes in garish, loud, crowded malls that litter that landscape of Delhi, Noida and Gurgaon.
The theatre owners and the attendants do not care for films as an art form. Often, the projection and sound quality is poor. It has just become a business for them.
The theatre of my childhood, Golcha, located in Daryaganj, in the heart of Old Delhi, closed a couple of months ago. I had not been there for a few decades until I attended a press screening in 2011: Shah Rukh Khan's Ra.One.
I was amazed at the theatre's beauty, the spectacular art deco architecture. But the economics of running a large screen theatre with over 800 seats did not work in favour of the owners of Golcha.
Regal had nearly 700 seats. The theatre was already in neglect for the last three decades. When I left for the US in 1981, Regal was showing B-grade films.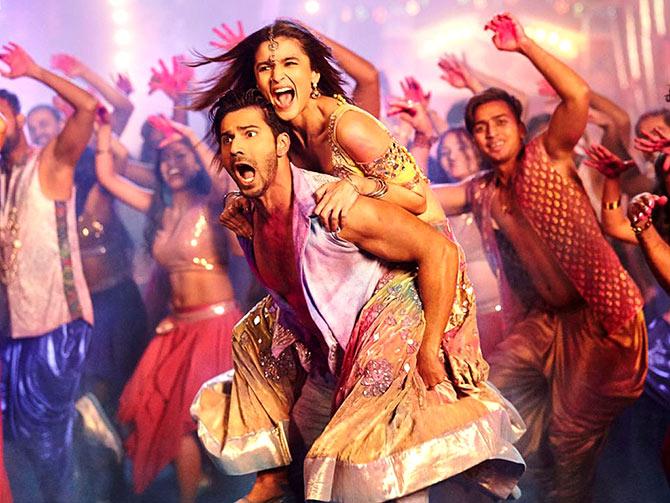 IMAGE: Varun Dhawan and Alia Bhatt in Badrinath Ki Dulhania.
My heart felt heavy when I read about the closing of Regal.
Just a few weeks ago, I drove past the theatre and it was showing Badrinath Ki Dulhania. I thought the theatre was back to its glorious days.
But I was wrong.
I know all good things have to end someday. But memories, especially film memories, are special.
So now I am left with memories of a weeping grandmother (and every time she would see Jaya Bhaduri on television she would ask in Punjabi "Yeh Abhimaan waali kudee ve?") and watching Shashi Kapoor wooing Raakhee on the screen of Regal Cinema singing Khilte Hain Gul Yahan in Sharmeelee.
Aseem Chhabra is the author of Shashi Kapoor: The Householder, the Star.
You can read more about the book here.
Buy it here.