Home > Movies > Reviews

Shakalaka Boom Boom is timepass

Vipin Vijayan | April 06, 2007 16:58 IST



What happens when egos clash? When success gets into an individual's head? When someone stoops to any extent to hold on to what he cherishes the most in life? The answer -- pain, misery and wrecked lives.

Director Suneel Darshan's Shakalaka Boom Boom is about competition, jealousy, conspiracy, betrayal and -- hidden discreetly somewhere -- maybe even love.

It's the age of cut-throat competition. No industry is devoid of it.

Like Madhur Bhandarkar brought the murky side of the corporate world before the audience, Darshan has chosen to focus on the music industry. So when a successful music composer singer AJ (Bobby Deol) comes across the talented Reggie alias Raghav (Upen Patel), he finds his numero uno status under threat.

While AJ used to take two to three months to compose a tune, Reggie could do it in no time. To add to AJ's woes, Reggie manages to woo his love-interest and aspiring singer Ruhi (Kangana Ranaut) before his very eyes.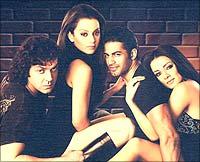 With his world about to crash in front of him, AJ's ego blinds him (a bit reminiscent of Amitabh Bachchan's classic Abhimaan). He won't allow the career he built through years of hard work to be ruined by an upstart. So a squeaky clean AJ, who has delivered 5 consecutive hit albums, now sets out to ruin his competition.
Hold on! Reggie is no saint either. Talented he is, but the over-ambitious Reggie can go to any extent to get name, fame and dame.
He 'uses' public relations professional Sheena (Celina Jaitley), who promotes AJ's albums, to get through to the owner of the company with which AJ has a contract. Of course, he comfortably dumps her soon after.
When the two men first encounter each other at the studio, Reggie castrates AJ's music. He calls the tunes composed by AJ -- New York's apparent synonym for musical genius -- pure trash and the lyrics outdated. When he tries his lyrics on the same tune, the music company owner is impressed, much to AJ's chagrin.
Thus begins the tussle, with each man trying to claim the coveted number one spot. What happens subsequently -- with the clash between egos and twisted attitudes -- is for audiences to witness.
Darshan's directional venture is well-complimented by Himesh Reshammiya's music. No wonder how much his critics slam his music to be too repetitive and run-of-the-mill, the topi-wallah just keeps creating foot-tapping numbers. Even if Shakalaka Boom Boom fails to set the cash registers ringing, the producers won't be disappointed. The music of the film will definitely keep the movie afloat.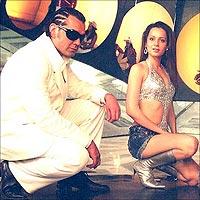 Upen Patel seems to be finally realising his potential. For someone who was considered all body and no acting, Upen's performance in the movie is worth a mention.

Kangana carries on from where she left off in Gangster and Woh Lamhe. Her new look though is not as appealing.

With a hairdo reminiscent of AR Rahman, Bobby impresses. Moreover, the actor certainly seems to be taking dance steps more seriously than before. Celina is mostly (and thankfully) off-screen, yet obviously gets ample opportunity to flash the curves she is known for.
However, the New York setting was not quite required. While Indian music is admittedly going places, it's far fetched to see it topping American music charts. A local flavour could have done the film some good.
Overall, with an interesting story, certainly hummable music and decent performances the movie is worth a watch.
Rediff Rating:

Want to see this movie? Check out Rediff Movie Tickets!