| | |
| --- | --- |
| A still from Woh Lamhe | |
| | |
| | |
| | |
| | |
| | |
| | |
Advertisement
September 29, 2006 17:46 IST


An aspiring director, Aditya Garewal, looks for his big break. An established actress, Sana Azim, finds life empty after achieving stardom. She wants peace of mind and appreciation of her art, and knows that Aditya is the only person who can give her what she wants. The director wants to use her to get recognition, while the actress is looking for true love.

To sum it all up, then, is Woh Lamhe [Images] about the Mahesh Bhatt-Parveen Babi story? Not really.

The film works because the protagonist, Sana (Kangana Ranaut [Images]) has acted so brilliantly that you feel the presence of Parveen Babi from the 1970s. There are similarities drawn from Babi's life -- she comes from the small town of Junagadh in Gujarat and falls for a director who has nothing to offer her but dreams that will make her a serious actress and shed her glam doll image.

Things aren't what they seem, of course. There are contracts, producers, brand endorsements and a dominating boyfriend (Shaad Randhawa) who doesn't want to leave the hen that lays golden eggs. Following a gross rape scene of Sana by her boyfriend, and to cut a long story short, Aditya gets her dates and believes stardom for him is not far. But, there's a hitch. He falls in love with her without knowing that the actress is schizophrenic.

Until the first half, the film sails through with beautiful songs by Pritam such as Kya Mujhe Pyaar Hai and Chal Chale. The second half takes a tragic turn though, after it is learnt that Sana is schizophrenic. She begins to hallucinate and she sees a woman who tells her that the whole world is out to get her. The producers then step in, along with the old boyfriend and the actress' mother who says her daughter needs shock treatment.

Aditya objects. When asked what rights he has on Sana, his only answer is, "I love her."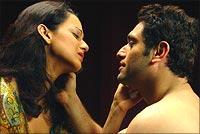 He saves her from the hospital and the two elope. In his heart, he believes Sana can be cured with love and proper medication in Goa [Images]. Does he succeed? Does he give up his promising career? 25-year old director Mohit Suri has done a marvellous job handling such a difficult script. He should have made the second half a little more lively though.
Purab Kohil has done a commendable job as Aditya's friend, and Shaad Randhwa makes a good debut as a villain. Shiney Ahuja [Images] is a bit disappointing, possibly because one expects an outstanding performance after watching him in Hazaron Khwaishen Aisi and Gangster [Images].
If there is one reason you need to watch Woh Lamhe, it is Kangana Ranaut. She is a brilliant, outstanding actress.
Rediff Rating: