Home > Movies > Reviews

This Gangster packs a punch!

Raja Sen | April 28, 2006 20:23 IST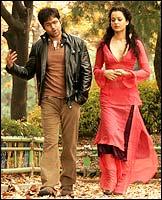 It started out as one of those days when I wasn't particularly fond of my job. Wake up and rush to an Emraan Hashmi film? This was a fate I'd avoided so far, dodging the 'serial-kisser' bullet admirably. But the streak had to end sometime, and so, whining to all within hearing range, I hit the theatre to watch Gangster. Well, at least it has a killer soundtrack.
I'm glad to admit I was completely and utterly wrong. From the get go, Gangster is a gripping drama, a disturbing and often thought-provoking ride that does its own thing. The story unravels tightly and the pacing is crisp. More a romantic and emotional rollercoaster than a thriller, it still manages to spring a few surprises while avoiding contemporary Bollywood clichés. The cast is well grounded into the no-nonsense script, and the music elevates the movie considerably. All in all, this is an undeniably impressive effort, and I'm gladly chewing on my hat.
Like all films about blood, betrayal, crime and punishment, Gangster is about a girl. And what a girl she is. Despite her lovely ringlets of hair and a decidedly come-hither fashion sense, Simran (Kangana) is a drunk. A seemingly irredeemable alcoholic, her tongue desperately seeking out the last drops of whiskey, she is a character occasionally frustrating at first but one that gradually becomes alarmingly relatable to. You might not know a girl who used to date a Mafioso, but this pretty one drinking herself unconscious is very real indeed.
| | |
| --- | --- |
| | More on rediff.com ! |
| | |
Then there's the everyman, the concerned and besotted young fool who can't take his eyes off her, even while shaking his head disapprovingly. Akash (Hashmi) is a lounge singer doing very well for himself (his penthouse has a precarious, incredible terrace). For a Seoul-based artiste performing only in Hindi, he certainly gets an awful lot of applause. The unassuming guy is captivated by Simran, and assigns himself the task of keeping her essentially out of trouble, tailing her to see if she's buying more alcohol, and fishing her unconscious body out of rivers.

If ever there exist excuses dire enough to justify alcoholism, Simran's must come close. Her mistake? She fell in love with Daya (Shiney Ahuja), who barged into her house fleeing from the cops. One of the toughest and most fearless criminals around, love softened the savage beast -- not recommended when he's required to gun down people in cold blood every day. Daya shielded Simran from mob opposition, and decided he wanted to have a family, but a tragic police encounter led him to flee the country, leaving Simran safe and lonely in South Korea.

I refuse to tell you any more about the plot, but suffice it to say that these are very interesting characters with a largely unpredictable and quite compelling story. The script, by director Anurag Basu, is a powerful one, and packs quite a wallop, even if the dialogues themselves sometimes seem literally translated from English. His direction is pacy and tight, a no-nonsense project with room for subtlety and deft visual touches. In fact, he shows a very keen eye, and some shots are framed masterfully indeed.

Kangana is a remarkable find, the actress coming across with great conviction. Hers is the pivotal character, and an extremely difficult role to essay, but she manages it well. Drunk portrayals often find actors overreaching and turning into ludicrous caricatures, but Kangana's nuances are disconcertingly realistic. From the slur to the pout, the glassy eyes to the hesitant gait, she nails the role. Even minus the bottle, hers is a character requiring extreme histrionics, and she does an impressive job, especially for a debut.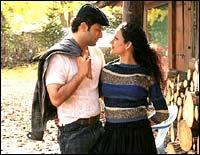 Shiney Ahuja is potentially one of the finest young actors we have out there, and this film too sees him seethe and simmer, soften and sizzle -- mostly without words. Bereft of dialogues for the most part, he uses his vivid eyes to convey pain and passion, and does it well. The switch from sobbing romantic to violent killer is instant, and Shiney makes it believable.
And then there's Emraan. His character is an understated one, and Hashmi manages to keep it that way. There is no unnecessary bluster or melodrama, and he does a pretty believable job. There is something lazy about his acting, by which I mean he makes the job look easy. Obviously, it never is, and if this guy can continue to go without overacting and connect to the janta like he does -- the wolf-whistles are deafening whenever he's on screen-- then he's definitely here to stay.
The film is often visibly crippled by budget, so lacks the slickness we have come to expect from contemporary crime films. But this might not be a bad thing at all, as the visual treatment film is refreshingly soft, and for all the heartache on screen, it serves as a pleasant execution -- especially set against the backdrop of relatively unseen South Korea. Though there is a crucial moment marred by a particularly distracting LG billboard.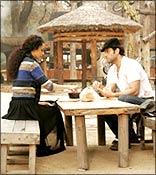 Outside of that, though, the director does an expert job. There are a few understated scenes that really make this film work, wonderfully restrained moments that move you. Shiney bawls into Kangana's lap, desperately wanting reassurance, wanting his head to be stroked, his hair to be ruffled. She raises her hands up to comfort him, but the phone rings. He nuzzles into her lap and she moves off to answer the phone. It is a tremendous scene, showing his craving and her effected detachment, and doesn't require words. Watch out for another haunting frame with a rain-soaked Spiderman t-shirt.
Gangster's end is a fitting one, though perhaps a bit too slow at the very climax. Even after the audience has had its moment of clarity, things move sluggishly and the director could ideally have chosen not to have spelt it out as much, and perhaps edited that particular section better. But this, and a few obvious flaws -- several continuity inconsistencies, especially day/night scenes -- just seem like nitpicking. Even when the pace of the film begins to flag, one of the songs comes appropriately along and saves the day.
Gangster is a solid film, and deserves both appreciation and applause. Hell, I'm going to watch it again.
Rediff rating:

Want to see this movie? Check out Rediff Movie Tickets!



What do you think about the story?








Read what others have to say:





Number of User Comments: 79








Sub: Good one

I saw this movie just because the CD landed at my door step. Someone gave it to me and I just happened to see it. ...


Posted by Padma









Sub: Gangster

Gangster is a wonderful film with power-packed performances from all the actors.One of the finest film ever made.I truly acknowledge with Mr.Sen for his commenst ...


Posted by shalini









Sub: Gangster Review

Well.. I saw the movie and really liked the way it is narrated and the way it holds you back to know whats all happening ...


Posted by Shashi









Sub: Worth to Watch

Worth to watch.


Posted by RT









Sub: Gangster means....

We often think that GANGSTERS haven't love humanbeings but sometimes they make us under illustration,When? Watch gang.... Yaa alii...is superb one, well pritam and co.


Posted by Parth Magia






Disclaimer