Robotics is making inroads into HR, but will not replace the function any time soon, experts tell Sangeeta Tanwar.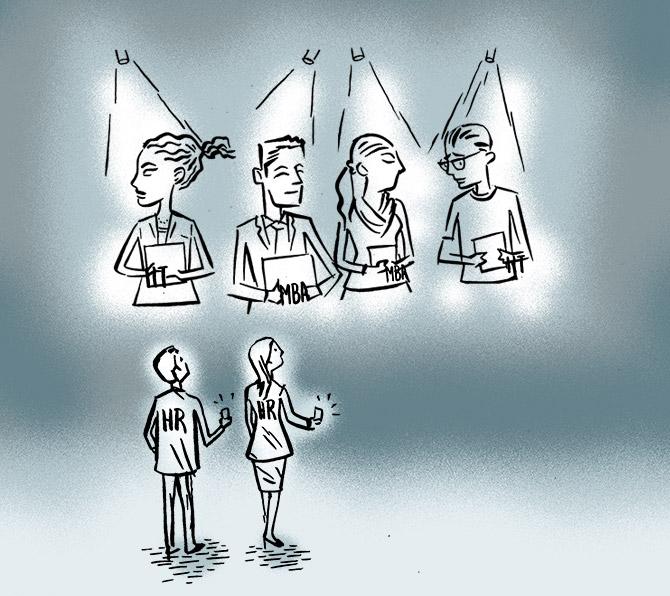 Illustration: Dominic Xavier/Rediff.com
The transformation of human resources (HR) from an administrative facilitator to a strategic business partner is increasingly driving organisations to invest in HR technology solutions. According to a survey by global consultancy firm, Sierra-Cedar, 64 per cent of Indian companies plan to increase their HRTech spend in 2017.
Following automation and analytics, robots -- more specifically software bots -- are considered the future of HR, with a growing number of organisations acknowledging their vast potential.
While several facets of HR would still need a human interface, we could see robotic process automation in areas such as HR analytics and compensation and benefits.
Simply put, technology is constantly challenging industry assumptions of what HR can and can't do.
"As a precursor to robotics, automation is making us realise that many of our processes are redundant, and can be automated to free up time for meaningful work," says Richard Lobo, executive vice-president and head, HR, Infosys. "Robotics, as a technology, is slowly making inroads into HR and one of the forerunners are chatbots. These are the ideal form of technology to provide a better employee experience."
The information technology company has been one of the early adopters of robotics.
Infosys, HR Helpdesk, has implemented an interactive virtual agent through which employees can get instant resolutions to their queries on policies and processes cutting out the need to raise a request to meet an HR executive.
The company has created a huge knowledge repository that the interactive virtual agent uses to provide relevant responses. In case employees cannot get the required resolution through the virtual agent, they also have an option to chat with a helpdesk advisor in a live format. Helpdesk advisors can automatically view the conversation history of the employee with the virtual agent.
Since, the launch of the virtual agent in May 2016, nearly 10,000 employees have used it.
Experts say robotic process automation (RPA) technology models software bots to perform repetitive rule-based tasks in lengthy multi-step processes, but RPA cannot replace the 'human' -- at best it can empower HR professionals to focus on creative and interpersonal skills by automating mundane tasks.
"With HR being one of the most complex document and paper-led processes in an organisation, the implementation of RPA can help reduce costs, increase accuracy and drive efficiency," points out Rajeev Banduni, CEO, GrowthEnabler. "Some of the tasks being automated include payroll management, compliance and liability risk management, recruiting and onboarding and technology integration during mergers and acquisitions."
Fast-growing companies, who are faced with rapidly expanding count of employees, business locations, and M&As, can leverage RPA to automate multiple HR activities to fastrack growth and expansion. The Institute of RPA estimates that implementation of RPA in HR can result in about 25-50 per cent reduction in costs and drive faster implementation with minimal changes to existing infrastructure.
Agrees Infosys' Lobo. He says bots can be quite useful in HR in validating internal data, report creation-formatting, data cleanup in replacing manual-excel-based tasks. They can also help in bringing down the effort spent in candidate management process, assessing data of new employees and so on. These would help HR eliminate time spent on tasks that usually take up more time than they should.
Jagjit Singh, chief people officer at PwC India, says automation could drastically reduce and limit face-to-face interaction on the transaction side. To cope with these challenges, HR professionals need to reinvent themselves with greater focus on improving their business acumen, leading and managing change, nurturing leaders and building organisations that can respond to the needs of a multi generational workforce, while at the same time being adept at leading-edge technology.
Corporations are also coming around to the view that all this would require new investments.
Leading retailer Landmark Group, for instance, has made significant investments in HRTech and has automated the payroll process in the organisation. It is leveraging technologies, including artificial intelligence and data analytics, to run an automated payroll process.
According to Venkataramana B, group president, HR, Landmark Group, "While the processing of day-to-day HR activities like payroll could be completely automated with bots, its use would be both beneficial and game-changing in the analytics space where robots are connected to several data sources and can analyse large amounts of internal company data and external market data to provide empirical insights to improve recruitment, performance management, learning and development and so on."
Besides fresh investments in HR, it is critical that corporations identify processes ideal for the implementation of RPA and manage expectations of stakeholders. A clear road map of implementation and expected goals should be outlined. The criticality of HR functions leaves minimal space for failure; hence implementation of automated technologies needs to account for unintended consequences. Incorrect or incomplete implementation can lead to enterprise level risks.
Banduni of GrowthEnabler emphasises the need for a phased implementation with constant validation of results.
The perceived threat of RPA as 'job-stealing robots' is another major hindrance and should be carefully managed by organisations in addition to creating new responsibilities for the employees freed up by automating repetitive tasks.