Robots, it turns out, are more reliable welders than their human counterparts. There are typically 3,500 welding points in a car; so reducing human error means the production line has to be halted much less frequently.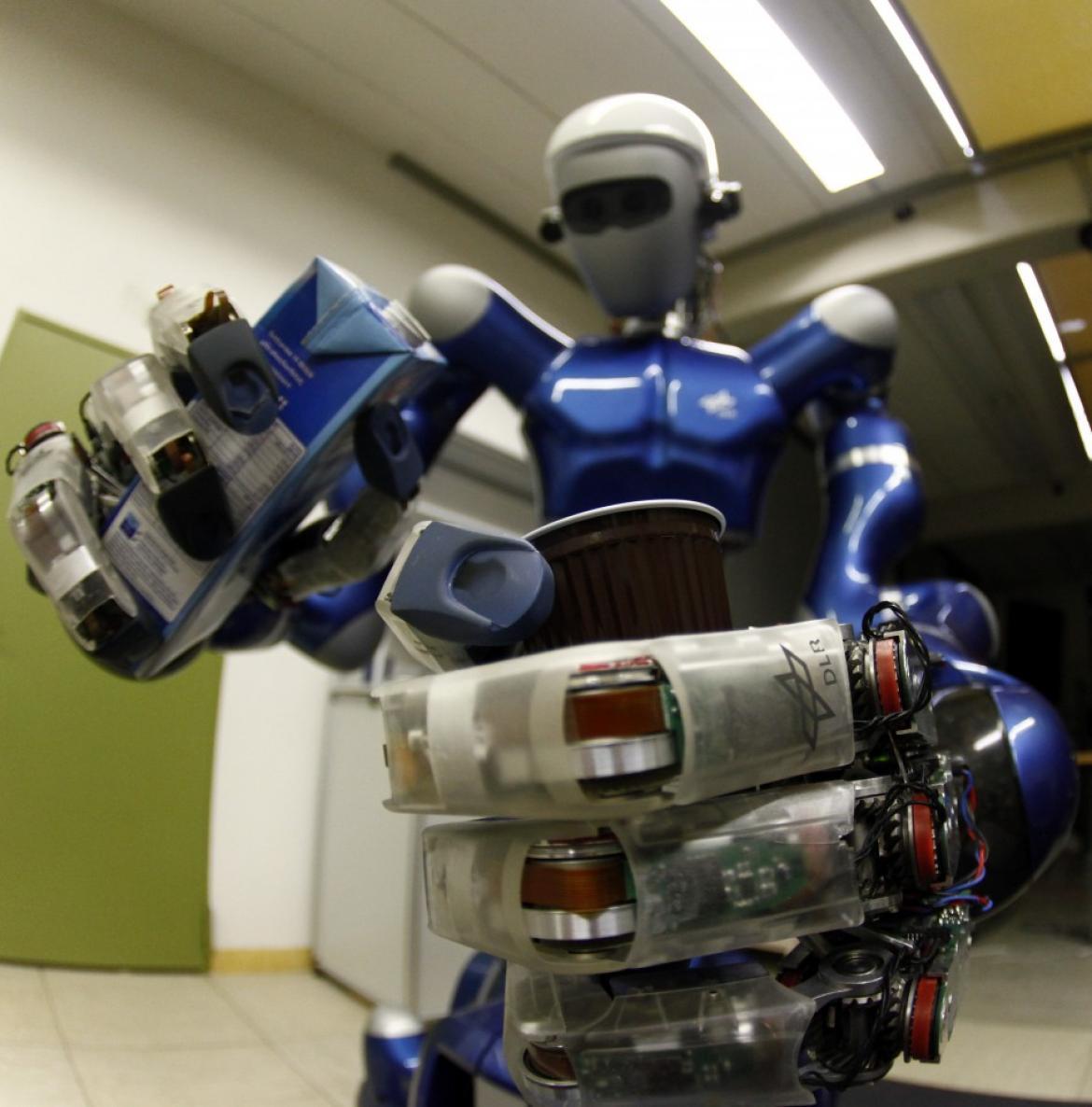 The first sight of robots in Ford's $1-billion plant in Sanand is awe-inspiring, if a little frightening.
The Kawasaki machines look like a hybrid of the contraptions one sits under in a dentist's office fused with the strength and agility of an oversized python.
In the test runs I witnessed before the plant's Ford Figo Aspire cars start rolling out, headed for domestic and export markets, the robots were ubiquitous in the body shop area - which is 95 per cent automated, accounting for 430 of the total 550 robots in the plant.
In one area of the body shop in the factory, however, the robots seemed straight out of a sci-fi film turned horrific.
An eight-foot-tall robot with a hook for a hand whirred around and looked set to attack the python-like machines by his side, but they were all actually in sync.
What would happen if a human was caught in the giant cage these mechanical beasts operate in?
Kel Kearns, the affable Australian who manages the Sanand plant, explains that the entire unit shuts down if an employee enters the area.
We are standing next to a door that an employee can only open by placing a card in a slot that does double duty as a high-tech on-off switch and safety sentry.
From Ford's plant in Sanand to the Tesla factory in Fremont, California, where robots go by the nicknames of Wolverine, Thunderbird and Cyclops, the increasingly widespread use of robots is often viewed with alarm because these appear portents of a future where factories will employ very few workers.
The truth is more complex. The use of robots is driven not by the urge to cut labour costs, which typically account for just one-fifteenth of the cost of a car.
The business case for automation is first and foremost "line speed - and you get the benefits of high levels of quality", Mr Kearns says.
Robots, it turns out, are more reliable welders than their human counterparts. There are typically 3,500 welding points in a car; so reducing human error means the production line has to be halted much less frequently.
As it happens, there are plenty of young employees fresh out of Industrial Training Institutes at the Ford factory as well. Its headcount is already 3,000.
The parking lot is full of Ashok Leyland luxury buses, to ferry the workers up to 45 km back to their homes.
These buses are more swank than those used by Infosys in Bengaluru. (Tesla's factory in northern California, meanwhile, is running out of parking for employees.) Mr Kearns says that Ford's production speeds in Sanand will soon be comparable to those in the United States or China.
Ford's smaller plants in Asia have lower automation levels than Sanand's.
The typical Asia-Pacific plant would have 30 per cent automation in the body shop compared with Sanand's 95 per cent.
The driver for automation is the high production required by a large domestic market that is now a significant exporter of automobiles as well.
India's exports of vehicles, including commercial vehicles and two-wheelers, jumped to 3.6 million in the year ended March 2015, up from just 140,000 a decade and a half ago.
No wonder everyone from Ford to Hyundai, which exports to almost 120 countries from its plants in Tamil Nadu, are paying attention.
Domestic sales lag by comparison, totalling 2.6 million units in the last financial year.
Look down the list of major exporting nations in the world and they also turn out to be big buyers of robots - nowhere more so than China, which will likely put 70,000 robots to work this year (versus 3,000 in India), despite having a workforce of more than 900 million aged 16 to 59.
Among the early adopters in China were factories in the highly industrialised province of Guangdong, which has faced chronic labour shortages and double-digit wage hikes annually for the past five years.
By happy coincidence, I was sent to report on factories in southern China in October 2010 just as this drama was unfolding.
No one summed up the labour shortage better than a suave Chinese handbag factory owner who said that whereas in earlier years, employees would petition him for jobs for their relatives and friends, the bargaining tables had truly turned.
Now, he promised new hires sign-on bonuses of a month's salary.
Guangdong's dense supply chain networks, proximity to the financial capital of Hong Kong and its excellent ports made many factory owners invest in automation rather than forego these perceived mission-critical advantages and move to northern China or to Vietnam and Cambodia, where wages were a fraction of Guangdong's.
In factory after factory, even those that made "low-tech" toys or even sweaters, I began to see an increasing use of robots.
The successful introduction of automation poses a challenge for countries such as India and Indonesia seeking to lure such "labour-intensive" investment away from China.
The Chinese business magazine Caixin reports the Chinese home appliance maker Midea in Guangdong, for instance, plans to cut the 30,000 workers in its air-conditioning unit by 6,000 by the end of 2015.
This might sound drastic, but everywhere you look in the province, there are signs of a dynamic service sector and factories chasing employees.
"Prematurely deindustrialising" countries such as India will find it much harder to create jobs; as in Sanand, robots might help raise productivity, but this will likely prove a marginal narrative in the bleak India story.
In his new book Rise of the Robots, Martin Ford argues that labour-intensive employment is unlikely to spin off as many jobs as it once did.
He points to "a situation where technological unemployment and environmental impact unfold roughly in parallel" with many developing countries unable to create large numbers of factory jobs also being the hardest hit by the effects of climate change such as unseasonal rains and drought and rising food prices: "Negotiating a path through these entangled forces … may prove to be the greatest challenge for our time." We have been warned.
Photograph: Reuters