If the Murari Lal Jalan-Kalrock Capital combine can script a turnaround, it will have pulled off a bigger coup than Ajay Singh did with SpiceJet in 2014.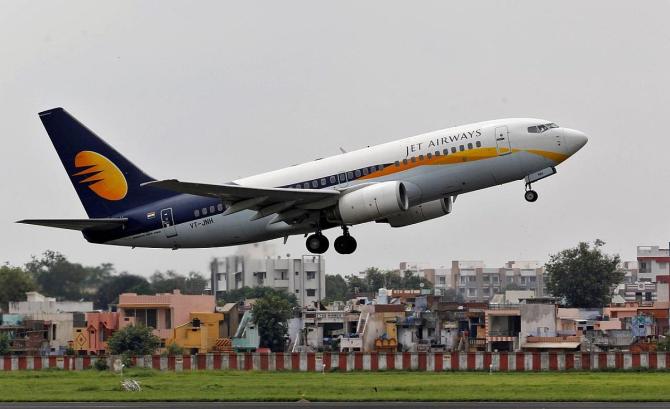 In 2014, when Kalanithi Maran threw up his hands and his airline SpiceJet was two days away from closure, Ajay Singh, previously a director of the airline, stepped in.
The airline had around 32 aircraft, with lessors threatening to repossess them for non-payment of dues, around 5,000 employees (far more than what the fleet required), vendor dues of approximately Rs 3,500 crore and no clear flight path.
The carrier was flying to around 39 stations with low frequencies.
Singh took charge, renegotiated many contracts, reduced stations and trimmed staff, increased flight frequency and the rest, as they say, is history.
Besides low oil prices and good traffic, many say Singh had the backing of the powers-that-be, an important factor for doing business in India.
Compare this with Jet Airways' situation today.
The airline's dues to vendors, staff and lessors are in excess of Rs 40,000 crore, its staff has scattered, its relationship with Etihad is over and the airline has almost no assets left.
Above all, it stopped operating from April 2019 and its domestic slots have been distributed among the Indian carriers.
Valuable slots at foreign airports have either been rescinded or taken by Etihad, Jet's partner when operations ceased.
The Jet story for all practical purposes has been over for a year and a half.
But last week, the airline's committee of creditors cleared plans by a combine led by Kalrock Capital (owned by a European entrepreneur) and a little-known Dubai-based businessman, Murari Lal Jalan, to revive the carrier with an investment of Rs 1,000 crore over the next five years.
Even as newspapers and the bourses celebrated the news (Jet share price rose 47 per cent in eight days), the aviation industry was far from convinced that such a revival was possible.
Most industry representatives, including Jet's former management, said if the duo - with little aviation experience - managed to pull it off, it would be an even bigger turnaround story than SpiceJet's revival.
Here's why. First, for a serious revival, time is of the essence and a sustainable comeback of the airline looks challenging after being grounded for 18 months.
SpiceJet's revival, government sources argued, was possible because the airline was operational.
"It had a schedule in place, slots, aircraft, the team, pilots with current licences and even bookings," said a former aviation secretary requesting anonymity.
Covid-19 has existing players struggling for survival, so reviving a defunct carrier will be that much tougher.
Second, Jet has lost many of the jewels in its old crown.
Almost all its best cabin crew, commanders and engineers were grabbed by rivals.
Rehiring may not be a big issue in today's environment with job losses everywhere, but Jet may not get back its more talented and experienced employees.
Further, the government reallocated most of Jet's premium slots out of Mumbai, its India hub, to IndiGo, SpiceJet and Vistara to ensure capacity was maintained.
Under the policy, slots that are in use cannot be taken back, a top ministry official confirmed.
He added, however, that in the present Covid-19-hit environment, slots in general were not a constraint since airlines were using only 50-60 per cent of the pre-Covid slots.
So Jet may not get precisely the same slots it gave up but it could certainly get some in the main airports.
Aircraft is a second hurdle. Jet is left with 10-odd aircraft (out of a fleet of 112 in its heyday), of which the six B777s in particular need investments of almost $5-7 million to get its engines back into running shape.
Overall, some of these aircraft may need almost $10 million to get into flying condition.
"An investment of Rs 1,000 crore over five years is unlikely to take this very far.
"This is like throwing good money after bad.
"Who buys liabilities even for a basement price?" asked a former Jet management team member.
Added the former aviation secretary, "An airline is sustainable if it either has size and scale such as Lufthansa or Singapore Airlines or Emirates, or has narrow bandwidth such as a focused low-cost operator.
"The new Jet will be neither, according to reports, and the planned investment is small."
But the bigger question is where the aircraft will fly to.
Domestic traffic is down to a third of last year's numbers and international travel is all but non-existent beyond the odd charter and travel bubble since March.
Besides, the fact that international traffic has taken the beating of a century due to the pandemic, Jet's aircraft are quite likely to be seized at international airports - which is what happened in 2019, when a passenger aircraft was stopped from taking off from Schiphol, Amsterdam for non-payment of dues.
According to a former Jet CFO, the airline has several creditors outside India and these cannot just be mollified.
"The only language these creditors understand is hard cash.
"So I don't see how this revival plan will tackle foreign creditors," he said, adding that almost half of Jet's dues could be to vendors, suppliers and airports outside India.
The Centre for Asia-Pacific Aviation's India CEO, Kapil Kaul, said the new buyers must have "very deep pockets" to pull this off.
A small focused revival with a few planes could be in the realm of possibility but the entity would need a highly professional team with a thorough understanding of Indian aviation to restore it to its old self.
"Returning to the old Jet with an international and domestic footprint may not happen for a while," he added.
Most of the industry is sceptical of the combine, which is largely unknown - even to the ministry of civil aviation.
Unlike SpiceJet in 2014, Jalan does not have either the ear of the ministry or its support, as such.
Those hoping for a real comeback of the carrier pointed out that expertise can be hired and there is no reason to doubt Jalan's ability or commitment.
In fact, since Jet's revival would mean some jobs would be created in the sector, almost everyone would be happy if it actually happened.
But as things stand today, the odds are stacked against Jet.
Asked to assess the odds on a scale of 1 to 10, three former Jet CFOs put them at one, adding that they would have put it at zero had that option been on offer.
Jet's revival dreams may have some cheerleaders but it seems to have very few takers for now.
Photograph: Amit Dave/Reuters