The initial speculation over who is likely to down shutters seems to have given way to a resigned acceptance that all the players are determined to stay in the game.
Anjuli Bhargava reports.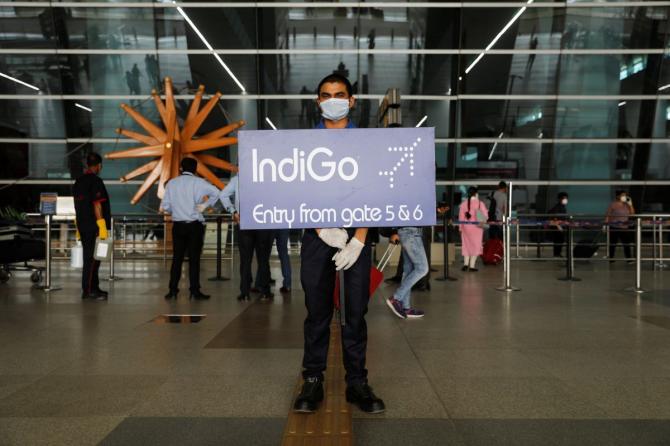 The paralysis that gripped the aviation sector in the early days of the lockdown is easing and more and more Indians are beginning to fly.
Traffic numbers in September have hit 34 per cent of what they were in September 2019.
Monthly numbers are up too.
The average number of flyers per day in September was almost 45 per cent higher than the previous month of August.
Confidence that aircraft can be safely boarded is slowly returning.
Airlines consequently are using more and more of their fleet every month, although the Centre for Asia Pacific Aviation (CAPA) estimates that the airlines will have 250 to 300 surplus aircraft by the end of March 2021.
Loss estimates by CAPA vary between $4 billion and $4.5 billion for the year.
The first quarter number has already touched $1.5 billion.
Two redeeming factors are there however: Yields are strong and so is the revenue per available seat km, a key variable for airlines.
Across airlines, belts are being tightened like never before.
A microscopic examination is on and any cost that can be cut is being pruned.
Market leader IndiGo has no plans for major renegotiation of lease rentals as of now, opting to honour its present commitment and is focussing on reducing payroll, maintenance and IT costs.
This, many believe, may change as the months go by and reality starts to bite, as was the case with pay cuts.
The airline introduced the mildest cuts in the industry despite the stoppage of flights but later deepened the cuts.
Some players, such as SpiceJet, have embarked on an aggressive renegotiation of all contracts including lease rentals, leading to a substantial saving.
GoAir cut costs partially by putting a majority of its staff on leave without pay.
Even Air India has been curbing its spendthrift instinct and cutting corners.
No matter which airline one speaks to, cost-cutting is high on their agenda, although progress on this front varies across players.
Sharper, leaner. organisations can be expected to emerge after the crisis.
Every possible source for revenue generation is high priority for all players.
Almost all airlines are focussing on previously unexplored territory -- be it cargo, charters, Vande Bharat or other ancillary businesses.
Anything that can bring in more revenue is on their radar.
IndiGo is using 10 aircraft entirely for cargo followed closely by SpiceJet's nine.
Almost all the airlines have turned the lens on cargo even if some have been slower than others.
All of the above -- smarter, leaner, nimble players -- could qualify as silver linings in a dark cloud but it's not all hunky-dory.
Credit cycles for all vendors and suppliers are getting longer and dues are piling up for airlines.
Barring IndiGo, which is choosing to run down cash reserves, almost all the carriers are delaying the inevitable.
In addition, the issue of fare refund for the tickets sold but flights not taken during the lockdown is also weighing on the airlines, an additional hit few can afford.
Among the really bad news for the airlines is the fact that business travel is stubbornly refusing to pick up.
In fact, most of the flyers, according to airline sources, are "all categories but business".
The ease of using technology to conduct business has opened the possibility that this segment is likely to remain subdued for a long time to come, if not alter behaviour forever.
This is a new reality all airlines will have to contend with and factor in.
Keeping aircraft idle on the ground is akin to letting your car lie unused in the garage and its battery going down.
But an aircraft is in reality an airline's workhorse.
In normal times, almost all airlines try to get the maximum out of their planes.
In India, some airlines like GoAir and AirAsia India have even touched 14 hours of daily aircraft utilisation (higher than SpiceJet and IndiGo) in happier times.
In the present situation, airlines may be using more of their fleet, but this is far from their peak or ideal fleet utilisation levels.
An aircraft may be used seven or eight hours a day instead of an ideal 12 to 13 hours.
In other words, cash burn remains high no matter which airline one considers.
The initial speculation over who is likely to blink first (read down its shutters) seems to have given way to a resigned acceptance that all the players are determined to stay in the game.
There has been talk of the government introducing a credit line of $1.5 billion -- as many countries have done -- to offer interest free loans to airlines, airports and other stakeholders in the sector, but for now it remains just that -- talk.
Feature Presentation: Aslam Hunani/Rediff.com