A Dubai trip plus Apple iPhone 12 is cheaper than buying the phone in India. Various models of the iPhone 12 Pro and Max are cheaper in Dubai by up to Rs 35,000 owing to higher GST, Customs duty in India.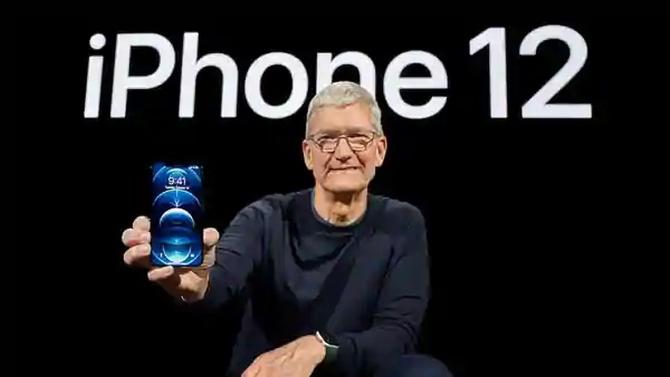 If you are looking to buy the new Apple iPhone in a showroom near you, think again.
For, the alternative is to jet set to Dubai (there is no quarantine there) on a weekend package, go on a shopping spree, and pick up an iPhone 12 Pro (256 GB) at one of the swanky malls in the city.
And the good news is that your combined bill (for the short holiday and the mobile) could be the same as for the simple pleasure of buying an iPhone in India.
The reason for this huge price differential is simple: The government in March this year increased Goods and Services Tax (GST) on mobile phones from 12 per cent to 18 per cent.
And on top of that the importer has to pay a basic Customs duty (BCD) of 20 per cent (plus 2 per cent cess) on imported phones.
So an iPhone 12 PRO, with a 256 GB memory, comes at Rs 129,900 in India, against Rs 96,732 in Dubai, a difference of a cool Rs 33,168.
And in case you want to pick it up in the US, the price differential is even wider at Rs 42,000.
The various models of the iPhone 12 PRO and Max are cheaper in Dubai by anything ranging from Rs 25,000 to over Rs 35,000.
The differential is even more when prices are compared with those in the US.
They range from over Rs 39,000 to Rs 48,000, depending on the model you choose.
It's only for the iPhone 12 MINI that the difference is much less, ranging from more than Rs 7,000 to 9,000 in the case of Dubai, and Rs 14,000 to Rs 17,000 in the case of the US.
Apple India did not respond to an email on the issue.
Thanks to Covid-19 and the restricted international travel till now, the grey market is subdued, and estimates are only 3-4 per cent of the high-end phones are being smuggled.
Indian Cellular & Electronics Association of India (ICEA) chairman Pankaj Mohindroo said: "Once international travel normalises, grey market operations will be back to normal.
"After all we have the highest taxes in the world on imported mobile phones of 44 per cent (BCD and GST) and this has to come down."
The association, in a communication to the Department of Revenue, has been pushing for a BCD cap of Rs 4,000 on phones priced above Rs 20,000.
Mobile phone makers say that even the ministry of electronics and information technology has taken up the matter with the department, suggesting a cap of Rs 5,000 on phones with a landed value of Rs 25,000.
The ICEA says this will help in tiding over the loss of Rs 2,000 crore for the government due to smuggling.
According to ICEA estimates, 50-60 per cent of the high-end phones sold in India between October last year and March were in the grey market.
The lockdown saw a fall because international travel was stopped and is still restricted.
But the association says once things get back to normal, they could go up to 75-80 per cent of sales.
Vivan Sharan, partner, Koan Advisory group, said: "The government loses revenue due to smuggling.
"An Apple consumer can get the latest iPhone 12 in the grey market at a large discount.
"Since demand for iPhones is fairly inelastic, whether Indians buy in India, Dubai, or the US, Apple does not lose out."
One way is for the government to push device players to manufacture more of the latest phones in India.
And that is what Apple Inc has begun to do - it has started manufacturing iPhone 11 through its vendors in India, even though it still has to pay BCD on some components that are imported.
And most experts say with the company making India a global manufacturing hub for exports under the production-linked incentive (PLI) scheme, it would be able to reduce its cost of production as well as price.
And the high taxes in India, primarily to discourage imports, are now no longer valid in the new scenario when under the PLI, global mobile device players like Apple Inc have committed a huge value of exports.
Photograph: Reuters