The tills are ringing ever louder for Macau and Stanley Ho, Asia's undisputed gaming king, bound to a wheelchair since a fall-induced brain surgery a year ago, couldn't be happier.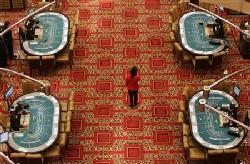 A PricewaterhouseCoopers (PwC) report says the gaming industry he helped found in the former Portuguese colony and ruled for 40 years before the Chinese broke up his monopoly in 2001 will double its size, already twice that of Las Vegas, in the next four years.

It was in 2007 that Macau overtook Las Vegas for the first time with revenues totalling $10.3 billion. Since then it has gone on from one dizzy height to another: $13.5 billion in 2008, $15 billion in 2009, and an estimated $22.4 billion in 2010.

In the coming years, this is how PwC sees its likely progress: $28.3 billion in 2011, $34.2 billion in 2012, $39.9 billion in 2013, and $45.1 billion in 2014.

That's an amazing 100 per cent rise in just four years, which must come as a surprise to those who thought Macau's reversion to Chinese sovereignty would doom its gaming future.

The authorities in Beijing must be having a quiet laugh. They had taken a deliberate, though much criticised, gamble when they liberalised Macau's gaming, but the arrival of the global big guns, starting with Las Vegas Sands in 2004, has given the business a fizz that perhaps they themselves hadn't expected.

Could it end? Well, anything could. But for now Macau is enjoying like never before, and Ho's own company, SJM Holdings, which owns the iconic Lisboa and still leads the territory's gaming pack in terms of market share, remains as aggressive as ever. A new extension, the Grand Lisboa, was added last year to its original, 12-storey round tower.

Sands Macau, which runs the massive Venetian, claimed to be big enough to hold 90 Boeing 747 jumbo jets, is currently building a $4.1 billion project to start operating by mid-2012 and has applied for two more parcels of land for further expansion.

Wynn Resorts, which followed Las Vegas Sands to Macau with a Vegas-style integrated resort, Asia's first, in 2006, opened a new $600 million casino-hotel, the Encore, last year.

Not surprising. Both Vegas giants are now said to derive more than half their operating cash flows from Macau.

As of now, Macau has 33 casinos (with 4,811 gaming tables and 14,500 slot machines) and some 25,000 hotel rooms, and more are being planned like crazy.

Early this year, the 550,000 square metre Galaxy Macau is scheduled to open as Macau's newest integrated destination resort, featuring a 4,000 square metre man-made beach and one of the world's largest roof-top wave pools.

As the Asian gaming industry soars, someone else is laughing, too: Singapore Prime Minister Lee Hsien Loong.

In 2005, his government finally decided to legalise gambling in the island nation to give it, as he put it, a "buzz," the kind that one gets in London, Paris, or New York.

It was a momentous decision - Singapore had maintained a purist, anti-casino stance for 40 years - but had to be taken as a useful, additional way of diversifying the economy, avoiding stagnation, and promoting tourism as a key element of growth.

Lee's critics at the time felt it was an uncalled-for move, but this decision, it seems now, is also paying off.

Two licences were issued in 2006, to Sands Corporation of Las Vegas, which has spent $5.7 billion to build up a dazzling complex of luxury hotels, state-of-the-art convention and exhibition facilities, shopping malls, restaurants, and theatres at Marina Bay, and Genting of Malaysia, which has sunk $5.2 billion in a 49 hectares gaming and entertainment resort on Sentosa Island.

The "buzz" from Singapore is already being heard around the world loud and clear. Though both Sands and Resorts World Sentosa became fully operational only in the first half of 2010, Singapore earned $2.8 billion in casino revenue last year and will likely collect $5.5 billion in 2011, more than the projected earnings of Australia and South Korea combined.

The earnings can only go higher - PwC reckons $7-10 billion by 2012 - because Singapore sees casinos as part of a larger strategy of strengthening the tourism sector.

That's why it calls its casinos, as does Macau, integrated resorts where gaming, fun and entertainment meet and mingle to support the lucrative meetings-incentives-conventions-exhibitions (MICE) market.

Singapore, with its clean image and low gaming tax (5 per cent to 15 per cent, against Macau's 39 per cent), is confident it can reach its target of 17 million tourists by 2015, against 9.7 million in 2009.

What cheers the authorities even more is the continuing predominance of Asia in the global gaming market.

As Las Vegas Sands top boss Sheldon Adelson recently said, "Asia is far from saturated. It will never be satisfied in my lifetime. It will probably not be satisfied in yours."