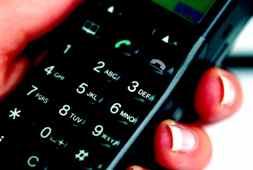 Paying Rs 30 a month isn't a big deal for a mobile telephone user, to get his favourite song as the caller tune.

Yet, this has earned Rs 8,185 crore (Rs 81.85 billion) for operators in the three years ending March 2012, says the department of telecommunications.

Surprisingly, it is not the country's top mobile operator, Bharti Airtel, with 186 million subscribers, or Vodafone India, the number two with 149 million users, which top the charts.

The telco making the biggest amount from caller tunes is Idea Cellular, which began the service in 2004.

It has earned Rs 2,877 crore (Rs 28.77 billion) from this in these three years, followed by Bharti Airtel at Rs 2,088 crore (Rs 20.88 billion.

DoT's data is based on inputs from the Telecom Regulatory Authority of India and service providers.

During the period, Vodafone earned Rs 1,521 crore (Rs 15.21 billion), followed by Bharat Sanchar Nigam Ltd with Rs 689 crore (Rs 6.89 billion), Tata Teleservices at Rs 407 crore (Rs 4.07 billion) and Aircel at Rs 230 crore (Rs 2.3 billion). "Caller tune is the second biggest revenue earner for telcos among other value added services , after SMS,"
said an executive with an operator.
However, the companies are witnessing a drop in caller tune subscriptions during recent months, added the executive.
According to insiders, the number of caller tune subscribers has dropped from about 100 million to 55 million during the past 18 months.
According to estimates, caller tunes contribute about 20 per cent of the VAS revenue (which accounts for 18 per cent of telcos' overall revenue).
A 2011 order from Trai, enforcing multi-step verification, forced a clean-up of subscribers, said Shridhar Subramaniam, president (India & West Asia) of Sony Music Entertainment, in a recent interview with
Business Standard
.
"Besides, loss of novelty in caller tunes and a shift towards downloading and streaming music has led to a drop in the caller tune user base by half," he added.
The Trai 2011 order, in the process of implementation by telcos, had directed operators to obtain confirmation through SMSes or emails or faxes or in writing, from consumers within 24 hours of activation of caller tunes, failing which the service had to be deactivated, without any cost to the consumer.