Last week, Nokia's Dubai-based senior vice-president for India, West Asia and Asia, D Shivakumar, decided to call it quits after an eight-year stint with the Finnish handset maker. In a telephonic interaction with Sudipto Dey, Shivakumar, an alumnus of IIT-Chennai and IIM-Kolkata, talks about key management and leadership lessons picked up over the years. Excerpts: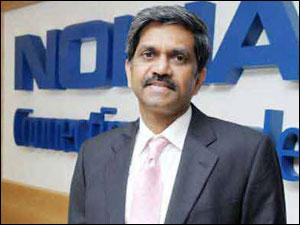 How emotionally difficult was it to take the call to move on from Nokia?
In today's age, where average stints are one to two years, eight years can look like a lifetime. I have always been a long-term person and enjoyed the journey. We went through a challenging period, and are now coming out of that.
So, was it a call between being a key global professional and driving a growth market?
I am now based out of Dubai, while my family is in Delhi. I thought it better to go back to India, a growth market. When I joined Nokia, there were 90 million mobile users in India. Today, mobility in a sense is re-defining India. It has taken away the bulk of the challenges faced in the infrastructure sector. Nokia, with other players in the ecosystem, has played a key role in bringing mobility to the masses through its handset pricing model.
What are the key management and leadership lessons from your Nokia experience?
In 2005, nobody thought mobiles could reach out to so many and change the lives of people. Then, from a voice product, mobile phones became a personality and lifestyle statement. As phones became thinner to enter the pockets of people, so did size of the battery, even as the screen size became longer. In fact, I feel we were ahead of others in the smartphone race when we came out with our N-series in 2006 and 2007.
Till around that time, telecom was the poster boy in India but all that changed when the government opened up the industry. It changed the competitive landscape and profitability of the industry went down. In hindsight, we can say competition is good but hyper competition destroyed value for the industry.
From being a poster boy, the telecom industry has lost 20,000-25,000 jobs in the past two-three years. The focus of the industry has changed to cost, rather than innovation.
The dual-SIM phenomenon, too, started as a rate arbitrage. However, with the touch revolution, women and children became more comfortable with the mobile technology. Perhaps, we entered the smartphone race too early.
Have you been able to figure out why some smart companies fail?
If you look at the history of why companies fail globally, it is essentially because of two reasons. Firstly, arrogant leadership, and secondly, inability to learn and un-learn. The only way any company can succeed is by being innovative. Nokia as a company took more right decisions than wrong in the last eight years.