Enfield enjoys almost the entire 250-350 cc motorcycle market in country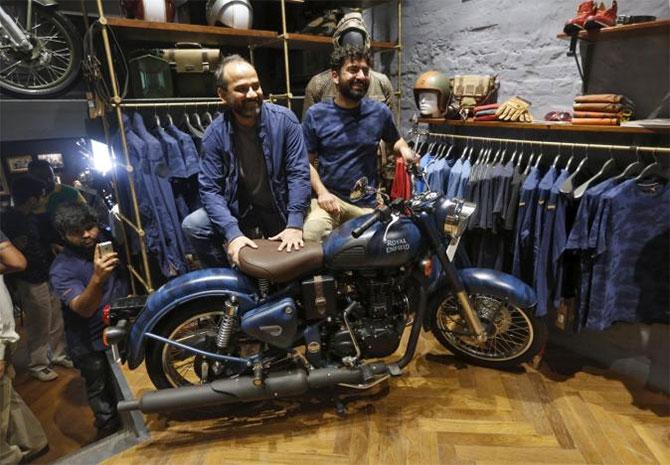 Royal Enfield, well known for its bullets, said it is not going to be easy for any new entrant to unseat the company. Bajaj Auto, which entered the 350-500cc motorcycle segment in December, claimed to have overtaken Royal Enfield in February in volumes.
"If you look at the 250 cc plus motorcycle market in India, every 19 of 20 products are sold by us…that is a reality. It is not that easy to unseat someone who is doing this," Siddhartha Lal, managing director and chief executive officer of Eicher (which owns Enfield) told Business Standard. Bajaj's claim was based on one month's performance of the Dominar, its new 373cc premium sports motorcycle.
Japanese two-wheeler major Honda is also reported to be working on a motorcycle to cater to this segment.
"It is very clear. There will be people entering. There is no doubt about it. Just that it is still a very small segment. If more players enter it may help grow the segment," said Lal.
Enfield enjoys almost the entire 250-350 cc motorcycle market in the country, estimated at close to 50,000 units a month. This is where it gets the lion's share of its sales.
It controls 80 per cent In the 350-500 cc market (data for the first 11 months of FY17). This is a much smaller segment, with monthly volume of 5,300 units.
Lal added that the company is doing lot of things on and off product.
"Our dealerships are unique and don't cater to mass products. It is not like a factory shop. We are working to improve and enhance the experience. And on the product side lot of things will happen. I am sure there will be good and interesting motorcycles from others.
But we don't want to cater to everything. If somebody comes and creates a new segment, good for them. We want to stick to our core and do what we do well," said Lal.
Royal Enfield, a highly profitable business for Eicher, brings over 80 per cent of the company's consolidated profit (Rs 1,278 crore in FY16) even though it accounts for just 40 per cent of the Rs 15,689 crore (Rs 156.89 billion).
Commercial vehicle is another business segment. As a next leg of growth, Lal is now focussing on growing the motorcycle business overseas. Exports now contributes to just about two per cent of the total motorcycles sales (0.66 million in FY18) but Lal said the export story is just getting 'started'. Shipments grew 64 per cent in FY17.
He said the India growth story for Royal Enfield is 'known'. "The new story over the next 5-10 years which is what we are working on now is the global story". Royal Enfield has not set a target for export volumes as a per cent of total sales.
"We don't care about it. It could be 20 per cent or 80 per cent. It doesn't matter to us. It is more important that the markets we choose for a strategic entry have India like conditions with owners of commuter motorcycles upgrading to Royal Enfield. There are a few markets in Latin America and in South East Asia we are targeting. In those markets we want to create the middle weight market which does not exist. We want to grow and become number one in the segment," said Lal.
Royal Enfield aims to be a definitive leisure motorcycle in markets like Thailand, Indonesia and Brazil. "Indonesia is half the size of Indian market. If we do full justice to it, in next 5-10 years it could contribute half of the Indian volumes for us.
We don't want markets where we can sell hundreds or thousands. We want markets where we can sell tens of thousands and lakhs in a year. Lal's overseas focus made him relocate to London in 2015. He hopes that the result of the work done in last two-three years and will start kicking in from 2020 onwards.
Photograph: Adnan Abidi/Reuters