India is currently home to 52 unicorn startups and one of the fastest-growing startup ecosystems, reports Peerzada Abrar.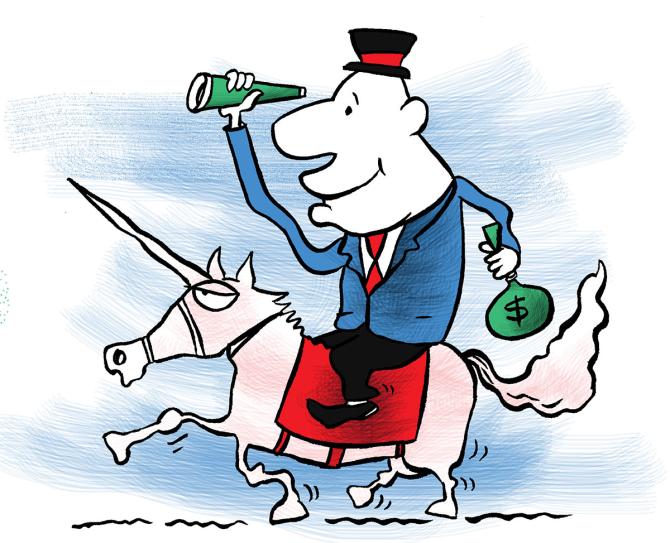 With the coronavirus pandemic accelerating the adoption of technology and online services, Indian unicorn and soonicorn companies are witnessing multi-fold increase in their valuations in various funding rounds the past several months.
According to analysts and industry experts, the valuations of these companies especially in the area of e-commerce, fintech, edtech and software-as-a-service are expected to increase manifold or even double in some cases during the funding rounds for the rest of the year as well.
They said large funding rounds and valuations demonstrate significant interest from global investors, including sovereign funds, private equity and crossover funds.
These investments reflect confidence in digital commerce in India, which has continued to accelerate over the past several months when access to products safely and convenience took priority.
"The digital ecosystem in India is coming of age, coupled with the growth in the adoption of technology and services due to Covid, which is fuelling investor interest and that has an impact on the valuation of the companies that we are seeing," says Ankur Pahwa, partner and national leader, e-commerce and consumer Internet at EY India.
"In the past 6-7 months," Pahwa adds, "the valuations of many businesses have rapidly increased and even doubled in some cases during various funding rounds. We expect this to continue as there is a huge interest in India as the country is delivering growth on the digital side."
E-commerce giant Flipkart Group raised $3.6 billion, including from SoftBank, which had exited the firm, valuing the company at $37.6 billion, which is more than a 50 per cent rise in a year.
Last July retailer Walmart led a $1.2 billion round in Flipkart, valuing the e-commerce firm at $24.9 billion.
After becoming a unicorn last October, fintech company Razorpay in April this year raised $160 million in a Series-E funding round.
The financing round has helped the company's valuation triple to $3 billion in less than six months.
In the last several months, Razorpay witnessed a 40-45 per cent growth, month-on-month.
The company plans to achieve $50 billion total payment volume (TPV) by the end of 2021 from the current $40 billion.
This would help it to further solidify its position as one of the largest full-stack fintech companies in the country.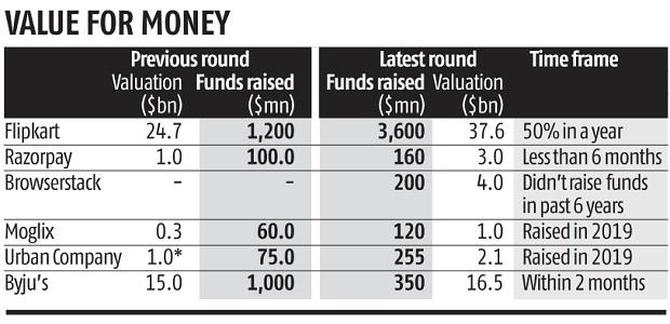 In June, Urban Company, the online home services startup, raised $255 million in a Series F round led by Prosus Ventures, Dragoneer and Wellington Management.
The funding has more than doubled the Gurugram-based company's valuation to over $2 billion.
In 2019, the firm was valued at $933 million after a funding round, led by Tiger Global.
This year, Urban Company became a unicorn, a startup valued at more than $1 billion. The firm plans to expand in 100 Indian cities and international markets.
In April, Chargebee, the leading subscription billing, and revenue management platform, raised a fresh round of $125 million in series G funding.
The round was co-led by new investor Sapphire Ventures and existing investors Tiger Global and Insight Venture Partners, along with participation from another existing investor, Steadview Capital.
Chargebee was now valued at $1.4 billion, which triples its valuation in less than 6 months.
In June, BrowserStack raised $200 million in a new financing round led by Silicon Valley investor Mary Meeker's Bond Capital.
The round valued the company at $4 billion, making it among the highest valued software-as-a-service (SaaS) startups from India.
This month, Pine Labs, one of Asia's leading merchant commerce platforms, closed a $600 million fundraising round.
With the current close, the valuation of the Noida-based firm stands at over $3 billion.
This is up from about $2 billion in a funding round last year in December and $1 billion in early 2020, according to the sources.
The firm now serves hundreds of thousands of merchants across payments acceptance on cards and unified payments interface, processing tens of billions of payments.
Industry experts said the time to build, scale and profit for the firms has reduced significantly than ever before in the last 12 months.
"This entire maturity curve witnessed recently in the ecosystem is triggering the increase in the valuations that we are seeing," says Pahwa of EY.
According to Salman Waris, managing partner at technology law firm TechLegis Advocates and Solicitors, India is currently home to 52 unicorn startups and one of the fastest-growing startup ecosystems.
A recent industry report also put India as a hotspot representing 50 per cent of the total top 100 unicorns in the region by value and number, Waris adds.
"Especially post the pandemic, India has seen a rise in tech-based startups due to consumer demand and the increased use of digital goods and services by individuals and firms," says Waris.
What has also contributed to the huge investor interest and surge in valuations is the increase in the number of various exits, strategic stakes and mergers and acquisitions witnessed in the recent past.
For instance, in April, edtech decacorn Byju's closed the deal to acquire Aakash Educational Services, for nearly $1 billion. The deal closed over videoconferencing platform Zoom is the biggest in the education space.
This year, Tata Digital, acquired a majority stake in online grocery firm BigBasket at a $2 billion valuation.
Industry experts said what is also contributing to the surge in valuations is due to a slew of initial public offerings lined up by the companies.
Labelled as a watershed moment for India's venture capital and start-up ecosystem, food delivery firm Zomato's IPO opened for subscription on July 14 and drew a bumper response.
The shareholders of digital financial services firm Paytm have also finalised the company's plan of raising Rs 12,000 crore (Rs 120 billion) by issuing fresh equity through an IPO at its extraordinary general meeting.
According to sources, Flipkart is also planning to go public in the US by 2022 and it is eyeing a valuation of about $50 billion-$60 billion.
Feature Presentation: Rajesh Alva/Rediff.com