Becoming a unicorn is surely a marker for a company in its growth story, but it's not a major achievement nor is it a turning point of any significant worth.
Nivedita Mookerji reports.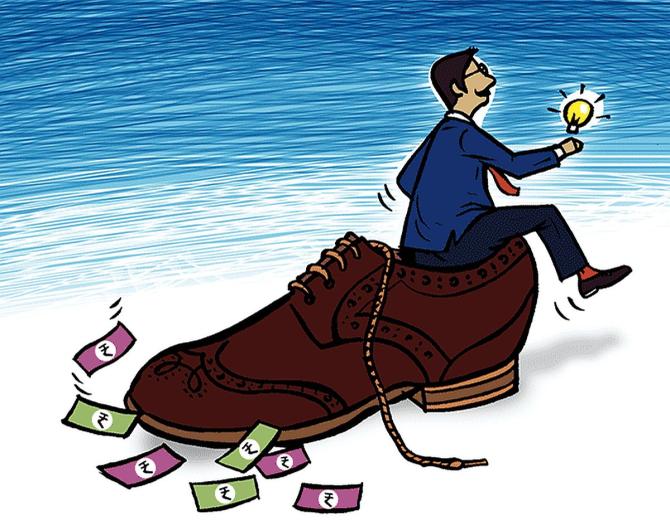 Each day of the past few weeks was seen as a red-letter day for the start-up world as six internet-led firms turned unicorn in quick succession.
Celebrations were thick and fast, acknowledging the value of entrepreneurship.
The message was that India's finally arrived on the scene where a $1-billion valuation for a privately-held start-up was not a once in a blue moon phenomenon any longer.
According to US-based analytics platform CB Insights' database, out of a total of 642 unicorns around the world, India has 29 as of April 2021.
Another data set from Venture Intelligence shows the India unicorn club has 47 members and growing.
The variation in number may be due to how a start-up is counted as a unicorn (valuation of $1 bilion), decacorn ($10 billion) or hectocorn ($100 billion) and at what point it is phased out of the list.
As in the case of any global ranking, becoming a unicorn is surely a marker for a company in its growth story, but it's not a major achievement nor is it a turning point of any significant worth.
The reason is there's nothing real about a start-up valuation.
It's a notional value of a start-up, depending on the cash flow availability, ambition and assessment of the key investors funding and backing that company.
Since this valuation has nothing to do with revenues, profits or any other benchmarks used in any traditional business, it's something of a sentiment-driven play by investors.
In this fickle start-up space, investors may sometimes task companies with stiff performance targets, and at other times, all they want is customer stickiness and footfall irrespective of the real numbers.
Readers may remember the roller-coaster ride in multiple cases where high valuation (unicorn or decacorn) does not ring-fence even star founders of celebrated start-ups from failure.
Think Flipkart, think Housing.com, think Snapdeal, and so many others.
Marquee investors, which help start-ups enter the hall of fame, are in full control of the strings throughout the journey; whether the outside world perceives the start-up to be at dizzying heights is of little consequence.
Typically, a founder-investor showdown comes in public glare at the time of a sale or an attempted sale of a start-up.
In the case of Flipkart, for instance, the company co-founder and poster boy of Indian e-commerce Sachin Bansal, an IIT graduate, had to step down in 2018 when a clutch of investors on the board led by Tiger Global Management's Lee Fixel struck a deal to sell a majority stake in the Bengaluru-based firm to Walmart in a $16-billion deal.
Sachin Bansal had little say during the boardroom negotiations about a company he had founded along with Binny Bansal (not related) more than 10 years ago.
Sachin, who had wanted to increase his single-digit stake but could not, was absent in the post-deal photograph.
He instead posted a tweet to say he was out of Flipkart.
Another starry battle that made headlines was about real estate search portal Housing.com.
Co-founder and then CEO Rahul Yadav had sent an email to Shailendra Singh of Sequoia Capital, which was a key investor, in 2015.
In the email, which went public, 25-year-old Mr Yadav, an IIT dropout, said he would vacate the firm if they (investors) didn't stop messing around with him.
The line in Mr Yadav's email which ensured his own exit, marks the beginning of the end of Sequoia Cap in India.
A series of events followed—he resigned from the board after calling the investors and board members incapable of a discussion, then he withdrew his resignation, and finally Mr Yadav was ousted.
Two quotes were noteworthy after India made news with the rush of unicorns.
One was by Sachin Bansal, who founded fintech firm Navi Technologies after his Flipkart stint, and another by Kunal Shah, founder of credit card bill payment platform Cred, which just turned a unicorn.
Sachin said most entrepreneurs work for the love of the game and wealth is a means to keep score.
Mr Shah said the unicorn tag and high valuations are all vanity metrics till the company delivers profit.
Unicorns are hope and belief of its stakeholders, he said.
Sachin may have been speaking from experience of founding one of the early and super-hit unicorns in India.
Mr Shah has been around in the entrepreneur space for some time now and therefore he would know the real value attached to a unicorn.
Incidentally, announcements on unicorns were slow-paced and discreet earlier.
For instance, the world got to know about Flipkart hitting the magic figure of $1 billion valuation only in 2013, a year after it had entered the unicorn club.
A disclosure by one of its new investors then, South Africa's Naspers, put the value of Flipkart at $1.04 billion based on its last round of funding around a year ago.
This was part of the annual report to shareholders, stating that it had invested around $100 million in August 2012 to pick up a 10 per cent stake in Flipkart Pvt Ltd.
The rest, as they say, is history.