'The competition between the two is definitely going to be of great interest to the Indian market.'
Dev Chatterjee reports.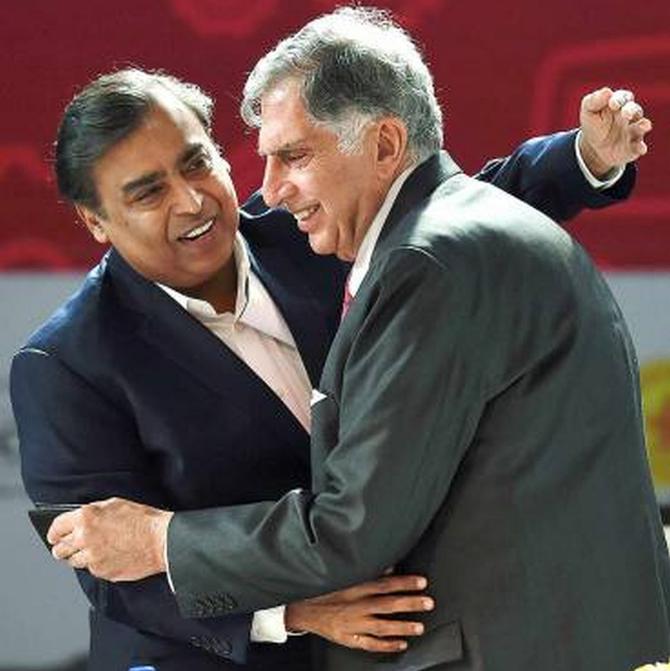 With Reliance Industries Chairman Mukesh Ambani announcing a $10 billion foray into green energy in June and promising to shake up the market, the after effects were not only felt across other power companies but also at the Tata group, which is aiming to be a significant player in the renewable power business.
The competition from RIL comes at a time when the Tatas are also preparing to launch their super app for online retailing where Reliance Retail is promising to increase its gross market value (GMV) to $15 billion by 2025.
The Tatas, the country's largest corporate group, currently have a renewable power capacity portfolio of 2.7 Gw in wind and solar, and have identified the sector as a priority for future investment.
RIL, the country's largest company by market capitalisation, said it will invest over Rs 60,000 crore (Rs 600 billion) in green energy initiatives and create a fully integrated, end-to-end renewables energy ecosystem.
Reliance is aiming to establish and enable at least 100 Gw of solar energy by 2030.
"While Tata Power has a massive loss-making coal-based power project in Mundra, which is losing money every day, Reliance will not have any such financial drain when it will be making the foray into the green energy business," said Tim Buckley, director of the Institute for Energy Economics and Financial Analysis, Sydney.
Tata Power's ambitious plans in the renewable sector started with the acquisition of Welspun's renewable power business for Rs 9,250 crore (Rs 92.5 billion) in 2016 under its former chairman, Cyrus Mistry.
The company now plans to phase out its coal-based capacity and expand clean and green capacity to 80 per cent by fiscal 2030.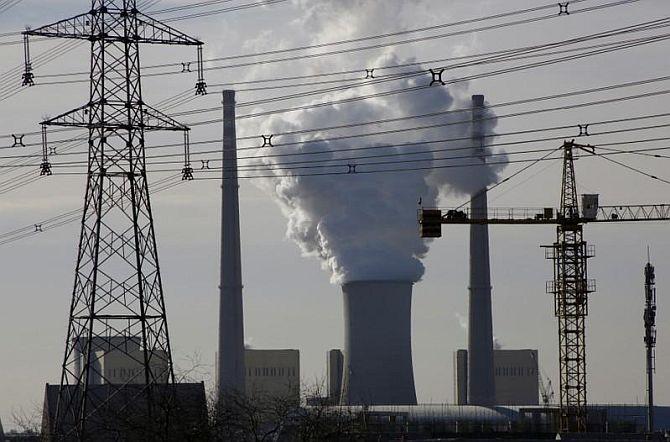 As India's largest integrated solar engineering, procurement and construction (EPC) company, Tata Power delivered a strong performance in FY21 with Tata Power Solar's order book over Rs 8,700 crore (Rs 87 billion) and a capacity of around 2,800 Mw.
Tata Power, which currently has a total generating capacity of 12,808 Mw, plans to set up 2 Gw of solar and hybrid capacities annually to grow from 4 Gw to 15 Gw by 2025.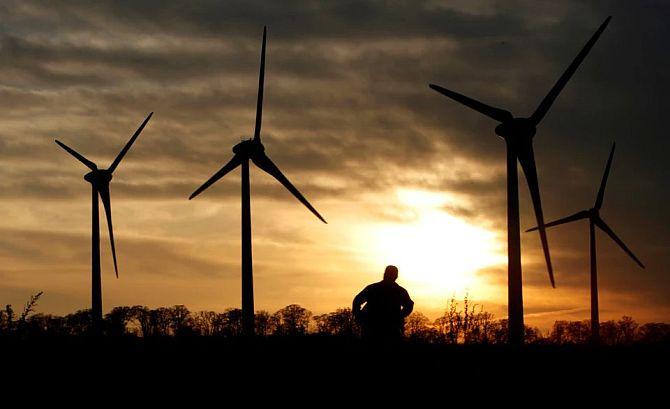 What this means is that "while Reliance will be scaling up its renewable power business in the next three years, there are fears that it will leave Tata Power far behind in terms of investments and scale," said an industry analyst.
"The competition among the top players such as Adani Green, Reliance, NTPC and Tata Power will be interesting to watch as all companies shift their investments in green energy. The good news is that there is enough space in the Indian market for all players because electricity demand is growing exponentially," said the analyst.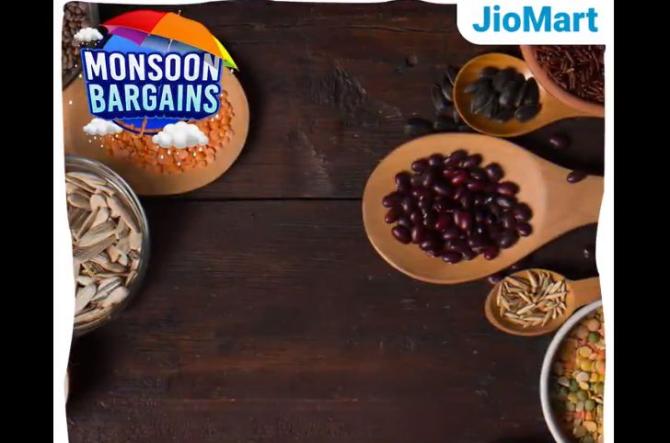 Photograph: JioMart/Twitter
The Tatas will also have to take on Reliance in the online and offline retail business where the competition is already very high with Amazon, Flipkart and Paytm investing billions of dollars.
Tata's offline business led by Trent is a marginal player when compared to Reliance Retail's size.
The Tatas are now pinning their hopes on a super app that will sell everything from hotel rooms to cars.
But the Tatas have reasons to worry.
RIL wants its e-commerce revenues to grow by 35 per cent to $15 billion within four years and its core retail revenue is expected to grow at the same pace to $44 billion, according to a Goldman Sachs forecast.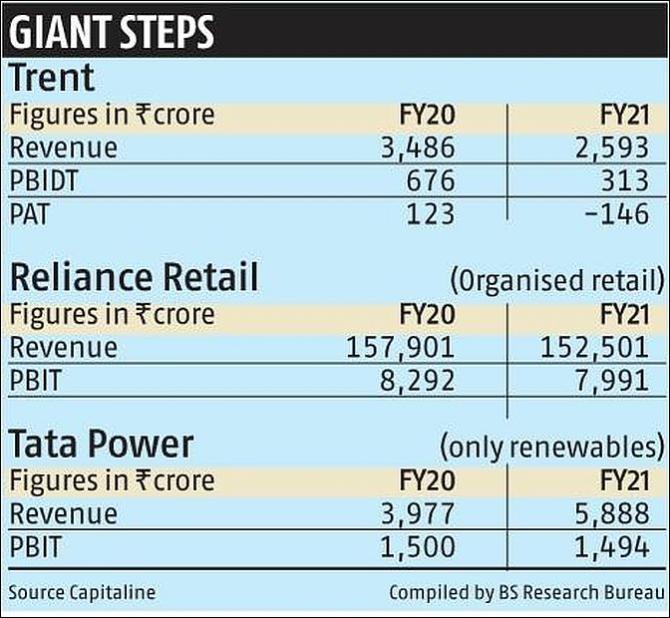 "The Tata vs JioMart war will be the next big corporate battle to watch. While Tata has an upper hand with in-house products and brands, RIL has the backing of global biggies like Google, Facebook and Microsoft," said the head of a rating firm asking not to be quoted.
'We forecast 50 per cent market share for RIL in on­line grocery by fiscal 2025, with 30 per cent market share in overall e-commerce. This translates into $35 billion e-commerce GMV for RIL by fiscal 2025, with $19 billion in grocery and rest by non-grocery,' Goldman Sachs analysts led by Nikhil Bhandari said in a report in June..
'Overall, we expect retail EBITDA (earnings before interest, tax, depreciation and amortization) to grow 10 times from current levels by FY30,' the report stated.
The big question is how the competition between the Big Two will pan out with both focusing on the online segment.
Experts said while JioMart has focused its attention predominantly on developing capabilities in groceries and fashion, the Tata super app is focusing on a much broader assortment of services, including groceries and staples, pharmacy, cars and education.
Both firms have also made their intent clear with regard to the aggressive acquisition of established players in various categories, for example, the acquisition of Urban Ladder, NetMeds and Zivame by JioMart, while Tata Digital has acquired Big Basket and 1mg.
"At this juncture, one can easily assume that both firms will try establishing online superstores in an attempt to transform their capabilities to the new omni-channel marketplace," said Subin Sudhir, faculty, marketing of Indian Institute of Management-Indore.
"The competition between the two is definitely going to be of great interest to the Indian market," added Sudhir.
While JioMart will ideally try to take its well-established role of being an intermediary offering the best of national brands and its own far cheaper private labels, Tata super app is more likely to choose the position of a one-stop place for consumer services offered by group companies.
This would create a separate space for both players to mutually co-exist, according to Sudhir.
"Thus it can be fairly assumed that as time progresses, JioMart would strengthen its place as an online retail super-store, while Tata super app will predominantly focus on its own product/service capabilities, augmenting the retail space with acquisitions such as BigBasket or 1MG," said Sudhir.
"Despite the competition between the two, the future is going to be extremely encouraging to the Indian consumer, who will have a viable alternative to the marketplace-led e-commerce models prevalent today (Amazon, Flipkart etc)," added Sudhir.
But it is well known that the Indian consumer has limited loyalty when it comes to e-commerce players.
"This could be an advantage that the Tata super app is aiming to achieve by offering superior value with differentiated offerings and a very well-crafted loyalty programme, while the position of JioMart and the JioMart Kirana partner programme in association with WhatsApp will surely be a big boost to acquiring more customers," sid Sudhir.
"So, it is safe to assume that both conglomerates are invested extremely in this space, which will undoubtedly provide immense value to the consumer."