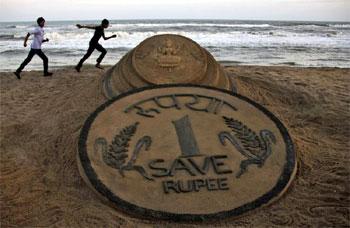 The Indian rupee on Friday strengthened by 12 paise to end at 62.19 against the dollar, logging its first gain in five sessions, on selling of the US currency by banks and exporters amid a strong local equity market.
The Indian rupee opened higher at 62.14 compared to Thursday's close of 62.31 at the Interbank Foreign Exchange market in Mumbai.
It firmed up further to a high 62.04 on initial selling of dollars by banks.
However, the rupee trimmed its initial gains and fell to 62.21 per dollar on some dollar demand from banks before finishing at 62.19 per dollar, logging a net gain of 12 paise or 0.19 per cent.
The rupee had dropped by 62 paise, or 1.01 per cent, in the previous four days.
The local currency hovered in a range of 62.045 and 62.21 per dollar during the day.
The dollar index was down by 0.06 per cent against a basket of its major global rivals.
Veracity Group, CEO, Pramit Brahmbhatt said: "Rupee took cues from strong local equities which extended its Thursday's gain and closed up by over one per cent".
Also, FII buying in debt market helped the rupee to trade strong against the dollar index, he added. The trading range for the spot USD/INR pair is expected to be within 61.70 to 62.70.
In Tokyo market, the US dollar fell against the yen.