Foreign capital inflows also boosted the rupee value against the dollar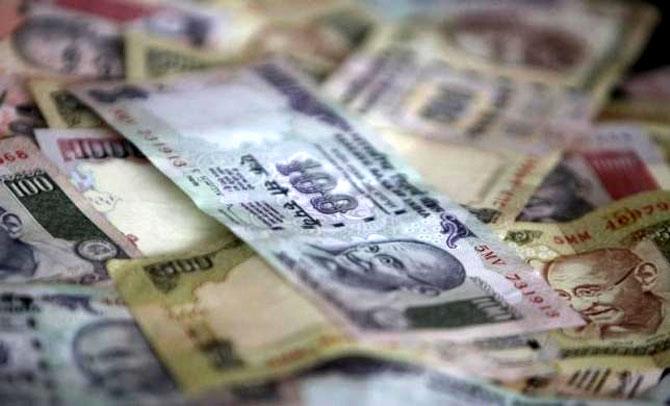 Dollar selling by banks and exporters towards the close of market helped rupee recover from early losses and settle flat at 66.84 against the US currency.
Fag-end dollar selling dollars on the back of partial recovery in equity markets as RBI kept key policy rates unchanged helped the rupee's recovery, a forex dealer said.
The rupee had dropped to 66.98 a dollar on dollar demand from banks and importers ahead of announcement of RBI policy in the morning.
The Reserve Bank of India kept its benchmark lending rate viz. the repo rate unchanged at 6.5 per cent after a monetary policy review on Tuesday.
After the policy announcement, the rupee recovered to 66.83 per dollar on fag-end selling of dollars in view of part recovery in the equity market.
It closed flat at 66.84 per dollar.
Foreign capital inflows also boosted the rupee value against the dollar, a forex dealer said. Foreign portfolio investors and foreign institutional investors bought shares worth a net of Rs 144.15 crore today, as per provisional data released by stock exchanges.
The BSE Sensex resumed higher at 28,289.22 and firmed up further to 28,289.96 in the early trade. But, it declined to 27,956.77 before ending at 28,085.16, still showing a loss of 97.41 points or 0.35 per cent.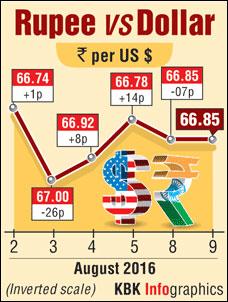 The dollar index was trading down by 0.01 per cent against a basket of six currencies in the late afternoon trade.
Meanwhile, the RBI fixed the reference rate for the dollar at 66.9633 and euro at 74.1752.
In cross-currency trades, the rupee firmed up against against the pound sterling to settle at 86.72 from 87.25 yesterday while dropped against the Japanese yen to end at 65.39 per 100 yens from 65.31.
The domestic unit ended steady against the euro at 74.05.
In the forward market, premium for dollar continued to decline on sustained receivings from exporters.
The benchmark six-month premium for January 2017 eased to 189-191 paise from 190-192 paise yesterday while ended steady for the for forward July 2017 contract at 388-390 paise.
Veracity Financial Services' Pramit Brahmbhatt said, "It was muted trade on a today when Raghuram Rajan announced his last policy and kept key interest rate unchanged".
"Trading range for the spot USD/IINR pair will be 66.50 to 67/USD," he added.
In global markets, the pound fell against the dollar in the late trade as a Bank of England policy maker said that interest rates can be dropped again and quantitative easing can be expanded.