There's no place like home, but even for the affluent buying one in India is difficult.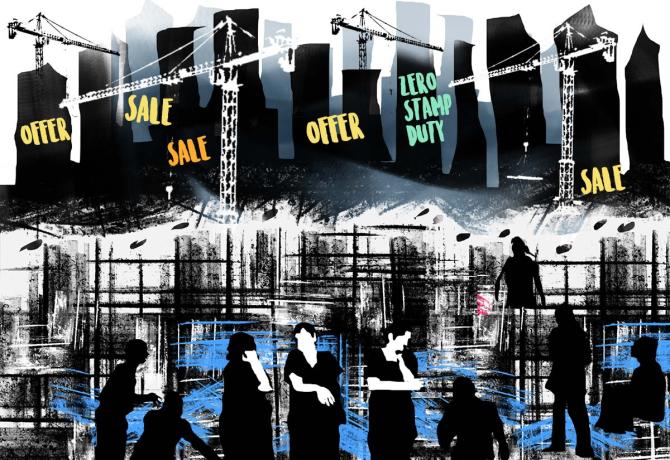 On top of that, the coronavirus pandemic—now in its eighteenth month—has made life uncertain.
A hopeful thing is buying a house looks alluring as loan interest rates fall below 7 per cent, their multi-decadal lows.
The slow decline in GDP growth after demonetisation, followed by the economic shock caused by Covid-19 waves, has hurt us unevenly.
Some of us have seen salary cuts or job losses.
But hardly anyone—except for the likes of billionaire Radhakishan Damani who bought a Mumbai house worth Rs 1000 crore at the peak of the second wave—was thinking of buying a residential property in and between the two waves.
##No wonder then that house sales in India's top seven cities fell 70 per cent during the first lockdown in March 2020 to slow down the coronavirus.
Sales did recover in the next few quarters, but fell 60 per cent once again when second coronavirus wave hit the country in April-May this year.
If we remove seasonality by measuring how the four-quarter rolling average of home sales moved, April-June of 2021 was 40 per cent down from the peak of April-June 2019.
Business Standard analysed data from Anarock Property Consultants for this.
The residential real estate market is still under pressure though most states have eased curbs on public movement and business activity, enabling economic recovery.
Houses did not find takers as usual till as late as June 2021, but recent months are likely to have seen an improvement in sales.
India has nearly 400 urban agglomerations, helping its residential real estate market to spread beyond the seven big cities.
Sales in the seven cities represent only the top layer of home sales in India.
The message is this: In a K-shaped recovery—some parts of the economy recovering quickly, while others stagnate—even sales for top-tier homes are struggling to cope.
One would assume that commercial real estate would have gone bust in the pandemic as well. People worked from home and businesses shed office space to save on leasing.
No, that is not the case for the top tenants of commercial space in India.
In fact, they have added office stock to their name every quarter since April-June 2020.
This is similar to small-but-positive sales of residential property in the top seven cities.
Absorption-- area added to current stock--has outstripped the supply of new commercial real estate as the second wave of the pandemic wanes, a recent analysis by Kotak Securities found, going against conventional thinking about how the market is doing.
Even the supply of new office spaces was higher in the pandemic, compared to two to three years before.
How did top tenants absorb new office space like before the pandemic? The reason lies in identifying the top tenants: they are mostly IT services firms like Accenture, Tata Consultancy Services, IBM, Cognizant, followed by Amazon, WeWork and Deloitte, the Kotak report said.
The IT services sector withstood the pandemic.
The net profit of 133 listed IT firms grew from Rs 20,965 crore in January-March 2020, to Rs 25,593 crore in April-June 2021.
The vacancy is increasing in commercial real estate; but rising supply, and not falling demand, is the key reason for that.
When Indians resume attending office, commercial spaces will find more takers.
Meanwhile, residential property consultants say that enquiries and visits to check upcoming residential properties are rising.
Real estate is no mean sector.
It accounts for 15 per cent of the gross value added in the Indian economy.
After the pandemic, a pick up in the real estate sector will be a boon for it.
It depends on people like us, who would--sooner or later--buy houses. Would you take the leap?