Property buyers fund the project cost and the entire debt and entire equity servicing, and yet, have no locus standi in the IBC process, points out Debashis Basu.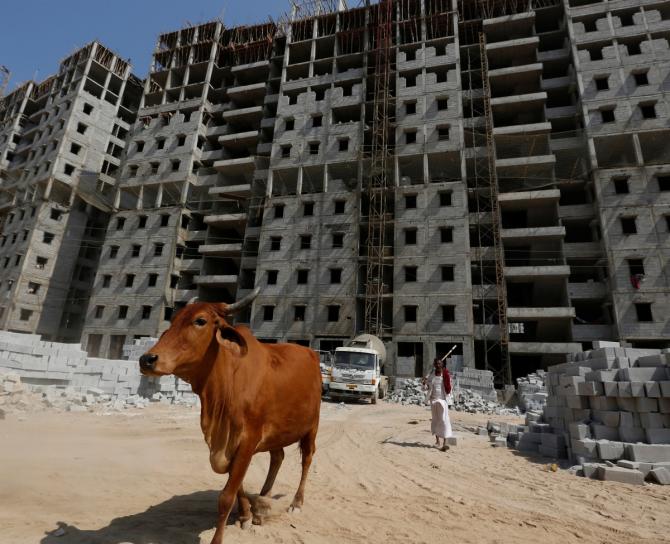 C&C Towers Ltd (CCTL) signed a 20-year concession agreement with the Greater Mohali Area Development Authority (GMADA) in April 2009 for an inter-state bus terminal, three multi-storey towers with retail and office spaces, a multiplex, a five-star hotel, a banquet hall, hypermarkets, and a helipad on top of one tower.
CCTL immediately gave an advance of Rs 110.78 crore as pre-construction advance and Rs 63.30 crore as mobilisation advance to a group company C&C Construction Ltd (CCCL, a listed firm which is also bankrupt).
As always, a bunch of public sector banks -- State Bank of India, State Bank of Hyderabad, State Bank of Patiala, Punjab National Bank, and Punjab & Sind Bank -- sanctioned project finance in November 2010.
Apparently, C&C Towers also collected Rs 490 crore from 400 property buyers.
Construction was inordinately delayed, leading to the GMADA invoking bank guarantees of Rs 11.90 crore.
SBI and PNB got Edelweiss Asset Reconstruction Company (EARC) involved under a 'Restructuring Agreement'.
In October 2019, based on an application under Section 7 of the Insolvency and Bankruptcy Code (IBC), filed, strangely, by two individuals, a corporate insolvency resolution process (CIRP) started on October 10, 2019.
Fraud: The elephant in the room
The aggregate claims of all creditors admitted were Rs 580.12 crore while the capital work-in-progress was put at Rs 399.89 crore.
However, the actual allocation to the creditors under the resolution plan is as follows.
Banks: 13.3 per cent (of which the upfront payment is just Rs 1 crore, the rest in instalments over five years); fixed deposit holders: 12.8 per cent; allottees: 10.6 per cent; GMADA: 10 per cent; statutory dues: 8 per cent.
In all, this is just Rs 72 crore, or 12.5 per cent of the admitted claims! So, where is the Rs 399.89 crore of the capital work-in-progress, whose value by now should at least have doubled?
What were the bankers doing?
What were the GMADA engineers doing?
The answer is crystal clear in all such bankruptcy cases (especially in real estate involving public sector banks), but one we don't want to see: Rampant fraud and corruption by all involved. We like to believe this is not large-scale loot but 'business failures'.
Of course, there are provisions in the IBC to identify transactions that are collectively called PUFE, that is, those that are preferential, undervalued, fraudulent, and extortionate.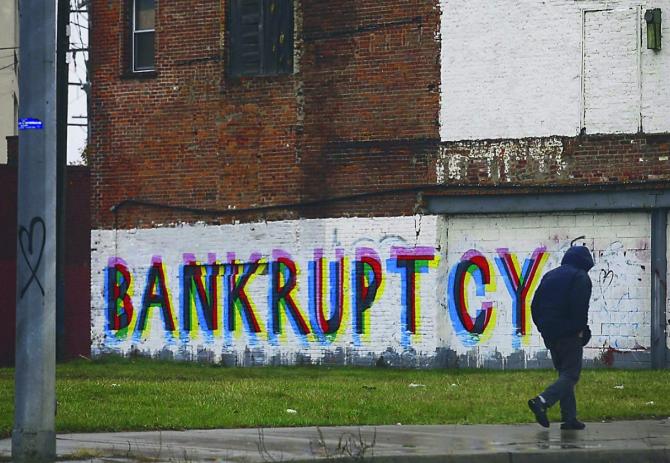 These transactions are supposed to be added back and recovered from the corporate debtor.
Was it done in this case? Well, the parties involved have managed to fix these too.
Preferential transactions of only Rs 1.85 crore paid to two companies of the C&C group were recorded.
Undervalued transactions of just Rs 91 lakh were identified.
Nothing was identified as extortionate, and fraudulent transactions were just Rs 2.51 crore.
During this process, it also appeared that for some 91,000 square feet of space, there was fraudulent excess booking of 289,445 square feet.
Like the three monkeys, we don't seem to see, hear or talk about rampant fraud and corruption leading to IBC cases, especially those in which public sector banks are involved.
Bankers
Financed the project after the EPC (engineering, procurement, construction) contract was signed but did nothing to rectify the contract, which drained off money to group companies.
They failed to monitor the project and take timely corrective action.
Further, they transferred the loans to EARC under a "restructuring agreement".
Clearly, banks are primarily responsible for this fraud, but they got away.
Yet, there is a widespread opinion (even articulated by former Reserve Bank of India governor Raghuram Rajan) opposing criminal action against bankers.
PUFE
The regular process of identifying PUFE is toothless even in a case like this, where EPC was handed over to benefit CCCL/individuals.
What is needed is a forensic audit not merely of the accounts but the whole project. But this cannot be mandated.
There has to be some commercial incentive for such an investigation.
Promoters
They crafted the EPC contract to drain substantial amounts 'legally' and have got away financially.
While the chairman and a director were arrested, Harbhajan Singh Jolly, general secretary of the C&C Mohali Junction Clients Association, alleges that the police gave the company officials a clean chit in a case of outright fraud.
GMADA
The 'independent engineers' failed to monitor the project. I am not sure if they paid any price for it.
The most amazing aspect of this mess is that the main victims, the allottees, have no say in this vile affair from start to finish.
They had no means to monitor the project, were tricked by the presence of compromised government-owned banks and the GMADA, got no help from law enforcement agencies, and finally have been relegated to rank outsiders in the IBC process.
According to banker and resolution professional Rajendra Ganatra, it is the property buyers who fund the project cost and the entire debt and entire equity servicing, and yet, have no locus standi in the IBC process.
In fact, until the infamous cases of cheated homebuyers such as Amrapali and Jaypee Infratech began to hog the media headlines, homebuyers' rights were completely ignored.
Then the Supreme Court merely gave them the status of unsecured financial creditors. It is hardly enough.
They are the actual property owners and have funded the project.
Their rights should be on a par with secured lenders or even superior because they are under no legal obligation and devoid of institutional resources to monitor the project.
Real estate bankruptcy laws ought to be completely overhauled to right this egregious wrong. But then who will argue this for them?
Debashis Basu is the editor of www.moneylife.in
Feature Presentation: Rajesh Alva/Rediff.com