Scientists said that every one-degree rise in temperature could pull down wheat yield by 10%.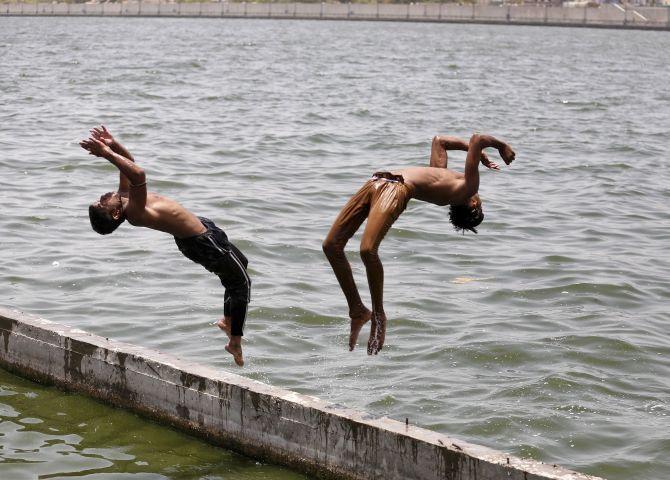 Daily temperatures across the country are expected to be up to one degree Celsius above normal this summer (March to May), except in the northwest where it could be even more, India Meteorological Department (IMD) has said.
"Studies also indicate increasing trends in the frequency and duration of heat waves, which can be attributed to increasing trends in greenhouse gases and warming of sea surface temperatures over the equatorial Indian and PacificOceans," the government agency stated on Tuesday.
This is part of its summer season forecast.
It says above normal conditions are likely to prevail over the 'core heat zone'. This comprises Punjab, Himachal, Uttarakhand, Delhi, Haryana, Rajasthan, Uttar Pradesh, Gujarat, Madhya Pradesh, Chhattisgarh, Bihar, Jharkhand, West Bengal, Odisha, Telangana and meteorological subdivisions of Marathwada, Vidarbha and Madhya Maharashtra, all in Maharashtra.
There is a 47 per cent chance of maximum temperatures in the core heat wave zone areas to be normal, and a 53 per cent chance of it being above normal, IMD said.
This could have an adverse impact on the standing wheat crop, particularly that sown late in parts of western UP, if the temperature increase starts right away.
Scientists say every degree rise in temperature could pull down wheat yield by 10 per cent.
Around 70-80 per cent of the wheat sown in western UP has been late this year, as farmers waited for their sugarcane crop to be harvested.
IMD also said the mean temperature was significantly above normal in January, while 2016 was the warmest year recorded since 1901.
"This year's forecast shows all the temperatures (maximum, minimum and mean) in all the 36 meteorological subdivisions across the country on an average would be one degree above normal," it summarised.
---
IMD sees no El Nino impact on monsoon
El Nino is often associated with below average warmer, dry weather across Asia Pacific region
Hours after Australia's Bureau of Meteorology predicted a higher chance of an El Niño forming in mid-2017, the India Meteorological Department said on Tuesday the dreaded weather phenomenon would not impact the development of the southwest monsoon in the country.
The Bureau, in its latest update on Tuesday, upgraded its El Niño-Southern Oscillation (ENSO) outlook status to "El Niño Watch", suggesting there is a 50 per cent chance of the weather event resurfacing this year.
An El Niño is often associated with below average warmer, dry weather across the Asia Pacific region. It has had an overbearing impact on Indian rains, and 80 per cent of El Niño years have seen below-normal rains in the country.
"The southwest monsoon starts developing around March and during this time and even after that till May, El Niño won't be present. So, it won't have any impact on development of the southwest monsoon," IMD Director General K J Ramesh told Business Standard.
Photograph: Amit Dave/Reuters.