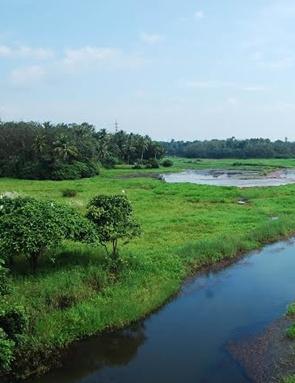 Ignoring protests by green campaigners, Union Ministry of Environment and Forest has given clearance to the private airport project at Aranmula in Kerala, promoted by KGS Group.
Disclosing this at a press meet in Thiruvananthapuram, Managing Director of KGS Aranumla International Airport Ltd, Gigi George said with this the project had obtained all the approvals to begin the work of Rs 2000-crore (Rs 20 billion) project and complete its first phase by December 2015.
However, anti-airport campaigners, on warpath for quite some time alleging the project posed a threat to the sensitive ecological system and heritage of Aranmula in Pathanamthitta district, vowed to continue their struggle.
The first private airport in the country, George said the KGS Group was fully convinced of the potential of the project and it would be developed without doing any damage to the
environment or harming the heritage and culture of the area.
"The proposed airport is close to Sabarimala temple, the area has a large concentration of non-resident Keralites and it will boost tourism considering its proximity to key destinations like Alappuzha and Kumarakom", George and its Executive Director Nandakumar said.
They rubbished recent reports that the project posed a threat to the famed Parthasarathi temple at Aranumala as its flag mast and towers could become obstacles for take off and landing of flights.
Meanwhile, the Aranmula Heritage Protection Samiti leaders said in Pathanamthitta that the outfit would go ahead with their struggle against the project.
Some leaders of different parties voiced concern at the clearance given by the MEF to the project.