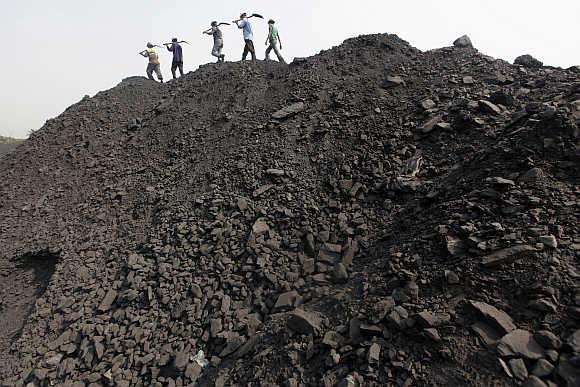 While a host of coal & power firms have come under fire from CBI, Adani Power has remained unaffected; however, financials remain stretched.
Gautam Adani, promoter of Adani Power Ltd, has a reason to relax, even as the power arm of his group of companies continues to make losses for an eighth straight quarter.
While a host of coal and power companies have come under fire from the Central Bureau of Investigation (CBI) for alleged involvement in the coal mine allocation scam, Adani Power has remained unaffected, so far.
It was allotted the Lohara West Extension block of the Wardha coal field in November 2007, to feed its proposed 3,300 Mw thermal power plant at Tiroda, in Maharashtra. Howeer, before any mining could begin the Union ministry of environment and forests (MoEF) rejected this, saying the project was within a 'no-go' area, being in the wildlife corridor for a tiger reserve.
The MoEF decision is now seen as a blessing in disguise for the Adanis.
"This helped APL avert any uncertainty of coal supplies arising from the controversy and court intervention. Also, this has helped the company to look for alternative sources and keep its focus on execution of the project," said an analyst at an equity research house in Mumbai.
On the other hand, it has stretched the company's finances. It has had to depend more on a temporary and costly tapering linkage from Coal India for Tiroda, a short-term one provided to power plants at an advancef stage of completion but where production from the allotted mine is yet to be achieved or the mine area is yet to be developed.
APL's net loss widened to Rs 1,072 crore for this year's second quarter, ended September.
"There is still negative sentiment about Adani Power. It is a relief for the company that it has not figured in the CBI's investigation till now but then, there is a financial burden on it," said an analyst at a leading broking house in Mumbai. Sources say the company has initiated a process to convert the tapering linkage to a long-term one.
"It has written to the ministry of coal for approval to so convert this into a long-term one from Coal India. APL is also exploring possibilities to explore and utilise coal in the mining area," said a source. When asked, Adani officials did not respond to queries in this regard. Expressing concern about APL's performance, JP Morgan's Asia Pacific Equity Research has maintained an 'underweight' rating, saying no respite was visible.
The Tiroda plant is to be a 3,300 Mw (5x660 Mw) one, put up by Adani Power Maharashtra Ltd, a unit of APL.
The first two units of 660 Mw each were commissioned in 2012-13 and the current generation capacity is 1,980 Mw.