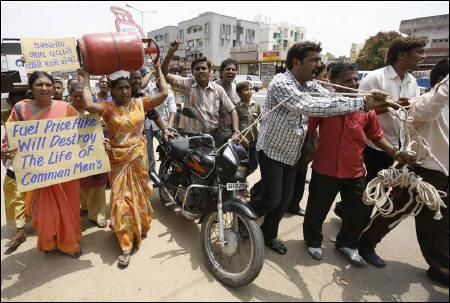 Prime Minister Narendra Modi's call to the citizens for voluntarily surrendering cooking gas subsidy seems to be working among quite a few.
Data show the number of consumers who have responded to the "Giveitup" campaign has touched a staggering 764,266, with 99 per cent of them having given up the subsidy in the year since the new government took charge.
The government claims it is able to channelise the resultant subsidy savings, of the order of Rs 253 crore annually, to the poor.

"If true, it shows there is a world outside politics where, despite all the political tricks, people are still sensitive to respond when it comes to the larger public good. It shows people still rise to the occasion when there is a reasonable social demand," renowned social theorist and political psychologist Ashis Nandy told Business Standard.
While the initiative of asking consumers to voluntarily give up LPG (liquefied petroleum gas) subsidy was started by the United Progressive Alliance government in 2012, the momentum has picked up in the past year, owing to the massive outreach programme and campaign run by the petroleum ministry.

The number of people who have shed LPG subsidy grew from 2,500 in August 2014 to 12,471 in December, a five-time jump in five months.

Over the next six months since then, the number has grown over 60 times to 764,266 as on July 2, according to the ministry's data.
According to Amitabh Kundu, former dean of the School of Social Sciences at Jawaharlal Nehru University (JNU) here, the response to the campaign establishes a strong sacrificial and philanthropic tendency among Indians.

"This is a great move. It shows the average Indian is still willing to give up doles and make sacrifices for their less fortunate brethren. Also, there is no harm if one gives up subsidy and feels good by talking about it in his circles," he said.
Prime Minister Modi had launched the campaign on March 27.

"More than 280,000 people have given up LPG subsidies, leading to savings of over Rs 100 crore in the past 10 months of the government," he had said in a speech at Urja Sangam-2015, an international energy-focused summit, organised by the petroleum ministry. Since then, both the number of people who have joined the campaign and the savings have more than doubled.
Among the first to respond to the government's call were the employees of the three oil marketing companies (OMCs) - Indian Oil (IOC), Bharat Petroleum (BPCL) and Hindustan Petroleum (HPCL).

In July 2014, Petroleum Minister Dharmendra Pradhan personally congratulated 100 employees of OMCs through letters for "demonstrating commitment to nation building and joining the cause of providing affordable ecofriendly fuel LPG to every household in the country".
Pradhan himself gave up his subsidy entitlement in July and urged ministers, MPs, MLAs, senior government officials, executives of public sector companies and the rich to give up subsidy.

Finance Minister Arun Jaitley in January joined the growing list of personalities who were part of the campaign. Attorney General Mukul Rohatgi and Power Minister Piyush Goyal followed the same month.

The campaign has been a hit among the corporates too. Vedanta, the London-listed mining firm, says Giveitup represents voluntary mobilisation of resources, which would mean low cost high impact measures for poverty alleviation.

"A more economic use of cooking gas will ensure adequate resources at the government's disposal. Besides, it will benefit in energy conservation, social equitability and energy security enhancement," Roma Balwani, president, CSR, Sustainability and Group Communications, at Vedanta told Business Standard.
A large number of Vedanta group employees have opted out of LPG subsidy scheme after Chairman Anil Agarwal urged employees to join the campaign.

Infrastructure major Jindal Steel and Power Limited (JSPL)'s Chairman Naveen Jindal is also among the corporate leaders who have 'given it up'. Jindal had in April asked 20,000 of its employees to support the cause.
OMCs lost Rs 36,500 crore (Rs 365 billion) last financial year on subsidised LPG sales to over 150 million registered consumers. Each such consumer is entitled to 12 subsidised cylinders in a year each of which is available at Rs 417 in Delhi.

Any requirement above that is to be met through purchase of cooking gas at market price of Rs 608.50 per bottle. Consumers can opt out of the subsidy by submitting written request to the distributor or electronically via mylpg.in.