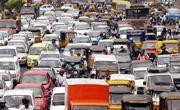 Arriving in style is fast becoming a statement itself, says Rajiv Viz, CEO of Carzonrent. He and his competitors are taking that seriously, which is reflected in the fact that leading private car rental brands are going upmarket with a vengeance.

So travelling in a hired  armoured SUV, BMW or Mercedes is no longer uncommon, as almost all prominent service providers like Carzonrent, ECO Rent A Car, Platinum Cars and Avis India are renting out premium luxury cars to boost revenue and attract high end customers.

Vij points out that earlier the perception was that people wanted low prices and simple services. "Now, studies show that customers want quality plus style and are willing to pay for it," he explains.

Almost all have entered into partnerships with international airlines, airports. hotels, multinationals and even public sector companies.

So how is the business picking up pace?

"The travel and tourism industry has gained momentum in the last six months and we expect the corporate as well as the FIT travel graph to rise.

"This has a chain effect on the luxury car rental segment as well," says Sunil Gupta CEO, Avis India.

According to most companies, the profit margins in this segment range from 5 to 15 per cent depending on the type of car and the market prominence of the service provider.

Sakshi Vij, head (marketing and CRM), Carzonrent, says a fifth of the company's business comes from the luxury segment.

Other companies are also increasingly into packaging the tours which are all inclusive to reduce the costs that customers have to pay for these luxury services.

The companies are integrating the latest innovations into their system for attracting customers.

Carzonrent, for example, has wi-fi connectivity, mobile charging
unit, credit card payment facility, GPRS facility apart from the other usual provisions.
The Armoured Toyota Fortuner SUV is the latest addition to the ECO Rent A Car fleet which targets VIPs and other high-end consumers.
Platinum also provides for in-car payment gateway apart from entertainment systems while ECO offers customers the convenience of centralized reservations & billing for pan India operations.
Avis offers GPS technology in the cars, though it comes at an additional cost.
Moreover, Avis officials claim that none of its cars were more than 18 months old and that this goes a long way in providing well maintained cars to their customers.
Rajiv Vij of Carzonrent says that it is India's only car rental service which billed their high end customers only for the distance travelled, making it transparent and economical for users.
Apart from English-speaking well-mannered chauffeurs provided by these service providers, self-drive has also been a new trend.
"With the infrastructure improving along with greater consumer awareness about such schemes, we see a lot of people preferring self-drive in India as it is hassle free and the customers have the freedom to explore the country at their own pace," says Gupta of Avis.
Carzonrent recently launched its luxury limo services where customers are charged for per kilometre usage and the fleet comprises Mercedes Benz, Toyota Camry & Toyota Altis. It plans to include Audi and BMW by the end of this year.
The company expects a revenue of Rs  40 crore (Rs 400 million) from the limo fleet during this financial year.
It is to be noted that Carzonrent recently purchased 90 cars from Mercedes.
Though the car rental industry has been growing at a rate of 12 to 14 per cent, the rental companies say that the luxury segment is growing at double the rate.