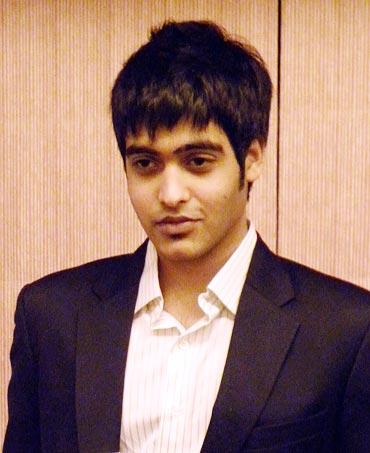 Thirteen years ago, Vinod Khanna had launched his son Akshaye Khanna in the film Himalaya Putra. Now, the veteran actor seems set to launch his teenage son Sakshi.

Sakshi, who recently graduated from Roshan Taneja's acting school, claims he wanted to be an actor since he was eight years old.

"I was in Standard 4, and was short-listed to play the role of Bharat in Ramayana. I was tensed, as I was doing a play for the first time in my life. I remember getting a lot of appreciation for it. From that day, I was clear that I wanted to be an actor," Sakshi tells us.

Sakshi did an undergraduate acting course in the US but apparently came back mid-term as he got homesick. Sakshi simply said: "I went for an undergraduate programme in Film and Television at the New York University. I was there for a semester and studied direction."

Sakshi is proud that he has not one or two but three people in his family to guide him in the film industry. "My father has been my role model and has supported me throughout my life," he said, adding, "I came to these classes for a few hours but it was back home that I really learnt with my father."
Sakshi has been watching his father's movies quite a bit off late, and particularly likes Mera Gaon Mera Desh and Amar Akbar Anthony.
His stepbrothers Akshaye and Rahul have given him a lot of acting tips as well. "Akshaye and Rahul have been very supportive," he said. "They have helped me whenever I needed them. I loved Akshaye in Gandhi My Father. I would love to do a role like that."
Will Sakshi be as talented as the men in his family? Let's wait and watch.
Photograph: Sonil Dedhia