Jaithirth 'Jerry' Rao cannot predict the future. But he very nearly did.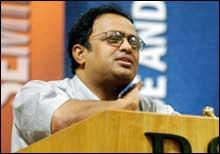 Some time back at an India Today event, where he was the moderator, the Chairman and CEO of MphasiS had this to say about security at Indian BPO centres. ". . . when India gets the reputation of having poor security, the whole industry could get into trouble. There is no perfect security. One September day the most unsafe place was downtown Manhattan. I think we are at it because we are concerned that it is a marketing issue."
Call it an eerie coincidence but his words were to ring true. In early April, three Pune-based employees of MSource, MphasiS' business process outsourcing division, were arrested on charges of siphoning off hundreds of thousands of dollars from Citibank customers, a bank which the centre was offering services to.
Rao, 'Jerry' to everyone, though is nonplussed. "I am quite impressed. They (the employees) and their collaborators have been smart. Sad that they had to use their cleverness in such a way," he says during the course of an interview with rediff.com.
At the same his company MphasiS has perfected the art of inorganic growth. Interestingly, Jerry now says that more than China, he is keenly focusing on the United Kingdom market and, believe it or not, the Indian market.
According to him, the Indian market is hot and is poised to boom and MphasiS wants a piece of the action when it happens.
Jerry Rao spoke with Sanjay Krishnan and remained candid as every. Excerpts from the interview.
How do you look back at the Pune incident at your BPO centre? What is your reaction now?
This is the first time that such a kind of incident has happened in India. And it came at a time when the political controversy about outsourcing has not yet completely died down in the US. So this incident has kind of re-kindled the debate.
But, importantly, the incident showed that we did have good security in place because it did not involve any breach into our network. It did not involve any break-in into the client's network and there was no breach in technical encryption.
What happened was that the concerned people -- who have been arrested -- misused passwords. They were greedy and dishonest.
And frankly I am quite impressed. They have been very clever. They and their collaborators have been smart. It is sad that they had to use their cleverness is such a way.
But then again, the way the police acted swiftly it meant that the cyber crime laws in the country are good and can be enforced.
Coming to your company the talk is that MphasiS is growing inorganically and there is no robust organic growth. How do you respond to it?
This is nothing new. I was the first to acknowledge the same thing that you are asking now -- that organic growth is not happening and we have grown inorganically.
What is the harm in growing inorganically as long as we are doing the right things and growing the company. There is no need for us to feel shy about it.
That brings us to a facet of MphasiS, which is being admired by peers in the industry. While other software companies have acquired companies and struggled to integrate them, MphasiS seems to excel at it. Integrating companies has been a breeze for you.
Our acquisition track record has been good -- we paid $20 million to acquire Kshema Technologies, $10 million to acquire consulting company Princeton in the UK, and then $16 million for US-based Eldorado Computing.
If you say that integration is a breeze today, let me point out that we learnt it the hard way. We struggled for close to two years to merge the then BFL Ltd with MphasiS, which of course was a bigger merger. Today integrating companies is a strength we have and we will of course leverage it.
But why acquire when you can build capabilities on your own? Isn't it more expensive to acquire?
We have been working on Princeton and Eldorado for sometime. We bought these companies in cash and they are profitable companies.
I have been talking about platform-based BPO services for some time now. And I frankly feel that we would not have had a platform-based healthcare offering in the BPO space for the next three years, if we had tried to build it on our own. By acquiring Eldorado, we have entered the healthcare market immediately in the United States.
Our acquisition of Princeton gives us a customer base of about 15 clients, which include names like British Telecom, Marks & Spencer and Visa International.
We have been risk averse in our acquisitions so far. We have used our cash for acquisitions and for giving dividends. We have not used it to build campuses, which may be partly because of my background of a banker and I am not comfortable being a big landlord.
So acquiring domain expertise is the way to go?
Wherever we have domain expertise we are building our own systems. For example, in the BFSI (Banking Financial and Insurance Services) space we are writing our own platforms.
None of our acquisitions is outside the core focus of this company. Though we are in healthcare now, because of the acquisition we are still only in claims processing and payments and not in every facet of healthcare. There is a lot of macro synergy with what our overall operations are all about.
We have kept our bets small in the people business. We have taken risks that are not killing.
Are you not worried about the cash that you are spending to acquire companies. Why not stock?
We are not worried. We are thinking about a formula about how much cash we should have and what we should do about the excess. We are comfortable where we are now.
For the next six to nine months there will be no acquisitions. We are in a decent trajectory, quite sanguine. Cash deals are less cumbersome, faster and everyone involved is much happier.
We, at this moment, have three lines of business -- voice-based BPO, BFSI and embedded technologies. Three emerging lines of business for us are -- platform-based BFSI, platform-based healthcare BPO solutions, and consulting. Out of the emerging businesses two have been acquisition-led.
MphasiS was one of the pioneers in scripting the China story when it acquired Shanghai-based Navion in mid-2002. Are you happy with the progress that you have made in China?
Let me put it this way -- we have stabilised our acquisition and we are in a comfortable position. It is making money and breaking even. This was stage-I of our China strategy. Stage II will see us go after the banks in China. And we need to think about whether we will go to them alone and directly and try to sell or do we so with a partner.
Chinese banks are big and I am sure there are business opportunities there for us to exploit.
We are, at this time, using China to feed neighbouring markets like Japan and Taiwan. China ko dekhenge (we'll see China) after two or three quarters. It is a question of management span right now and China can wait.
At this time we are saying India and the UK are going to be strategic markets for us and not China.
India, especially, because we do not think the day is far away when nationalised banks will start offering tele-banking services and this a huge opportunity for our call centre work. The IBA (Indian Banks' Association) sees the banks growing between 20 per cent and 25 per cent every year and that is an opportunity for domestic BPO.