'One cannot take it that the economy has recovered, and the GST payment has increased because of that, or that production is back to January 2020 level.'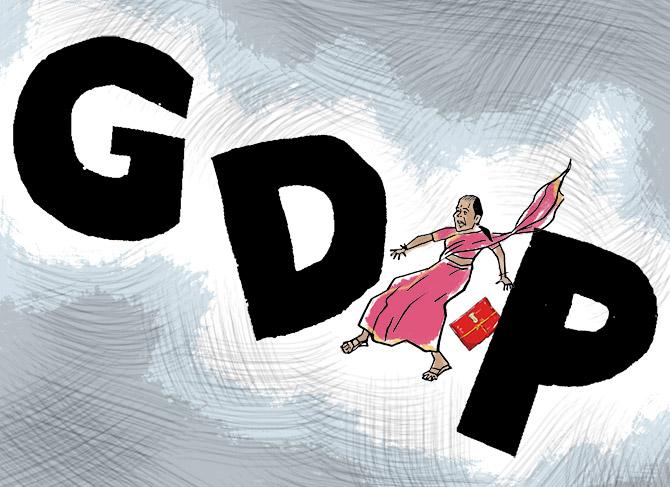 The manufacturing Purchasing Managers Index (PMI) for October rose to 58.9, the highest reading in a decade.
The GST collections for October is over Rs 1 trillion.
Auto sales are up by 19%.
All this has made the government claim that green shoots have started appearing in the economy that recorded a contraction of 23.9% in the last quarter.
But do these sporadic economic indicators really green shoots?
Professor Arun Kumar, the Malcolm Adiseshiah Chair Professor at the Institute of Social Sciences, dissects the current state of the economy, in a two-part interview with Shobha Warrier/Rediff.com.
The government is upbeat about the manufacturing PMI, auto sales in the month of October and also the Rs 1 trillion GST collection. Are they really green shoots?
The question is, what are green shoots? It means some increase is taking place. It doesn't mean we have gone back to where we were in December, 2019.
From March 2020, we had a lockdown. Lockdown means we voluntarily cut back activity and therefore, production and the economy collapsed. As it was a complete collapse, except for production of essentials, more activities would occur only when the lockdown was over.
More activities do not mean green shoots are appearing. It also does not mean return to the situation in December 2019 or early 2020.
Yes, compared to April, May, and June 2020, more activities are taking place as more people are going back to work.
The most important questions:
Are are you going towards December 2019?
Are you back to where you were?
Is production back to where it was?
Is employment back to where it was? And, if not, when will you be able to reach there?
Green shoots do not mean recovery to what we were earlier. It only means, better performance than where we were during the very bad phase in April and May. It is just a comparison.
Now, take the manufacturing PMI, which is measured month to month. It means in September, it was better than in August, and it is better in October compared to September. But August 2020 output was way lower than what it was during August last year.
In August, it was above 50. And in July, it was below 50. It means there was contraction in April, May, June and July. And in August and September, there was expansion. You should remember that this expansion is on a low base!
I will give you an example. Suppose you were 100 in January 2020, compared to that you are down to 25 in April. You kept on contracting till July. Then in August, you are expanding on the base of 25 rather than on the base of 100.
Saying that you are growing fastest in a decade does not mean anything as you are growing on the base of 25 and not on the base of 100.
So, there is nothing great about the 58.9 PMI in manufacturing. Production is still below what it was in January 2020.
Now the GST figures. When large sectors of the economy are down like, airlines, tourism, hotels, leather goods, textiles and all the associated industries, you cannot say that the economy has recovered.
In the months of February, March, April and May, people did not pay GST as all those who have a turnover above Rs 5 crore were given time up to June end. That's why you have increased GST collection compared to April or May.
Those companies that have a turnover of below Rs 5 crores were given time till the end of September to file their returns and taxes. So, when you see a big jump in October, it is because these companies are filing returns now, after six months. Some are filing even for the previous year. Further, these are gross figures. Government has not given the refunds due.
So, one has to wait to see what happens in the coming months. One cannot take it that the economy has recovered, and the GST payment has increased because of that, or that production is back to January 2020 level.
In the case of auto sales, it is reported that there is an increase of 19%...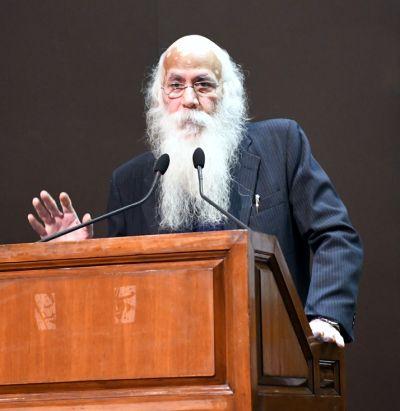 The other day Rajiv Bajaj of the Bajaj Auto said that while their delivery to the dealers was higher, the retail sales were lower than last September.
It means consumer demand has not picked up...
Yes, if retail sales are below last year's, consumer sales are not 15% or 19% higher than last year September. That was what Rajiv Bajaj said. He said, it was the same case with Hero also. Further, last year's sales were lower compared to the year before.
Companies are worried that the demand increase in four-wheelers and two wheelers is a one-time demand increase. Many people who could not buy in March, April, May and June have bought now as it is the festive season.
Once the festive season is over, that demand may decline.
Also, because of the pandemic, people prefer using their own vehicles instead of public transport.
Further because of the 15-year limit on vehicles use, many had to buy.
So, there are many specific factors behind the sudden surge in the demand of automobiles. We have to wait for November, December to see whether or not this demand will continue.
Before the pandemic itself, the economy was slowing down. Many sectors were doing very badly and industries were complaining about lack of demand.
Yes, before the pandemic, the economy was slowing down for several reasons. But from April, we went into a depression and not just a recession.
Why is there low demand now? Because of two things; many have lost employment, and incomes of even more people have declined.
The unorganised sector has lost a lot of work. They have still not been able to get back to work.
In the organised sector also, according to the CMIE (Centre for Monitoring Indian Economy), 20 million people have lost their jobs. Of that, five million are professionals. These are the people who do discretionary spending like, buying cars and 2 wheelers; even clothing and so on.
Though many people have lost work and faced salary cuts of anything between 10% and 50%, we don't have a number for the latter. But, a large amount of purchasing power has dissipated due to these reasons.
Has no study been done to get the real picture?
Yes, that's why I said the decline in the last quarter was not 23.9% but 50%.
According to my estimate, roughly 200 million people lost work in April as against the figure of 122 million by CMIE.
Why I say so is, people could not go to work in the unorganised sector, and were forced to sit at home without work. The unorganised sector was more or less closed, except for the agriculture sector.
Next, there is need to distinguish between employment and work.
For example, a factory worker is not fired, but he has no work because the factory is closed. But when a surveyor from the CMIE asks, he will say he is employed. But he has no work, and he has no salary.
Similarly, a government servant might say, he was employed but he was not going to work. He got his salary even if he did not work.
So, according to my estimate, those who had no work was 200 million whereas those without employment may have been 122 million.