Indian businesses' weak ability to compete overseas says much about the infirmities imposed by the intensity of government dominance of economic policy and the nature of this dominance, observes Kanika Datta.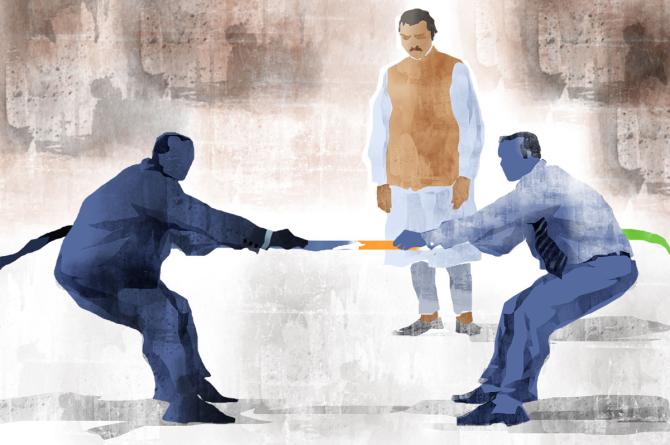 Reliance Industries' Mukesh Ambani has done so many deals since 2020 that news of a possible bid for Deutsche Telekom AG's Netherlands business barely caused ripples. But the development deserves more notice because it signals, in a small way, Ambani's readiness to step into a challenging arena of global competition.
In fact, the move is striking because it inadvertently highlights a long-standing anomaly in Indian business: Even the biggest and most powerful domestic business houses rarely test their mettle in the relatively open competitive markets overseas.
Before you reel off the names of Tata Motors, Bharat Forge, Bharti, Bajaj Auto, A V Birla group, Wockhardt or Motherson Sumi, or the ITeS giants, an explanation. These businesses get noticed because they are exceptions to the norm. Excluding companies such as Jaguar Land Rover, Wockhardt and Bharti, however, most operate in the B2B arena where the formidable Indian talent for negotiating counts for something.
Few offer products and services that compete head-on against global brands in uber-competitive consumer-oriented markets where government intervention is minimal. Ambani's first overseas foray in shale and gas assets in the US, from which the group has pulled out in successive sales, was similarly positioned. A possible bid for T Mobile Netherlands, that country's second-largest telecom service provider, would, however, mark a major step into the open world of B2C competition overseas.
The move has been projected as part of the RIL conglomerate's decade-old bid to reorient itself from an old-economy conglomerate into a tech giant. The forays into retail and telecom (and toys, online retailing and so on) in India have all been part of this grand plan.
But operating environments and policy in global consumer markets can be far more challenging. Where, for instance, Jio could establish its dominance in mobile services owing to regulatory indulgence for its rock-bottom introductory offers, such advantages may not be readily available in Western markets. The same goes for the multiple domestic retail giants that benefited from myriad complex restrictions on the entry of foreign retailers.
This weak ability to compete overseas says much about the infirmities imposed by:
a. The intensity of government dominance of economic policy; and
b. The nature of this dominance.
To understand point a., consider the jacket advertisement put out by CII, the premier industry lobby representing the most blue-blooded Indian and foreign businesses, for its two-day annual meeting.
Apart from Prime Minister Narendra Modi, who appears to have become the chief guest of choice for business summits in India, no less than 11 ministers will be delivering keynotes. Four more MPs have been shortlisted to speak -- only one of them from the Opposition Congress. Six bureaucrats will also be among the 'eminent speakers'.
All told, 22 people from the politico-administrative complex will deliver addresses. That's a lot of government-speak for a business forum fully 30 years after the so-called liberalisation of the Indian economy.
It tells you something about the power that the government still wields over business and industry (industrialists' visceral reluctance to criticise the government being another symptom).
As for point b., much has been made of the distressing persistence of crony capitalism, whatever the ideological hue of the government in power, which makes it difficult for competitors to emerge in a range of industries.
The rise of the Indian unicorns exemplifies this problem; they all flourish in an arena where government intervention is relatively minimal. But it is equally true that varieties of crony capitalism have fostered global giants that have managed to thrash powerful western corporations at their own game -- whether it is Samsung, Toyota or Huawei.
In India, on the other hand, many brands succumbed to global competition after 1991.
Again, the world may deplore the price warrior role of Chinese companies but the conditions that enable that standard of combat were systematically created by Beijing, and they have benefited global competitors too.
If Xiaomi, Oppo, Vivo and Haier are able to compete on equal terms with Samsung -- as they do in India -- the latter also benefitted from the same low-cost production base initially in China (where it has exited) and now in Vietnam, which faithfully follows the China model in every respect.
India's crony capitalism, on the other hand, though no less active, has not created a single global champion. Many Indians born and educated in India now head major global corporations. But no Indian corporation dominates the global arena.
That tells you something about the gap between Indian talent and the business environment.