'It is inconceivable that there are no gays working in Indian corporations but obviously, the subject remains taboo enough in the workplace for those of alternate sexual orientation to feel safer remaining in the closet,' notes Kanika Datta.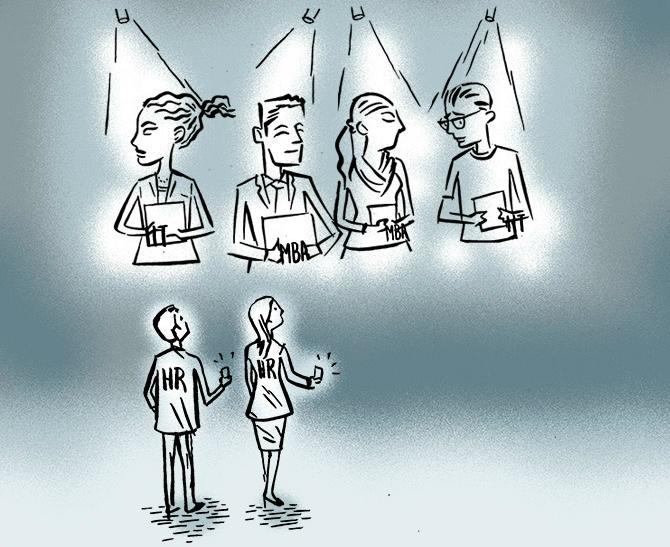 The reputation of Corporate India has not stood up to scrutiny in the run-up to -- and the Indian government's subsequent rejection of -- the Regional Comprehensive Economic Partnership.
Indian businesses apparently believe they will not be able to compete with Chinese enterprise over a 25-year framework, the adjustment period that RCEP negotiators had worked out.
Then again, the pusillanimity of Indian business leaders when it comes to standing up to the government has long been its worst-kept secret -- the rare CEO who voices even mild criticism publicly always makes headlines.
Now it appears India Inc remains pretty regressive when it comes to its hiring policies too.
No, this is not an impending outburst against the lack of gender diversity in Corporate India (though there's that too) but the readings from a recent eyebrow-raising survey on 'Diversity and Inclusion' conducted by the jobs portal TimesJobs owned by the Bennett Coleman media conglomerate.
The biggest takeaway from the survey is that India Inc remains innately homophobic.
More than 77% of the 1,137 professionals surveyed across diverse companies said they have no LGBTQ (lesbian, gay, bisexual, transgender, and queer) colleagues.
More than 83% said they had no one with alternate sexual orientation in senior leadership positions.
The question to ask, of course, is how the employees in the survey above thought they could judge their colleagues's and leaders's sexual preferences to answer the surveyor's question.
It is inconceivable that there are no gays working in Indian corporations but obviously, the subject remains taboo enough in the workplace for those of alternate sexual orientation to feel safer remaining in the closet.
This perception should not be surprising judging from the loud silence from corporate boardrooms when the Supreme Court read down section 377 of the Indian Penal Code, effectively decriminalising homosexuality.
The issue of LGTBTQ rights is not seen as a cause worthy of the public relations energies that are poured into CSR programmes for building toilets and dispensing midday meals to poor schoolchildren.
It is also striking that some 65% of employees say they have not seen any change in policies after section 377 was read down though the survey does not reveal what kind of changes were effected in corporations employing the 35% of respondents who presumably say they have seen some change.
What kind of policy changes should be expected?
Extending benefits to same sex/common law spouses (since same sex marriage hasn't yet been enabled by the law) and their children is the most basic of them.
A handful of companies have made some changes in their HR policies -- the Godrej group and Infosys, for instance, extend such benefits to the 'partner' without specifying the gender. OYO's group insurance policy covers a 'significant other'.
A big part of the problem is that the Indian banking and insurance industries are yet to change their policies to enable account holders to nominate non-relatives as beneficiaries.
Multinationals get around the problem by buying insurance policies from global service providers that do offer such facilities, but they employ a minuscule proportion of India's white and blue-collar workforce.
These initiatives are but progressive drops in an ocean of homophobia on which corporate India floats.
No surprise, then, that 54% of respondents say their companies will never hire any LGBTQ professionals.
There is much more disheartening information in the survey about corporate hiring policies towards specially-abled professionals, and women, most of which are so well known that people have stopped commenting on them.
That private sector promoters remain distressingly communal too was highlighted by the Sachar committee report long ago.
But one small finding offered an interesting insight into the kind of culture that typifies most Indian corporations.
Some 40% of respondents said 'physical appearance' -- ethnicity and personal likes and preferences -- were the principal factors on which they were judged in the workplace.
That's human nature, of course, but surely managements operating in competitive environments should force themselves to give some importance to ability and talent.
For those who wonder why work culture in 21st century Indian corporations is mired in the early 20th century, the answer could lie in micro-findings such as this.