September 6 marks one year since the historic judgment by the five-judge Constitution Bench of the Supreme Court in reading down the provisions of Section 377 of the Indian Penal Code and decriminalising consensual same sex relations.
We republish this feature to mark that moment, which changed the lives of many in India.
---
'The Supreme Court has made history. And we're witnessing it,' Ajay and Joel, two gay men in Mumbai, tell Anita Aikara/Rediff.com.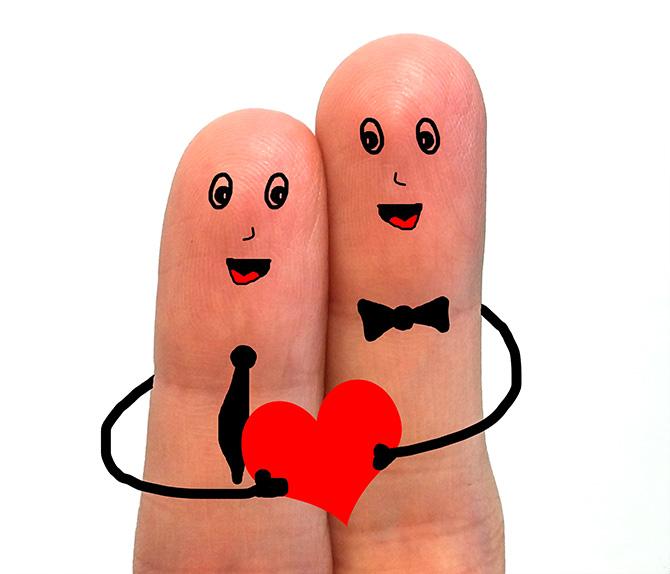 When you walk into Ajay and Joel's house, nothing screams 'gay men live here'.
The tastefully done apartment could belong to anyone -- a happy-go-lucky heterosexual couple or a joint family of caring grandparents, loving parents and adorable kids.
"We are a very proper quintessential couple house," says Ajay.
When they moved in together, Ajay's mother gifted him the entire kitchen, like he was going to his sasural (in-laws' house).
"Everything that was required in a kitchen, she made sure that was there," he remembers.
Presently, the home is shared by four -- Ajay, Joel and their two dogs, whom they treat like their kids.
Home away from home
A designer and food blogger, Ajay has a creative vibe about him and a fondness for food; and a protective, parental instinct when it comes to his dogs.
Responsible for the groceries and the kitchen, it's a delight to watch him meticulously hand out instructions to the help about the menu for dinner.
Joel, who works with a media company, is the kind of guy who could be happy with bare essentials.
Before he shifted in with Ajay, his one-room-kitchen flat had just a foldable couch, a table, a bookshelf and a metal Godrej cupboard.
"When Joel was living alone, his ceiling fan stopped working, and he didn't bother to get that fixed. He just went and got himself a table fan," reveals Ajay.
"He also had a washing machine, an induction cooktop, and a fridge filled (then) with Campa Cola and Gold Spot. That was his life."
Creating a neighbourhood buzz?
Joel and Ajay have known each other for six years now, and it's been five years since they started living together.
"No one in the neighbourhood has really asked us questions. But, they might have an idea," hints Ajay who feels that it's an advantage for two men to be living alone.
Because "nobody thinks that bachelors can be a couple. I feel it's to the advantage of two single women who live together too, especially if they are a lesbian couple," he adds.
"I am sure our broker has an idea, but he doesn't ask. We don't tell. He finds us places that accepts us," explains Ajay.
Finding domestic help has never been an issue for them. "They (the maids) are rather more comfortable working with us because straight men sometimes do give a weird vibe," quips Ajay.
Their previous house help, who worked for them for four years, knew about their relationship. Ajay got to know about that through a neighbour.
'She (the maid) used to talk to my neighbour and say 'Woh dono bahut close hain (They are very close)' and 'Jyada hi close hain (They are a little too close).'
"We don't sit with our maids and have a conversation that we are gay. Nobody does that! They probably figured it out through our body language."
According to Joel, "People come to know about a person being in love by the way they are fighting. Not by the way they show love."
"We start bickering like a married couple," he jokes.
Coming out of the closet
Joel came out of the closet pretty recently, but Ajay's parents knew about it early on.
"Ajay came out of the vagina screaming I'm gay," laughs Joel.
"I came out to my brother, who is also gay, through an e-mail," says Ajay who shifted to Mumbai from Gujarat, because of Joel.
"I don't ever remember coming out to my mom and dad; they knew about it. "My brother, who is six years elder to me, and I are gay. My brother once told my parents, 'I am also like Ajay.' And I was like 'Whattt!' Because everybody knew how I'm and what I'm, while I was trying to be discreet."
In his last year at fashion school, when Ajay had to do an internship in a metro, he came to Mumbai, and that's where he met Joel on a dating Web site.
In a month's time, Ajay moved back home, and for 48 weekends in the first year, Joel would visit Gujarat. The four weeks in between, Ajay came to Mumbai.
"The first time Joel came to Gujarat, I took him home. I was open with my parents. My father who is always like 'don't ask, don't tell', was probably (under) the delusion of Joel being just a friend. But my mother knew from day one."
Coming out was not that easy for Joel. "It kind of threw my family off."
Being in love with a man
A Mumbai boy, Joel decided to come out to his family only when he found his significant other.
"My way of coming out was more implicit. I said that I'm in love with someone, and that's Ajay."
When he used to travel to Gujarat, Joel's parents wondered why he was visiting a place with no alcohol and non-vegetarian food.
His family had heard of Ajay, but due to a misunderstanding they felt that he was in love with Ajay's friend, who was a girl.
"During Holi, I was hugging her, and those pics were on Facebook. So, my sister told my mother that I am going for that girl to Gujarat. When I corrected my mother and told her that it is a boy and his name is Ajay, she just said I don't understand."
"Two minutes later she asked me if I was going to Gujarat over the weekend."
When Joel replied in the affirmative, his mother told him that she would pack him some Sorpotel (a Goan pork curry) for Ajay.
"I would not go to everyone and say that I'm in love with someone and he is a boy. If it came up in conversation, there was no reason to hide it."
Once the initial hiccups were out of the way, the families found a way to connect.
They now take vacations together. Every Diwali, Joel's family goes over to Ajay's house.
Ajay's family comes over when there is a celebration in Joel's family.
Finding love
One wonders, what was it about the two that brought them together? The answer is not so obvious.
"At first, it was just a major physical attraction while I was in Mumbai," says Ajay. "But when Joel came to Gujarat the first time, we knew that it was more than just something physical. We'd always be on the phone and when he would say that he is coming, I would be so happy and wait for him to come."
Says Joel, "Our taste in music was different. He (Ajay) was completely Bollywood. I came from more alternative rock, jazz, folk music."
The only common thing was that they were both extroverts.
"When I told one of my closest friends that I am in love with someone, she asked me 'Does he read?' I said 'No'. She said, 'Then it must be true love.'"
Their dates weren't just good, they were great.
The first four weeks were about fun and fantastic dates. From there, things got intense and emotional.
"You don't feel this bond with everyone and we knew it was special. So we didn't look back," remarks Joel.
The togetherness
But a lot changed over the years. Today, Joel knows about Hindustani classical and other Indian music because of Ajay.
Earlier, Ajay liked all the furniture to be of one colour (either black or brown), but it was Joel, who brought in the colours -- to their homes and lives as well!
"He (Joel) has developed a taste now," says Ajay. "From owning just two shirts, one denim, one (pair of) trousers and five T-shirts, he now has more clothes than I do."
In hindsight Joel feels that if they had similar interests, the two of them would have hardly grown as people.
"I am more grounded now. My thinking of what made me happy has changed."
Why does Section 377 matter
For Joel, decriminalising Section 377 "basically means that he can have sex with a gay partner and not go to prison."
"But then how many people are having sex out in the open?" he asks. "Right now, few people can be prosecuted if there is evidence."
"Ask a person -- any person -- on any given day, there is more than one person crossed-dressed in Mumbai. We (Mumbaikars) are exposed to people with alternate sexualities in this city. There is some kind of acceptance you can get here."
"Smaller towns imagine! All that people are hearing there is that it (gay sex) is wrong, to the point that you will go to jail."
"(Society) puts in the fear at an early age. Even if someone chooses to behave differently at an early age, the parents are going to stop them. And that's the narrative that is going to form. At this point in time, the government needs to take 377 out!"
"The policies the government makes echoes what the society feels about it. Imagine tomorrow if the government has to okay same-sex marriage. How many people will be okay with it? People are not going to accept it. It happens even in big cities like New York, where gay people are protected by the government."
"377 is bad, especially for the younger generation. It stops people from wanting to come out, especially in smaller cities."/p>
"Marriage is one part of the issue. But it is important to strike off Section 377."
Being discriminated
Ajay believes: "Legal protection against discrimination is needed. So that people can't be fired or discriminated against fundamentally because of who you like or love."
"The man (Suresh Koushal) fighting for Section 377 says that nobody is putting you behind bars for being gay or homosexual. But you can't perform unnatural sex. Who is he to decide who does what?"
While Ajay and Joel say that they are among the privileged few, they have faced embarrassing situations too.
Once at a club, where their friends were playing a gig, they kissed in front of everyone. After all, it was their first anniversary.
But little did they know that they would soon be discriminated for being different.
"We had stepped out and when we tried getting in, the guards didn't let us in," says Ajay. It led into an argument, and soon the guards were hitting them."
"We had to run to save our lives. They sent a bunch of five or six men to hit us, and we're running in the streets trying to find a spot where we could hide," he adds.
That was their first and last scary incident, because they have since been extremely careful.
"This has to change. The sooner, the better," says Ajay.
When not all couples are treated equal
Ajay and Joel are busy helping a friend with her wedding.
As they go about their wedding 'duties', there are those rare occasions when they have wondered 'what would they do it were their wedding?'
"But all this is khayali pulao (fairy tales)," says Ajay, who is no stranger to the challenges faced by gay couples in India.
"This is a country that doesn't understand the legalities of a gay relationship," he says, sadly.
Unlike other same-sex couples, Joel and he can't think of buying a property together.
Nor can they take a life insurance policy together and make each other nominees.
"That's because the clause says that only blood relations or spouses can be made nominees," explains Ajay.
Joel has a travel insurance and his emergency contact is Ajay.
"But if I die, the thousands of dollars (as insurance) will go to my brother," Joel is quick to point out.
Is society homophobic?
"What hetero-couples have is that they are legally accepted which opens so many doors," admits Ajay.
"People have asked us what do we want. They say, 'You have friends and family who accepts you, and a lovely life. What else do you want?' At the end of it, it's just a paper that says we are legally married."
"But we can't do a lot of things together because we don't have THAT paper."
"With other couples, it is assumed that you are married and there is no scope for divorce."
"And if a divorce does happen, it is assumed the married couple will fight it out legally. With us, there is no system to fight for our legal rights," he adds.
"When you're in a committed relationship, both partners put in everything to make that work," Joel explains.
"The families are involved too. You pour in everything together. But if one doesn't survive, what about the other?" he questions.
"As gay partners, there is nothing that he can do for me, nor can I, for anything that may happen. That's the saddest part."
According to Ajay, adoption is out of the question. "Because they will never let two men adopt, even though we can give the kid a good future.
"What guarantee we have that in the future when government policies change, someone won't take our kids away from us?
"We spiced things up by adopting pets. That's about it. And we can throw a party and say, 'It is our wedding'. But will that help?"
Names and places have been replaced at the interviewees' request.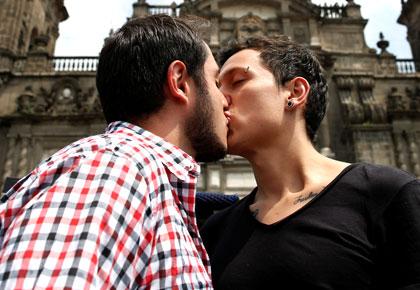 Lead photograph: Courtesy Carlos Jasso/Reuters. Used for representational purpose only.