The Naz Foundation is trying to sensitise workplaces towards the LGBT community, reports Geetanjali Krishna.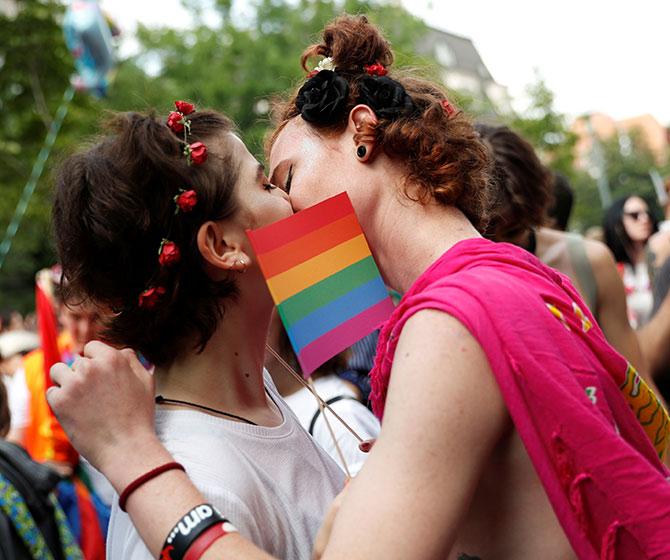 "Am I safe around someone who is gay?"
"How should I behave with a gay person?"
"Is it natural?"
"Why should I make a special effort to hire people like them?"
This is a sampler of questions Anjali Gopalan and her cohorts at the Naz Foundation have to field in their latest project -- a series of interactive workshops on LGBT rights in the workplace for corporate employees.
"For us, addressing such queries sensitively is an opportunity to demystify the LGBT community to people who may not have had much interaction with them," says Gopalan.
"It's the first step toward fostering a more inclusive, diverse worldview." Now, following the Supreme Court's historic verdict that decriminalised homosexuality, they hope to widen their reach even further.
The format of the workshops is customised to the requirements of each company, but is essentially quite simple: The first session aims to create LGBTQ allies in the organisation through a series of sensitisation programmes -- in terms of the problems and biases the community faces, as well as a sense of what they have been able to achieve in inclusive workplaces.
"We share stories of corporate leaders who are either L, G, B or T, like Tim Cook (Apple CEO), Trevor Burgess (CEO, C1 Financial), Peter Thiel (CEO, Paypal)," says Kalyani Subramanyam, programme director, Naz.
This is followed by a panel discussion on issues and challenges faced by the LGBTQ community in India, which Gopalan moderates.
In another session, participants have to engage in role play, with specific scenarios that Naz has developed.
Most of these are workplace situations that expose hidden biases of different sorts.
The role play enables participants to develop more empathy for the community, and consequently, the discussion sessions that follow often bring up interesting debates.
Through it all, Naz's trainers facilitate the participants to understand how to co-exist with LGBT individuals in the workplace.
It's not the first time that Naz, which had filed the original Public Interest Litigation challenging Section 377 in 2001, has broken new ground in its advocacy of LGBT rights.
Its Milan Project (2004 to 2008) provided safe sex education, training programmes and interventions to the transgender community as well as MSMs (men having sex with men).
Even today, Naz workers reach out to members from the community in the 'hotspots' that MSMs are known to frequent.
Here, they give information about safe sexual practices, distribute condoms and refer potential cases to Naz's clinic for HIV testing and STI/STD treatment. They also operate a helpline in case LGBT people need to talk about their problems or find a support group.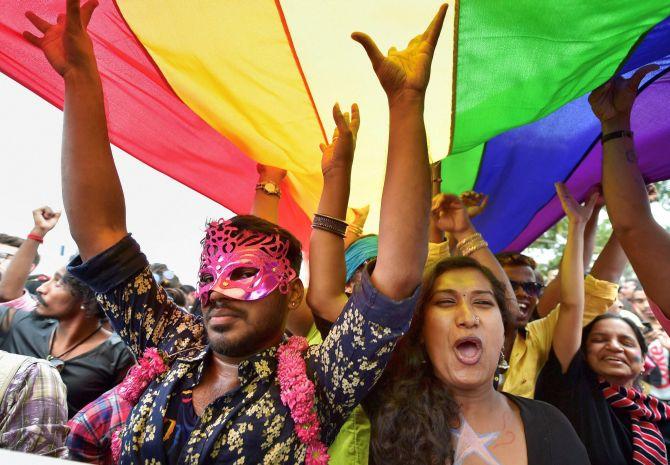 Gopalan's interest in empowering sexual minorities in India has also grown out of her experiences with HIV/AIDS patients -- an issue that has been her main focus all these years.
Section 377 ensured that the LGBTQ community lived in the shadow of shame all this time.
"When I was trying to promote safe sex practices, I realised that if they didn't feel good about themselves, why would they make safe choices?" she recalls.
However, in the past few years, she has noticed a transformation.
"It's wonderful to see that so many from the community came forward to file the petition in the Supreme Court," she says. "Going forward, now that homosexuality is no longer a crime in the eyes of the law, I expect more of them will come forward to join this struggle."
The need of the hour now is to bring them into the mainstream and advocate for their rights. "The Supreme Court verdict was a wonderful affirmation of plurality," says Gopalan. "But it is only the beginning."
Much needs to be done to protect MSMs, lesbians and transgenders in India, she adds. Even more needs to be done to bring them into mainstream workplaces.
The sensitisation workshops are a good way to start. At Rs 15,000 per session, these are a great way to initiate a dialogue on diversity and inclusiveness at the workplace.
"Often, all it takes is honest conversation to develop empathy for the LGBT community," she says. "The more conversations we have, the faster the change will come."
---
Learn more about the Naz Foundation at nazindia.org. Its helpline +91 11 26321830 operates from Monday to Saturday, 9.30 am to 5 pm.