Having lost her job as a stage dancer for film award shows in the pandemic, Smita Soni learnt how to make organic bath and body products.
Archana Masih/Rediff.com met her as she sold her handmade items from the boot of her car with baby on her hip.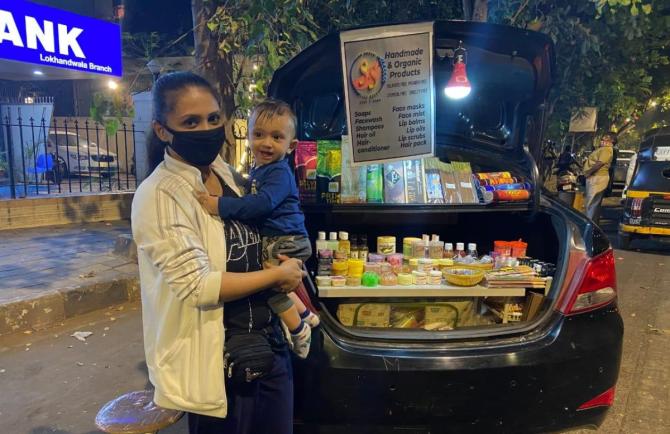 Every evening, Smita Soni stands with her 11-month-old baby selling hand made organic products from the boot of her car.
With baby Waiz perched on her hip, she explains the ingredients of the soaps, face washes, hair oils, 'facial bombs', lip and cheek tints to passerby, mainly evening walkers on the road at the end of Lokhandwala market, Andheri, north west Mumbai.
Smita makes these products herself late at night after her baby is asleep or early in the mornings in the tiny flat shared with her in-laws.
She has converted the kitchen into a bedroom for her husband, baby and herself and this is where she makes her products - sanitising the floor, placing a clean carpet to pack all that she makes.
She is a one woman show -- from making to packaging to selling. From zero sales on the first day on December 25, she has started earning Rs 30,000 a month.
It was a difficult year and she feels things are starting to slowly look up.
Smita started selling these products after the lockdown left the husband-wife duo without an income. Stage dancers for film awards shows, they have had no work the whole of last year.
The couple would earn over a lakh every month; they had bought a car on EMI, had a baby and had run out of savings. It was even getting difficult to provide for the baby, so Smita decided to plunge into the unknown.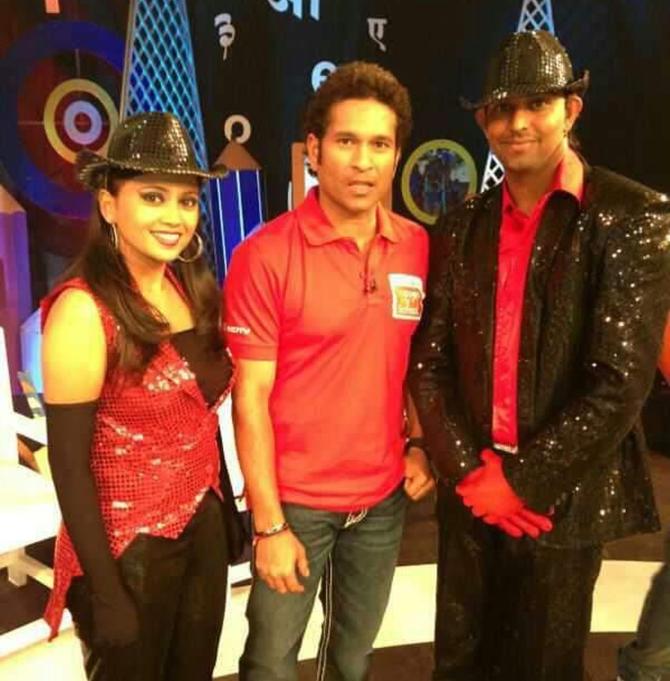 "I had to do something instead of wallowing and waiting for things to improve. I had done a workshop on making handmade organic beauty products during maternity leave. I thought why not put that to the test," she says.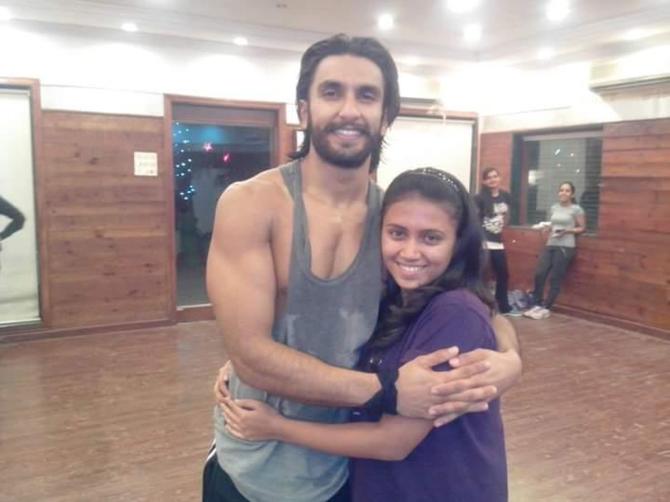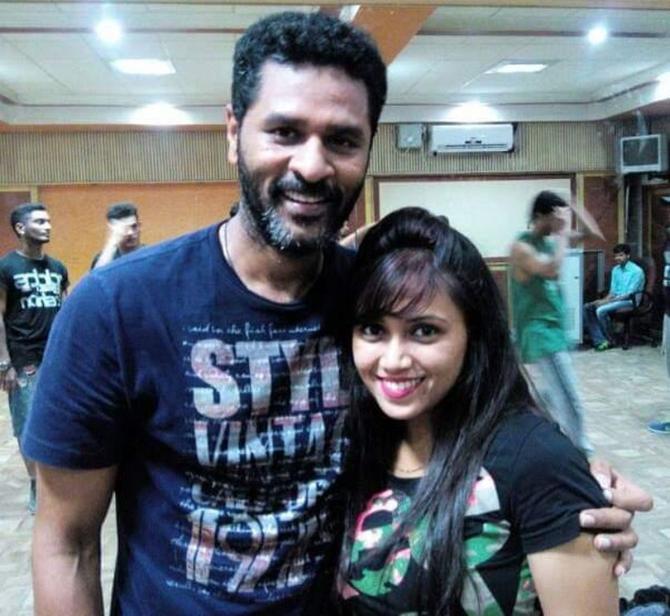 Smita started making soaps and passed them around family and friends. On receiving good feedback, she posted it on Instagram and then decided to sell from her car.
The first day as her husband parked the car and they started arranging their wares in the boot, security guards from a club down the road told her not to do so. Another lady selling clothes from her car nearby also wanted her to take her mobile shop some place else.
"But from nowhere, a man who had parked his Audi nearby, spoke up for me. I don't know his name or who he was, but because of him I could set up my 'shop' there and have had no problem since," says Smita who comes to the spot every evening at 6 pm and leaves around 9 pm.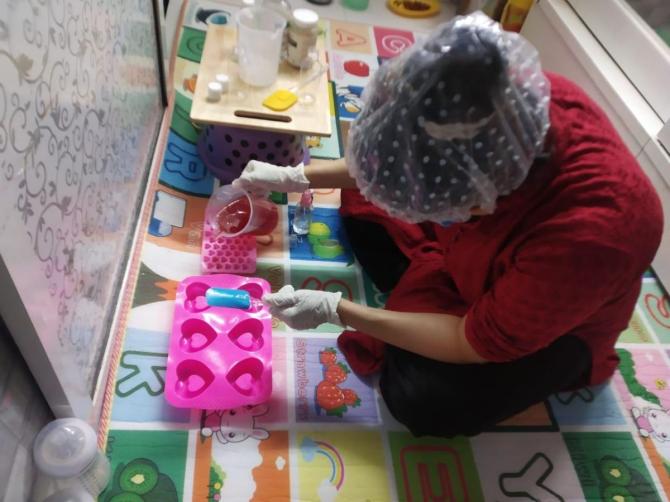 As she arranges the soaps, oils, shampoos, face washes etc, her husband Salim gives a helping hand. "He has been so supportive and looks after the baby while I'm busy with my work. I couldn't have done it without him," says Smita.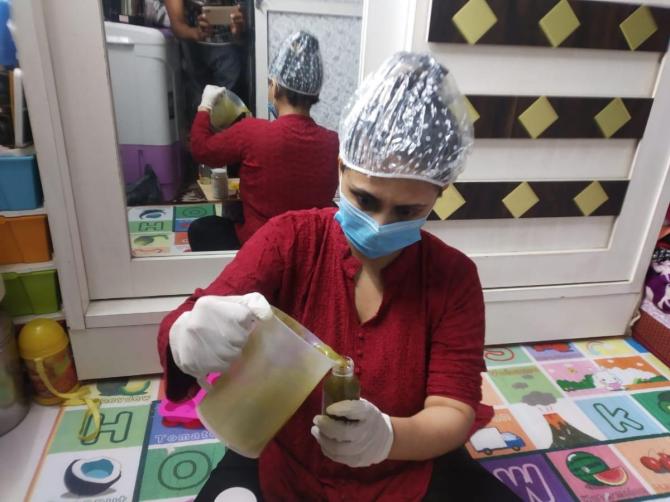 Dance had brought the two together and they wed five years ago. Smita has been part of dance troupes to a host of film stars -- Shah Rukh Khan, Varun Dhawan, Ranvir Singh, Madhuri Dixit etc.
Salim has recently returned to shooting background dance sequences, but Smita does not know when will the Covid situation improve to the extent that will allow film stage shows to resume.
She loves dancing and dance had been her life for the last 13 years. "But I had to earn a living for my baby. I believe we should never stop learning. Every adversity has a lesson, we should learn from it and keep moving forward."
Once a week, the couple drives to Crawford Market in south Mumbai to buy bottles, labels, hamper baskets and packaging products.
Smita learnt packing and making labels from Youtube videos and also designed the S&S Bath and Body logo -- which is the initials for the couple's first names.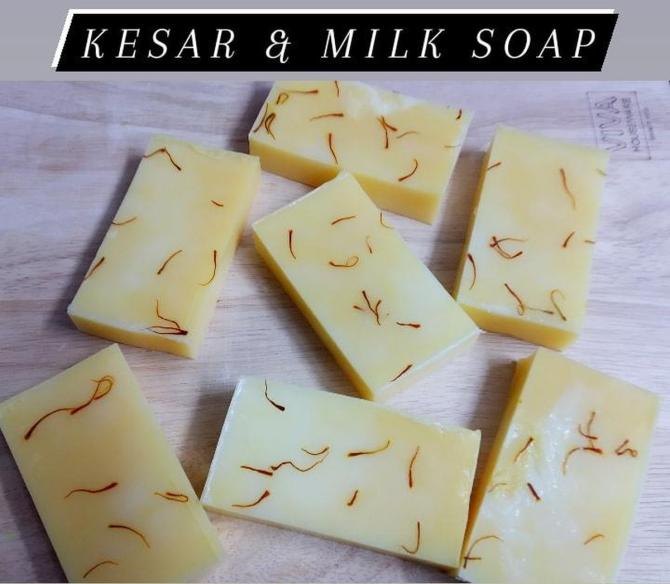 Many of her friends and colleagues from the dance world who came from different parts of India and lived as paying guests have moved back to their hometowns because they could not make ends meet.
Smita says it has been a rough year for many, but she does not want to be beaten by tough times.
"I never want to sit idle. I want to keep learning," she says with cheer.
Smita on Instagram: sands_bath_body
Feature Presentation: Aslam Hunani/Rediff.com