Bethica Das shares her healthy version of Eggless Apple Muffins made with whole wheat and jaggery.
'My Christmas treat this year are simple eggless apple muffins made with whole wheat flour. Brown sugar can be substituted with jaggery or honey.'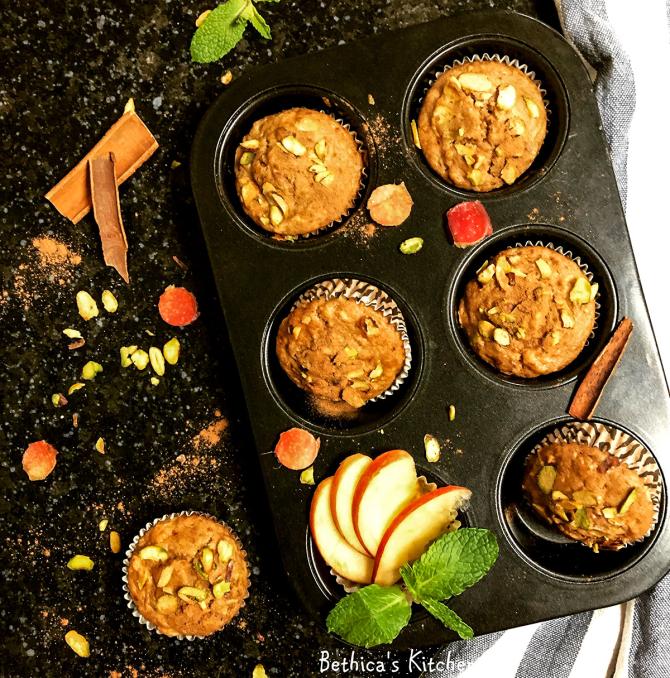 Eggless Apple Muffins
Ingredients
1 cup whole wheat flour
1 tsp baking powder
½ tsp baking soda
A pinch of salt
½ tsp cinnamon powder
½ cup powdered brown sugar
½ cup milk
¼ cup oil
1 cup apple, grated
1-2 tbsp pistachios, chopped
Method
Sift together whole wheat flour, salt, baking powder and baking soda. Keep aside.
Whisk sugar, milk, oil and cinnamon powder to combine well.
Fold in the flour mix, followed by the grated apple.
Place the muffin liners on the muffin tray and spoon the batter in it.
Sprinkle the chopped pistachios over them.
Bake in a preheated oven at 180°C for 20-25 minutes.
Do the toothpick test to ensure it is well done.
Bring it to room temperature and enjoy them as a tea-time snack or dessert.
You can sprinkle any of your favorite dry fruits on top.
Note: Instead of flavouring the muffins with cinnamon powder, you can use vanilla essence or cardamom powder according to your preference.