'You have to get past the phobia that Math is difficult.'
'The brain is exercising when you do arithmetic.'
A few weeks ago, we witnessed Vidya Balan play Shakuntala Devi, who was known as the 'human computer'.
A 20 year old from Hyderabad is now following in Shakuntala Devi's footsteps, breaking several international records and carving his own niche.
Neelakantha Bhanu Prakash became the first Indian to win gold at the 2020 Mental Calculation World Championship at the Mind Sports Olympiad held in London and earned the title of 'World's Fastest Human Calculator'.
Bhanu competed with 29 participants (the oldest contestant was 57 years old) from 13 countries to win the title at his very first attempt. He was praised by both President Ram Nath Kovind and Vice-President of India Muppavarapu Venkaiah Naidu for bringing international fame.
Bhanu comes from a "middle class business family" -- they own a food processing unit in Hyderabad-- and has a 17-year-old sister who is interested in fashion.
"My grandfather is a huge motivation for me," Bhanu tells A Ganesh Nadar/Rediff.com.
Bhanu was five when he met with a severe accident on Raksha Bandhan. He suffered from a head injury and was bedridden for a year.
It was during this time that he picked up puzzles and learnt chess.
Simple and complex calculations caught his attention and he started getting interested in Math.
While studying at the Bharatiya Vidya Bhavan's Public School (Vidyashram) Hyderabad, other students knew that Bhanu was exceptionally good at the subject, but he didn't consider himself special or gifted.
When he was in Class 8, Bhanu won his first National Speed Arithmetic Championship.
In 2013, he traveled to Singapore where he won the International Championship for speed calculations.
Before Bhanu, Shakuntala Devi and Scot Flansburg, an American, held the title of 'Human Calculator'. He won the title in 2001 and 2003.
Ask him how it feels breaking the record, he says: "I didn't think of myself as special. I think everyone can do it if they put in the effort."
"I got it (the title of fastest human calculator) for the first time 3 years ago."
Among other titles he holds include four world records for addition, super substraction, power multiplication and calculation of powers.
Bhanu also holds 50 Limca National records for various functions of mathematics.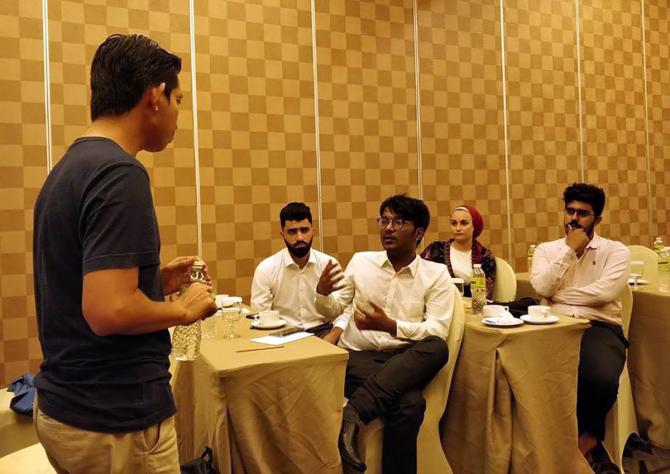 After clearing Class 12, he studied computer science for a year in Hyderabad.
"I liked Math so I joined St Stephen's College in Delhi and did BSc mathematics."
While he was in college, he founded an incubation centre there to promote entrepreneurship.
"I enjoyed 3 years there, it was an extremely enriching and learning experience," he describes his years at St Stephen's.
With help from Telangana government, he founded Exploring Infinities, an educational start-up that teaches Math to school students, which has reached as many as 200,000 students across India during the lockdown.
Bhanu wants kids to learn mathematics in an interesting manner.
"In language we start with stories, in Math we start with grammar," he explains.
"When you want to teach a kid to find the area of a room, we give him a formula to do it. The alternate way is to leave the kid in a room and tell him to find the area."
"You will see that they will do it, each in a unique way and with a different unit, depending on what tools are available."
Quoting American linguist Noam Chomsky he says: "You understand the world through language. But according to the Piaget theory, 'you understand the world through numbers'," he points out.
The Math wizard believes that memory power develops with arithmetic literacy.
"You have to get past the phobia that Math is difficult; that is very important. The brain is exercising when you do arithmetic."
At present he is in the process on starting a Math academy in Hyderabad.
"We are discussing it with the government and private companies. The idea is to start it in Hyderabad, then take it globally. The big aim is to take away Math phobia," Bhanu adds.
He plans to continue his studies and believes that Indians should lead in mathematical research. "My idea is to make studying Maths interesting, #VisionMaths."