This crispy, flaky, deep-fried Indian bread stuffed with green peas is popular in Rajasthan, Gujarat and West Bengal.
Several north Indian households prepare it during winter, weddings and festivals.
Mumbai food blogger Sangita Agrawal has a subtly flavoured, rich recipe, just right for this weather.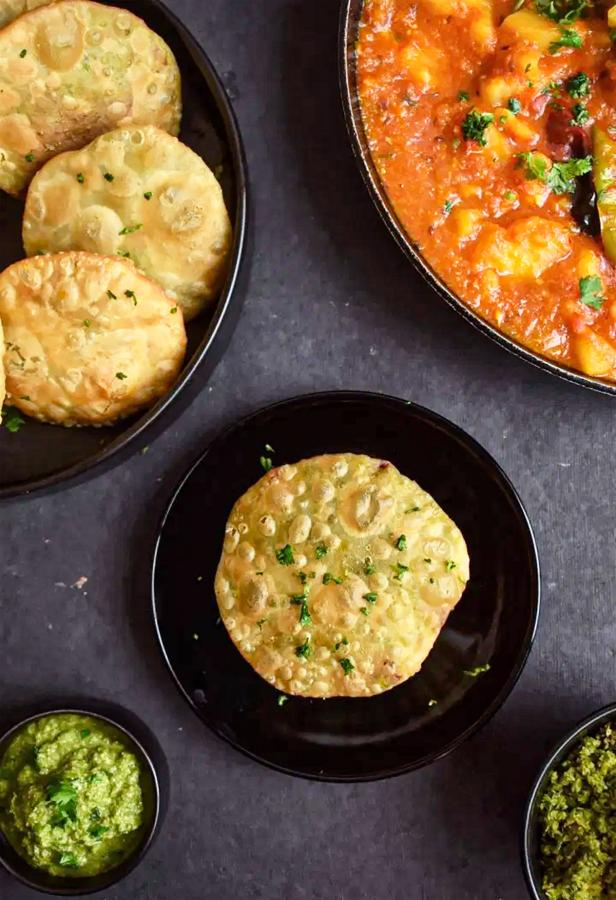 Matar Ki Kachori
Yield: 10-12
Ingredients
For the dough
2 cups maida or all purpose flour
½ tsp salt
3-4 tbsp ghee or clarified butter
½ cup water
Oil for deep frying
For the filling
1½ cups fresh green peas, frozen can also be used
2 tej patta or bay leaves
4 lavang or cloves
2 green elaichi or cardamom
1 tsp chopped ginger
4 green chillies, chopped
1 tsp amchur or dry mango powder
1 tsp garam masala, optional
1/4 teaspoon hing or asafoetida
1 tsp salt or rock salt to taste
1 tsp or less sugar, optional
2 tbsp oil
Method
For the dough
In a large bowl, mix the flour and salt.
Add the ghee and mix well till the mixture turns crumbly.
Add the water and knead to make a semi-soft dough.
Add more water if required.
Cover with a moist muslin cloth or kitchen towel and keep aside for 30 minutes.
For the filling
In a food processor grind the green peas, ginger and green chillies to a coarse paste.
Heat the 2 tbsp oil in a frying pan or kadhai/wok.
Add the hing, tej patta, lavang and elaichi.
Add the ground green peas mixture and saute on low heat till it becomes dry and crumby.
Add the salt, sugar, garam masala, amchur powder and mix well.
Take off heat and let the mixture cool. Remove the tej patta.
Assembly
Knead the dough again a few minutes and divide it into small balls, smaller than lemons.
Take each ball and flatten it into a small poori.
Add 1 tsp of the filling and bring all the edges to the centre to seal it.
Use a little water to seal the edges.
Flatten it and roll it into a poori. Be careful to not roll the poori too thick or too thin.
Heat the oil for deep frying in a small kadhai or wok over medium heat. Gently fry 3-4 kachoris in one go.
Once they puff up, flip them using a ladle. Reduce the heat and drain from the oil as soon as they turn golden brown.
Repeat the process for all the kachoris.
Serve warm with any variety of aloo sabji.
Sangita Agrawal lives in Mumbai and publishes the food blog Bliss of Cooking.