These Mumbai-based dancers fuse lyrical hip hop and b-boying with elements of American cheerleading and trapeze-esque bits from the circus.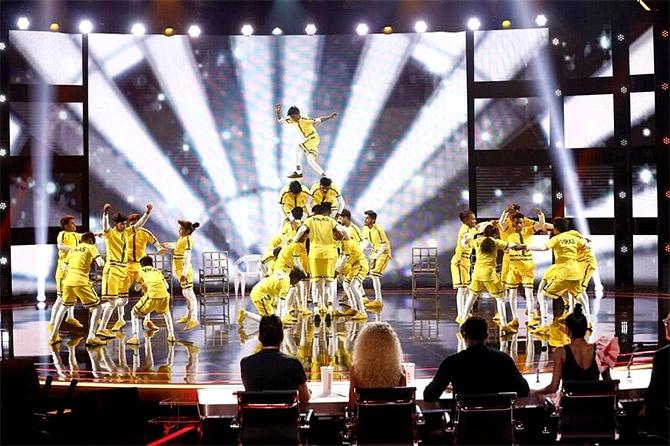 Some evenings, it feels like there is more than one celestial being at the Chandika Devi Mandir in Mumbai's sleepy suburb, Naigaon.
In a temple hall usually reserved for religious rites and functions, members of a group of dancers fling each other skywards, achieving elevations of about 10 feet at times.
Other dancers up front create a screen of sorts to distract onlookers from less appealing aspects of the stunts -- the strides in a run-up or the huddles formed for a boost.
In contrast to the genuflection and pealing bells outside, within the damp brick-and-tin walls of this auditorium, daredevil flips are being performed to remixed tunes from the Tamil film Maari.
These are members of V Unbeatable, an acrobatic hip-hop dance crew hailing from nearby Bhayandar, who are prepping for a performance in America's Got Talent at the Dolby Theatre in Hollywood.
The group has entered the semi-finals of the television show, produced by Fremantle for US network NBC and won something known as the 'Golden Buzzer', which had sent them directly into the quarterfinal.
Last year, they had been finalists in an Indian dance competition, videos of which went viral and led the American producers to invite the group to Los Angeles for an audition.
The dancers say they very nearly ignored that email, believing it to be a scam at first.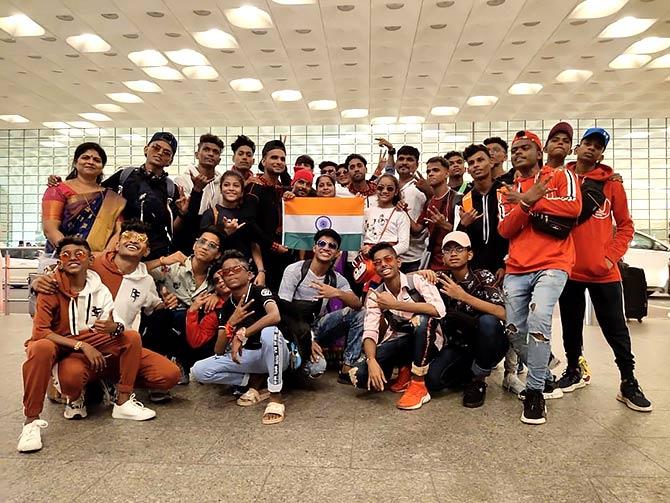 The 29 self-taught dancers are from modest circumstances but have an excess of "jigra (Hindi for guts)", according to crew founder Om Prakash.
"They had not even seen the airport. I myself had never taken a flight," says the 27-year-old after rehearsals, as he perched on a spare tyre in a makeshift changing room.
Such a twist of fortune was unimaginable a decade ago when he fled rural Uttar Pradesh -- where his family lived and his father ran a cycle repair shop -- to struggle in Mumbai.
He worked at various odd jobs, saving a few hours every day to practise moves like 'baby freeze' with his friends in assorted gardens and grounds, at least until they were chased away. He was able to start a crew with them in 2012.
Hip-hop has been thriving in these deep suburbs, places that some residents of the city don't even recognise as part of Mumbai.
A few years ago, Nalasopara was nicknamed 'mini New York', equating it with the birthplace of b-boying in the United States.
Local resident 37-year-old Rohan Rokade is credited with popularising dance styles from Western streets, after he discovered them in DVDs he collected during a US trip.
Moves from movies like You Got Served gained visibility in Rokade's choreography which won accolades in Boogie Woogie, the first dance reality show to air on Indian television about a decade ago.
It resulted in a wave of similar acts, which has since brought the neighbouring Mumbai areas of Mira-Bhayandar, Vasai-Virar and Naigaon into its flexible fold.
Apart from his Rohan & Group, a group named Fictitious, which later split into The Kings and V-Company, also achieved success in several dance-based reality programmes that sprang up post-2010.
The 'Nalasopara dance phenomenon' developed separately from Dharavi's (north central Mumbai) hip-hop movement but was fuelled by some of the same things -- teenage fervour and the longing for an audience.
Now, eyeball-hungry international talent hunts seem to have noticed them.
A 14-member group from Vasai, Kings United (also known as The Kings), won the top prize of $1 million in World Of Dance, another NBC show judged by singer-actor Jennifer Lopez.
With dance being a big part of Indian culture, crews coming out of here have a dynamic and distinct style, reckons America's Got Talent executive producer Jason Raff.
The addition of Mumbai acts, with their rags-to-potential-riches stories, has brought more traction too.
Videos of the international achievements of the two Indian teams are all over Facebook.
V Unbeatable's two routines got 24 million and 12 million views each in less than two months. In comparison, the most popular clip of Shin Lim, who won last year's competition, has 17 million hits.
Routines of The Kings have been seen 10 million times in three months, while those of previous champions, California's The Lab, got between two and five million views.
Although World Of Dance had not been broadcast in India, America's Got Talent is being showed on the Colors Infinity channel.
The Mumbai dancers fuse lyrical hip-hop and b-boying with elements of American cheerleading, trapeze-esque bits from the circus and even dahi handi -- those pyramids held together by limbs and hope.
Locally, this is called 'jhama', which at once means thrilling, dangerous and crowd-pleasing.
Occasionally, it can resemble parkour, only the performers vault and swing off of other performers rather than off objects.
In a trick from their opening act, four dancers of The Kings lay down and pushed themselves off the ground one after the other, while another walked on their raised backs in perfect time.
In the final round, they slowed down to recreate a movie-like battle scene.
A version of this had been performed for Indian viewers earlier who enthusiastically shared it online and that is how the group was discovered by American producers. What was a fight from Baahubali here, was tweaked to Sparta there.
Small details distinguish these local crews from global rivals, such as the use of Indian language film songs like Ranveer Singh's Malhari or Pawan Kalyan's Aadevadanna Eedevadanna rather than Western ones.
There is also the intermittent thumka or koothu step.
To achieve 'moments of hype' when stunts are performed, local music programmers add effects like a roaring 'metal hit' or 'bang'.
The performances, honed at Ganesh and Buddhist functions, college festivals and national competitions, have been spruced up for the global stage. Which explains why Om Prakash of V Unbeatable is increasing the complexity of moves, like replacing a single mid-air twist with two.
Working with V Unbeatable requires great attention to detail, says producer Raff. "They have an enormous level of danger incorporated into each performance."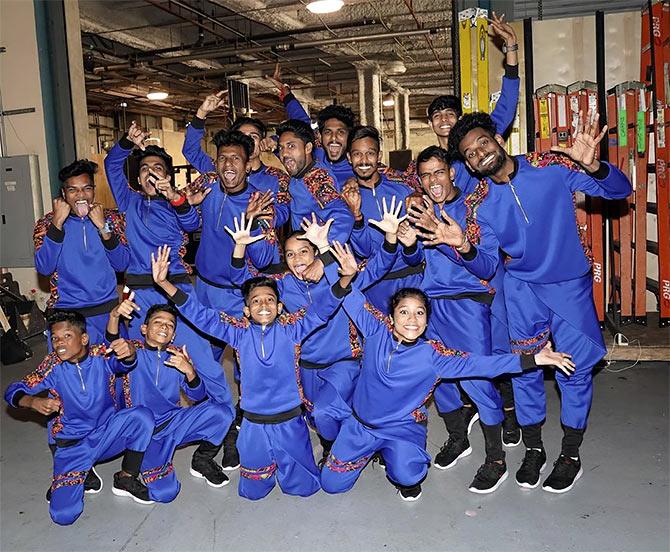 The 'V' in the Mumbai crew's name stands for co-founder Vikas Waghmare, who lost his life in 2014 after a stunt left him paralysed. They remember him every time they take to a big stage because that had been his dream.
The groups are predominantly male, although the one contesting in America's Got Talent features two girls. They identify themselves as "flippers", who perform the stunts or "catchers" who give them a leg-up.
Chandan Acharya, 24, recalls how almost everyone in The Kings was on painkillers during the filming of the shows, "limping to the stage, performing, limping back". An act can take months to perfect but the rushed nature of television means a performance is expected every week or so.
As monetary rewards begin to pour in, the tide in these parts has turned in favour of dance.
Help has been at hand too.
The makers of Dance Plus, a competition on the channel Star Plus, gifted shoes to V Unbeatable.
Choreographer Rohit Jadhav, who had arranged the crew's acts in that competition, is handling their international experiments too. He spends sleepless nights in Mumbai telling the dancers when to eat chocolate, when to stop rehearsing, even when to pray.
One of founder Om Prakash's employers loaned him money to cover passport and visa costs.
Jadhav rose from similar circumstances, dancing with Nalasopara's Fictitious crew before working solo in Bollywood.
Every day, he says, this young team he is coaching is learning to deal with foreign situations "from paperwork to international calling cards".
For the moment, families have suspended anxieties about safety or education and let their children miss school for months on end.
Some such as The Kings' Acharya and fellow dancer Mohan Pandey have been allowed to pick dancing as a career.
"They are seeing that it is possible for us to make as much as an engineer or a chartered accountant," says Pandey, who joined the group in 2013 after being a "fanboy. Now, I have some fans of my own," he chuckles.
Karthik Priyadarshan, one of the original members of this crew, says that dancers in their early 20s have gifted their parents apartments, unthinkable for contemporaries in other professions.
Opportunities appear to exist in corporate gigs and workshops too.
The Kings have just concluded a World Of Dance workshop tour in the United States and Canada.
"There were many Indians but there were also firangs," says Priyadarshan, referring to the growing interest in their dancing style.
The group, once accused of copy-pasting moves of hip-hop group Phillipine All Stars, went on to finish above them in the World Hip Hop Dance Championship some years ago.
Things have looked up since.
Crew founder Suresh Mukund, who recently got an Emmy nomination for his choreography in World of Dance, started a dance school in 2016 in a remote part of Vasai (north Mumbai), past some fields and salt pans.
Housed behind an industrial building, these studios pulsate with concentric sounds of dubstep and stylish young people walk indoors with caps on backwards.
They have paid anywhere between Rs 8,000 and Rs 30,000 to take courses that last two or three months.
Some have come from Jharkhand and Assam and are living in hostels nearby. When they spot a member of the winning team, they bend down to touch their feet.
These days, if you throw a stone in this burgeoning hip-hop belt of Mumbai, it's bound to hit a 'flipper'.
Parks and waterfronts in the region are usually full of teens attempting moves like 'eagle' or 'bud'.
These activities dwindle in the monsoon. Still, this rainy evening in the Netaji Subhash Chandra Bose Ground in Bhayander, among a group of friends, at least two say they have learnt stunts.
Suraj Vinod Bhardwaj, an 18-year-old who goes to Bhayander Secondary School, demonstrates by propelling his body frontwards and backwards.
Videos of him doing this are also on TikTok and Instagram, he boasts, under the profile name 'i_m_flipper_boy'.
The possibility of injury is not daunting. Most people, he says, move from performing on grass to paved ground within days.
Does he hope to join any of the big crews of his area? "I will make my own," he says.