Mallakhamb is about soaring new heights and these students flawlessly worked their magic on the rope.
Videos by Rajesh Karkera/Rediff.com and Hitesh Harisinghani/Rediff.com.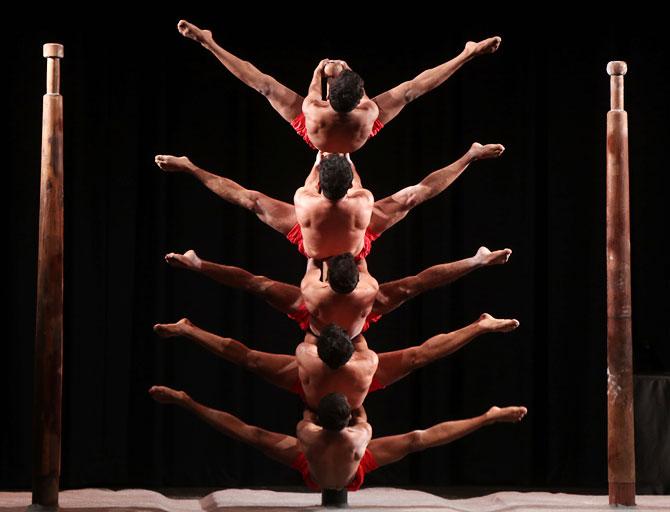 Imagine this! A 10th standard visually challenged student performing shavasana on a rope.
Sounds impossible, right? But students of Mumbai's Kamla Mehta School for the Blind made this impossible feat a reality at an event organised at Royal Opera House.
Not only did they individually perform various yoga poses on a rope, they also formed a human pyramid with each student attempting a unique pose as they all held on to a rope suspended from a ceiling.
The students were joined by contortionists from the MallakhambIndia Ensemble -- the team has been performing for over 15 years now.
Pioneers in the field of mallakhamb, this group comprises international and Indian athletes known for their extraordinary and breathtaking acrobatic acts.
A spectacular evening presented by the Australian Consulate-General, Mumbai; Royal Opera House, Mumbai and Avid Learning, these gravity-defying performances could get anyone's adrenaline pumping.
While the rope and pole feats piqued the curiosity of all, the evening also featured a soulful musical performance by Ishita Chakravarty and Donn Bhatt.